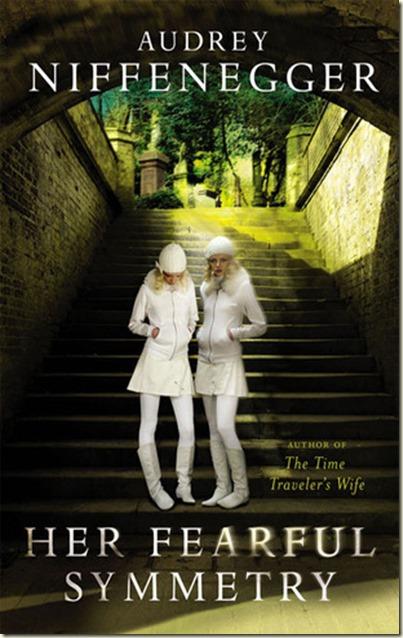 Her Fearful Symmetry

by Audrey Niffenegger
Summary: Six years after the phenomenal success of The Time Traveler's Wife, Audrey Niffenegger has returned with a spectacularly compelling and haunting second novel set in and around Highgate Cemetery in London.
When Elspeth Noblin dies of cancer, she leaves her London apartment to her twin nieces, Julia and Valentina. These two American girls never met their English aunt, only knew that their mother, too, was a twin, and Elspeth her sister. Julia and Valentina are semi-normal American teenagers--with seemingly little interest in college, finding jobs, or anything outside their cozy home in the suburbs of Chicago, and with an abnormally intense attachment to one another.
The girls move to Elspeth's flat, which borders Highgate Cemetery in London. They come to know the building's other residents. There is Martin, a brilliant and charming crossword puzzle setter suffering from crippling Obsessive Compulsive Disorder; Marjike, Martin's devoted but trapped wife; and Robert, Elspeth's elusive lover, a scholar of the cemetery. As the girls become embroiled in the fraying lives of their aunt's neighbors, they also discover that much is still alive in Highgate, including--perhaps--their aunt, who can't seem to leave her old apartment and life behind.
Niffenegger weaves a captivating story in Her Fearful Symmetry about love and identity, about secrets and sisterhood, and about the tenacity of life--even after death.
Source: I purchased a paperback
Add to Goodreads
Review:

Her Fearful Symmetry was a story about twins, ghosts, and secrets from the author of The Time Traveler's Wife. It's hard to not compare the two because the author seamlessly mixes the impossible with a contemporary drama in both stories, but I want to try my best to not compare them. There is no comparison.. The Time Traveler's Wife is one of my absolute favorite stories that I identified with so well being a military spouse and having to cope in a normal world when my husband is absent without warning. I knew going into this book that it would not live up to the same hype and would not be nearly as good to me. It wasn't.. and that's totally okay.
What I liked about Her Fearful Symmetry was how well the author mixed a contemporary story with a host of characters with the otherworldly. Twins Julia and Valentina ended up in their aunt's flat after she passed, but Elspeth, the aunt, was still there in ghostly form. Mostly, the book was about the two twins coping on their first real adventure, discovering their ghost aunt, and learning about what lead up to her and their mother not speaking for most of their lives.
I was intrigued by Martin and his OCD. I wanted to know more about the actual cemetery where Robert, their aunt's lover, worked and where Elspeth herself was buried. I was excited to see how it would all come together, especially because I didn't care much for the twins themselves.
The story did take a crazy direction and I enjoyed the twists and the supernatural elements.
I disliked the twins and thought they were super weird, creepy, and very difficult to understand. I got that Valentina felt stuck and wanted to do her own thing, but I wish the author had done a better job of making them relatable so that I could have empathized more. I thought they were too strange to really be "real" in my head, so when Valentina made the unthinkable choice near the end, I felt it was so over the top and unrealistic that the story kind of fell flat for me at that point.
The secret that tore Edie and Elsepth apart before the Julia and Valentina were born was incredibly intriguing and it saved the book from a pretty low review after Valentina's stunt. I didn't see it coming because Edie and Elspeth were completely different types of twins than Julia and Valentina and I guess I expected Robert to tear them apart in a way that mirrored Edie and Elspeth's relationship, so I was surprised that the story didn't go in that direction.
I recommend Her Fearful Symmetry to anyone looking for a strange contemporary that involves family secrets, ghosts, and other weird things. It was well written and worth the read. It doesn't, however, even come close to being as good as The Time Traveler's Wife, unfortunately.