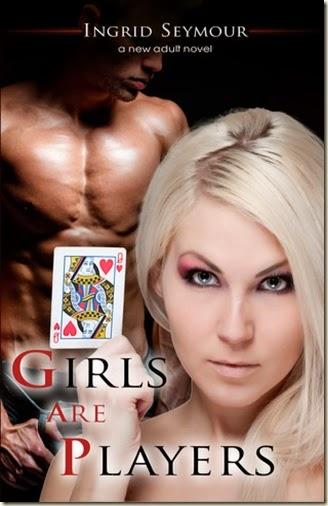 Girls Are Players (G.A.P. #2)

  by Ingrid Seymour   Summary: Jessica Norton is a villain in the body of a gorgeous, rich, college girl. She cheats, lies, plays with people's feelings, and purposely breaks unsuspecting hearts to avenge a personal loss. She's the kind of girl people love to hate—even if it's just because she has it all. Except . . . she doesn't have it all. What she wants most is the love of her high school sweetheart, Taylor Drennon, the guy who got away, the one who left without telling her why and caused all her bitterness.
Not surprisingly, Jessica's evil has made her a pariah. Alone, without friends or Taylor's love, her college life is a nightmare. She's haunted by her own mistakes and drowning in lack of direction. Something needs to change. So when the first opportunity to turn her life around presents itself, she takes it. Home for Christmas break, Jessica runs into Taylor. His unexpected friendliness seems like an invitation to rekindle their love. Inspired by a drastic idea that will both distance her from her heinous reputation and pull her closer to Taylor, she decides to transfer to OSU where he attends under a football scholarship.
Confident she can regain his heart, Jessica reenters Taylor's life with a splash. Failing to naturally lure him closer, she is then forced to rely on her old games and underhanded scheming. Though Jessica's heart is in the right place, it is hidden from Taylor by her blunders. More than once their powerful chemistry takes control, leading Jessica to believe she's winning. But, it's a hot and cold affair, and she's not the only one to blame for their stormy love. If Jessica can only coax Taylor into explaining why he doesn't want her, maybe she could finally walk away from him for good, maybe she could finally be happy.
Release Date: December 4, 2013
Where to Buy: Amazon
Add to Goodreads
Source: I received a digital ARC from the author in exchange for an honest review.
Review:

Girls Are Players is the second book in the G.A.P. series and it takes place after the events in the first book, but it can be read as a standalone novel and is Jessica's story.
I really enjoyed Girls Are Players. I loved it! I was not a very big fan of Jessica in the first book, but I knew she was a complicated person who was lashing out as a result of her unresolved issues with Taylor. Still, I was cautious and anxious about reading her story because I wasn't sure if I could relate to her. However, I connected with her instantly.
Girls Are Players was a total emotional roller coaster for me. I didn't expect for Jessica's pain to hit me so hard and me to feel so bad for her. Taylor was impossible to figure out and so many of their interactions had me tense and full of angst! So many New Adult Romances follow a pattern that I've become accustomed to and Girls Are Players completely threw me for a loop. Nothing about the plot was predictable because both Jessica and Taylor had a ton of history and I wasn't sure if the point was for them to learn to grow together or apart. I was all over the place with my emotions because the characters were. I was just as anxious as Jessica to figure out why Taylor left her in the first place and just as frustrated as Taylor that she seemed so calculating something. But mostly, I was full of that sort of amazing angst and anticipation during all of their encounters, craving moments where they could speak without fighting or admit something to each other.
Jessica was such a mix of elements. She could be shallow, judgmental, calculating, and mean, which she was most of the time in The Guys Are Props Club, but she was also caring, sweet, uncertain, and loveable. I couldn't fit her into one category, which I enjoyed. Taylor was the same way. I was so drawn to him. First, he was this nice, respectful guy. Then, he was the angry, testosterone-filled badass. And then he was this cryptic mess. I couldn't put him in any category either. Which Jessica would run into which Taylor? At any given moment, a million different interactions could have happened. It was maddening, but in that awesome way that made me want to keep turning the pages.
I expected I'd enjoy Girls Are Players since I liked the first book, but I certainly didn't expect to be so in love with Jessica and Taylor. Their story was so unique. It was unpredictable and emotional, but it wasn't so up and down that it was frustrating and it didn't use typically tools like miscommunication or jealousy like I imagined it would.
I definitely recommend Girls Are Players, especially if you are looking for a romance that doesn't follow such a direct path with a obvious outcomes and conflicts. It was well written, addictive, and unique. I loved Jessica and Taylor so much, I hope to see them again in future Ingrid Seymour novels and get a sort of "how they're doing now" look at them!



Connect with Ingrid Seymour on her Website . Goodreads . Twitter . Facebook