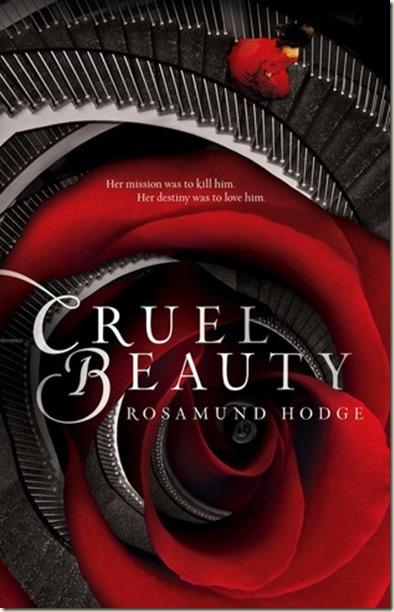 Cruel Beauty (Cruel Beauty Universe #1)

by Rosamund Hodge
Summary: Graceling meets Beauty and the Beast in this sweeping fantasy about one girl's journey to fulfill her destiny and the monster who gets in her way-by stealing her heart.
Based on the classic fairy tale Beauty and the Beast, Cruel Beauty is a dazzling love story about our deepest desires and their power to change our destiny.
Since birth, Nyx has been betrothed to the evil ruler of her kingdom-all because of a foolish bargain struck by her father. And since birth, she has been in training to kill him.
With no choice but to fulfill her duty, Nyx resents her family for never trying to save her and hates herself for wanting to escape her fate. Still, on her seventeenth birthday, Nyx abandons everything she's ever known to marry the all-powerful, immortal Ignifex. Her plan? Seduce him, destroy his enchanted castle, and break the nine-hundred-year-old curse he put on her people.
But Ignifex is not at all what Nyx expected. The strangely charming lord beguiles her, and his castle—a shifting maze of magical rooms—enthralls her.
As Nyx searches for a way to free her homeland by uncovering Ignifex's secrets, she finds herself unwillingly drawn to him. Even if she could bring herself to love her sworn enemy, how can she refuse her duty to kill him? With time running out, Nyx must decide what is more important: the future of her kingdom, or the man she was never supposed to love.

Add to Goodreads
Source: I purchased a Kindle copy.
Review:
Cruel Beauty was a strange mix of Greek mythology and Beauty and the Beast. Nyx lived in a world where there were no stars and demons roaming. People would bargain with the Gentle Lord, but their wishes always came true with a price. Because of her father's bargain, Nyx was promised to the Gentle Lord at 17 and was to be married. She always knew this and she knew she'd be the one to destroy him, which should save her world.
I hate that the book specifically said it was a Beauty and Beast retelling because I thought it made the story incredibly predictable as a result. Had it not said that, I might have thought Nyx might actually kill the Gentle Lord. I expected her to start to fall for him because I know the basic premise of Beauty and the Beast...
Still, I can't give the book any low review because I thought it was well done for what it was. Nyx surprised me by standing up to the demon lord and being able to go toe to toe with him. Ignifex's shadow complicated the mix, but I think I expected Shade and Ignifex to be the same person or to be connected in some way. I would have rated it higher had A Court of Thorn and Roses not been a thing. Also, the push and pull between Death and Evie in The Arcana Chronicles was even more deadly than the push and pull between Nyx and Ignifex. Overall, the story reminded me too much of other stories and that's why I ultimately gave it 3 stars.
I enjoyed Cruel Beauty and I do recommend it to fans of Beauty and the Beast retellings and a mix of fantasy thrown in. I think other books do it better, but this one was well worth the read anyway.