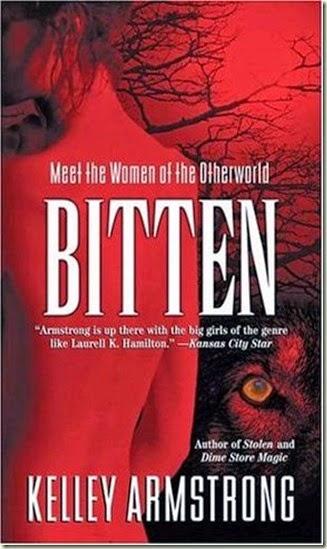 Bitten (Women of the Otherworld #1)

 by Kelley Armstrong Summary: Elena Michaels is the world's only female werewolf. And she's tired of it. Tired of a life spent hiding and protecting, a life where her most important job is hunting down rogue werewolves. Tired of a world that not only accepts the worst in her–her temper, her violence–but requires it. Worst of all, she realizes she's growing content with that life, with being that person.
So she left the Pack and returned to Toronto where she's trying to live as a human. When the Pack leader calls asking for her help fighting a sudden uprising, she only agrees because she owes him. Once this is over, she'll be squared with the Pack and free to live life as a human. Which is what she wants. Really.
Add to Goodreads  

Source: I purchased a paperback from a used bookstore.  

Review:
I watched the show Bitten on Syfy first. I have had the books on my shelf for ages, but it wasn't until I spent an afternoon watching my recorded episodes of the show that I realized I had to pull these books off of my shelf and read them. I knew from reviews that the show had changed a lot of aspects of the characters and plots, but a lot of it was the same, so it was easy to fall right into the book.
Bitten's premise was unique. Elena was the only female werewolf and one of very few people to survive being bitten. And of course, it ruined her life. Some reviews of the book hate that Elena followed a pattern of hating her otherworldliness and trying too hard to be normal, but I actually understood it. Elena wasn't born into a life and desperately wanted out. She was forced into it, struggled with her feelings about it and thought that she could try to carve out a normal life for herself away from the Pack.
I enjoyed Bitten and will definitely continue the series. I'm really eager to see where it goes. I felt like Bitten had a satisfying conclusion, so I'm a little anxious about what will happen next and if I should have bought so many of the next books in the series.
Sometimes, I think a person's opinion about a movie or show has a lot to do with what they experienced first.. because I think I like the show better. There was a lot more in the show about dynamics of the Pack, history, backstory, etc that the book didn't have any of. Even Elena's life in Toronto was more thought out and rooted. I don't know if the show borrowed from the other books too in the first season or if they just made stuff up, but I really need some more backstory of the characters in order to love this series. However, I have discovered most urban fantasy/paranormal series I read I am always a bit Meh and on the fence for the first 1 to 2 books, so this is nothing new. I will continue on and see how I feel!