The lovely Merry over at Play Merrily has sent us a great toy to review:Big Jigs Wooden Rail-CN Figure of 8 Train Set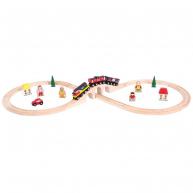 At 2 years 3 months, Derin now LOVES cars,trains and anything that has wheels.The producer mentions that this toy is suitable for 3+ but Derin can still play with it finely. He is past the mouthing stage and the set doesn't have very small parts anyway.

This set includes 

 eight wooden railway including CN logo engine, 2 carriages and assorted wooden figures,houses,a few cars,people and trees.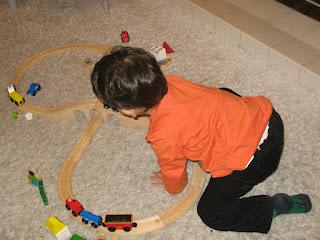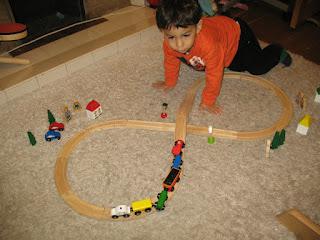 Derin has such a pleasure when the train slides down the viaduct!
He can arrange the rail tracks as he pleases and spends about 15-20 minutes playing which is great for his age! This is a lovely toy as a first train set. 
Play Merrily stocks  a great selection of  Big Jigs wooden toys at a decent price and good quality.
Merry,the owner of Play Merrily also has a  blog Patch of Puddles: a wonderful source of home-education.
I also want to stress that Merry is comitted to have happy customers. I experienced this first hand when  the fırst product we were sent had a fault. When I mentioned this, Merry kindly offered to replace it with another toy. She  was kind enough to send me a return label so I could return the product without at no costs. She has also withdrawn this toy since.
Play Merrily stocks a good selection of quality toys that children will enjoy playing.
Disclaimer: We received the toy for review purposes, all opinion my own.