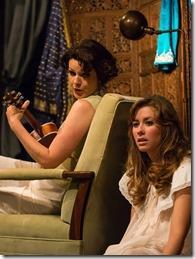 Women Beware Women
Written by Thomas Middleton 
Directed by Kathryn Walsh 
at The Den Theatre, 1333 N. Milwaukee (map)
thru Sept 27  |  tickets: $25   |  more info
  
Check for half-price tickets 
  
  
   Read review
  
---
No middle ground in Middleton's entertaining moralizing tragedy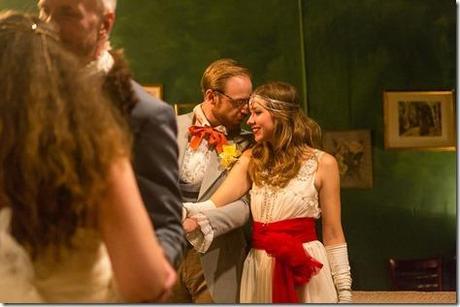 Two Pence Theatre presents
Women Beware Women
Review by Clint May 
As far as anyone knows, no one's ever mounted Thomas Middleton's Women Beware Women in Chicago before. It languished for centuries in obscurity before seeing a resurgence of productions in the 1950s, Two Pence Theatre is now staging its Windy City premiere in an intimate lounge-like setting at The Den, where the upper and lower crusts of Florentine society enact their Machiavellian schemes amidst patrons laid out in couches and chairs. For anyone a little tired of Shakespeare and in need of some fresh Jacobean tragedy, this production is not without flaws but is drolly entertaining nonetheless.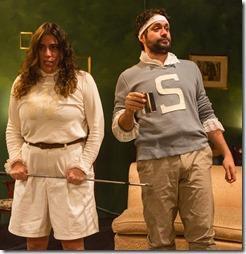 Young Bianca (
Eliza Hofman
) has escaped the oppression of her wealthy Venetian parents to live with her new husband, the poor Leantio (
Josh Zagoren
) and his mother (
Morgan McCabe
). Frightened of the impropriety of his actions, the new husband leaves his wife locked up in a room while he goes out into the world. When the Duke (
Nick Jordan
) espies her face from the window, he sets his mind to gain her hand, and succeeds.
All too happy to earn the favor of a high ranking official is the twice-widowed Livia (Loretta Rezos). She's already schemed to help her brother Hippolito (Michael Mercier) win the heart of his own niece Isabella (Maggie Scrantom). There's nothing to stop her from helping a married woman gain a yet more impressive husband. Despite her seeming heartlessness, she discovers that her twisted web has revealed that her own desires lay with the forlorn Leanito, who now seethes for vengeance for the crime she facilitated. It all comes to a head with a grisly death toll that makes Hamlet look rosey.
Though on the surface this feels like Shakespeare—with whom Middleton is thought to have collaborated—there is a deeper vein of cynicism running throughout the work. Even the 'good' cardinal (Laura Lapidus), whose virtue in the flesh at least is above reproach, fails to have a good comeback for his brother the Duke's entreaty that his sins must be forgiven. Pot shots of satire are aimed at the preening-to-please lower class and the vapidly carnivorous upper class in equal measure. There's no hero here, not even an anti-hero or a hero with a tragic flaw or final redemption. There's just a sort of forlorn resignation to the deceptive nature of man, in particular to the marriage bed. "Men buy their slaves; women buy their masters…" sighs one lady.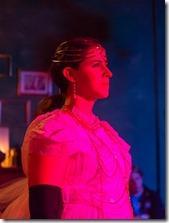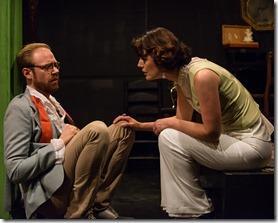 Still, it's refreshing to see women arrest some control of their destiny, and even if she's a villain, Livia is hard to not feel a sort of affection for (not unlike the Livia of I, Claudius). Rezos is wonderfully, scene-chewingly Joan Crawfordian, an effect only heightened by Carolyn Rose Sullivan's elegant mid-20's costuming (more on that later). Two Pence makes some gender-bending casting choices, and McCabe as Fabritio and Lapidus as Ward are inspired choices, though Lapidus' turn as the Cardinal lacks the needed gravitas of God's judgment. Not everyone is up to the requirements of the Jacobean language, especially Jordan's Duke, a characterization that falls flat in comparison to his castmates. Director Kathryn Walsh keeps everything high energy (especially Zagoren's Leanito), but there's some editing that needs to be done to cull this down and keep the energy zipping along.
One of the real standouts here is the design team. The choice to make this a 1920's noir-inspired piece with all the implied decadence and intrigue draws a temporal through line that is absolutely appropriate. Sarah Watkins' burlesquian lounge with tables and candles may not always offer the best sight lines, but at least you're always front row to the action at some point. The real winner is Sullivan's costumes. From color choices to textures to accoutrements—right down to the Baroque callbacks with lace collars popping out of men's suits—this is on one of the swankiest sartorial exhibitions I've seen on a storefront stage all year.
As the press for this is quick to point out, female characters in antiquity could choose to "sigh or die." I'm pretty sure Women Beware Women doesn't pass the Bechdel test (I'd have to read the script to double check if two named women ever talk anything more than a man or marriage to a man), but the sad part is that in 400 years, few works of popular fiction do. That in itself is chilling. Middleton sympathizes with no one and finds only black hearts and blacker humor in women and men, even as he ever-so-slightly sympathizes with the former's need to take back power however they can. A "comic" scene involving Ward and his bro perversely analyzing Isabella as potential marriage material as one would analyze a piece of meat at the market still stands as a grotesquely accurate vignette of an analysis that still takes place in the minds of men. Middleton's disgust is contagious.
Rating: ★★★
Women Beware Women continues through September 27th at The Den Theatre, 1333 N. Milwaukee (map), with performances Thursdays-Saturdays at 7:30pm, Sundays 3pm.  Tickets are $25, and are available through their website (check for half-price tickets at Goldstar.com). More information at TwoPenceTheatre.org.  (Running time: 2 hours 15 minutes, includes an intermission)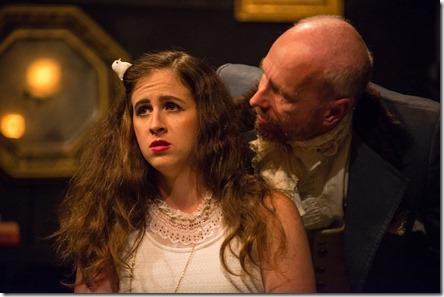 Photos by Ben Chandler
---
artists
cast
Eliza Hofman (Bianca), Nick Jordan (Duke), Laura Lapidus (Ward, Cardinal), Michael Mercier (Hippolito), Morgan McCabe (Mother, Fabritio), Matthew Pierce (Guardiano), Loretta Rezos (Livia), Maggie Scrantom (Isabella), Josh Zagoren (Leantio, Sordido)
behind the scenes
Kathryn Walsh (director), Mathew Chapman (sound design), Sarah Hughey (lighting design), Carolyn Rose Sullivan (costume design), Sarah Watkins (set design, prop design), Tom Wells (vocal coach), R & D Choreography (violence design), Jessica M. Carson (production manager), Lauren Lassus (stage manager), Ben Chandler (photos)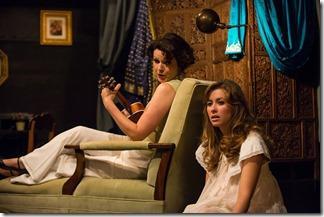 14-0912