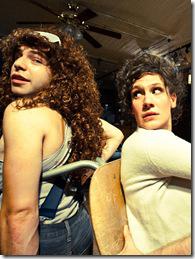 Woman School
Written by Moliere
Adapted by Eric Powell Holm
Directed by Katy Collins
at Strawdog Theatre, 3829 N. Broadway (map)
thru Nov 9  |  tickets: $20   |  more info
Check for half-price tickets  
  
   Read entire review
  
---
'Woman School' is worth attending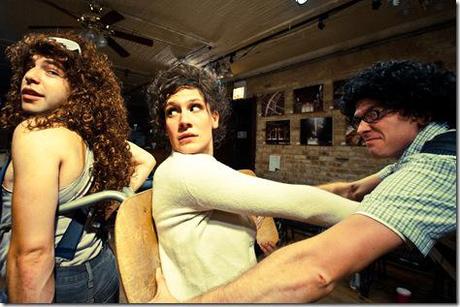 Vintage Theater Collective presents
Woman School
Review by K.D. Hopkins
It is not often that I come across such a fine updating of a classic play. The Vintage Theater Collective presents a version of Moliere's "L'Ecole des Femmes" that is brilliantly acted, a tad perverse, and hilarious.
Woman School, though originating in French culture, transfers brilliantly in the hands of the Vintage Collective. The louche nature of the bourgeoisie is standard no matter the culture. One sex wants the other to behave in a certain way. Someone has to have the upper hand and be in control. It is a battle eternal and thank the stars because there will always be great theater.
When I walked into the Strawdog studio theater, I was presented with what looked like a cross between a playroom and drunken bender. There were liquor bottles, crayons, and dolls strewn about. The pre-show then began with the characters of Elaine and Georgette mixing with the audience, romping about to Katy Perry music, taking shots of tequila and basically portraying the Id unfettered.
Emily Shain (as Elaine) and Caitlin Costello (as Georgette) are comic marvels in dual roles. They play the ditzy housekeepers and the golfing buddies of Adam Soule in the role of Arnolphe.  Shain brings alive my favorite memories of Carol Burnett with rubber band limberness and facial expressions that turn on a dime, while Costello is equally hilarious as the childlike and insouciant Georgette. They roam the audience, flirting with the male guests. Elaine offers a plastic pink flamingo to a man and instructs him to make a beer drinking device of it. The man gamely bore a hole in the toy and they guzzled beer together. The pink flamingo thing is such an American kitsch icon that just its appearance adds a cultural motif to the action.
Woman School is the story of a man named Arnolphe who wants to avoid the embarrassment of being cuckolded and the possibility of being henpecked by creating a woman from scratch. It's a Pygmalion and Frankenstein tale a few hundred years before GBS or Shelley. Adam Soule portrays Arnolphe with a wonderful touch of arrogance and fiendish mad scientist. He shares his vision of the perfect woman with his buddies, Grizzald and Oronte (who are also played by Ms. Shain and Ms. Costello), with spot on buffoonery and skewering of the aristocracy.
Arnolphe has the answer in selecting a girl from a miserable existence to be taken care of in a fine manner and schooled in what are considered the womanly arts. We are then introduced to Agnes played by Kelley Ristow. Agnes seems to be the perfect molding under the protection of Elaine and Georgette. The fiancée and the housekeepers are blissfully ignorant of the outside world. Agnes knits, cooks a great meal, and sings – if you want to call it that. Ms. Ristow's performance is perfect from the first caterwauling note when she appears on stage with a chair strapped to her back and her knitting in her hair.
Arnolphe believes that he has fashioned a woman that will remain as an ignorant child. Elaine and Georgette are as simple as his estrogen charged goons keeping Agnes pure and stupid. However, there is a fly in the ointment and his name is Horace, played with insane rock star energy by Ben Gansky.
All of the characters are in extreme wigs, but Gansky is in a Charles II meets Van Halen get up. The uber tight (and possibly stuffed) jeans are the perfect accoutrement to his outrageous puppy-like energy. Gansky sings some of his lines in grand 80′s rock screamer style. It is wonderfully and appropriately over the top for this classic farce.
The cast has split-second timing and the manic pace to keep this comedy on track. The melding of Moliere's language and meter with modern day exclamations is perfect. This is a morality farce that resonates today considering the advent of 'Bridezillas' and other reality programs which reveal the still simplistic desires bred from advertising and societal pressures.
Women School is ginormous wigs, sauciness, really tight pants, and a great baguette beat down to boot. Check it out!
Rating: ★★★½
Woman School continues through December 9th at Strawdog Theatre, 3829 N. Broadway (map), with performances Sundays at 1pm, and Mondays-Wednesdays at 7:30pm.  Tickets are $20, and are available online at ovationtix.com. More information at VintageTheaterCollective.org. 
---
artists