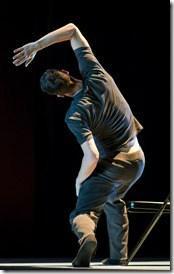 Winter Series 
Choreographed by Yin Yue, Crystal Pite,
  Robyn Mineko Williams, Penny Saunders
Harris Theater, 205 E. Randolph (map)
thru Dec 13 |  tix: $30-$99  | more info
  
Check for half-price tickets  
  
---
Beautiful celebration of connection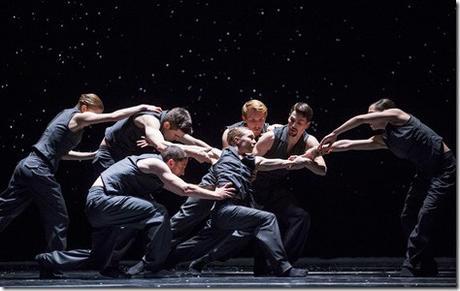 Hubbard Street Dance Chicago presents
Winter Series 2015
Review by Lauren Whalen 
Hubbard Street Dance Chicago is living, breathing, leaping proof of how athletic artists can be. Lithe and muscular, they perform daring feats with their own and each others' bodies, jump to staggering heights, and often run across the stage at a breathtaking pace. Hubbard Street's 2015 Winter Series features three premieres and one still-new favorite, all with the glorious, seemingly superhuman physicality for which Lou Conte's company is renowned. Exploring themes of isolation and connection through music, poetry and movement, the Winter Series is a thoroughly beautiful and unmissable evening.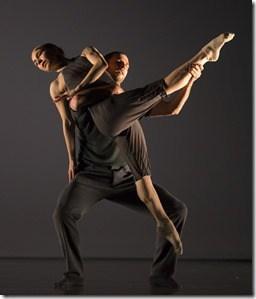 A Glimpse Inside a Shared Story opens the evening with a (contemplative) bang. Clad in baggy clothes with drab hues, the dancers of Hubbard Street 2 have an individual yet collective experience – which makes the piece's title very appropriate. Yin Yue's choreography is an excellent fit for Hubbard Street's brilliant cadre of movement makers: it's physically challenging for the artists, yet thought-provoking for the audience. A Glimpse Inside a Shared Story isn't necessarily happy or "pretty" in the vein of traditional dance. Yue goes to a deeper, more personal place, showcasing the darkness inside us all, and how our sadder experiences can actually be unifying.
After a short pause, we are treated to Waxing Moon. Former Hubbard Street dancer Robyn Mineko Williams debuted this piece one year ago: it's her third collaboration with fashion designer Hogan McLaughlin and Chicago composer Robert F. Haynes and fourth creation for Hubbard Street's main company. The program describes Waxing Moon's aesthetic as "desaturated and minimalized," and during my second viewing of the piece (I saw its premiere), I was once again struck with the power of three gifted dancers, intelligent choreography and props as simple as a black folding chair, upon which amazing feats are accomplished. Waxing Moon is the story of one man contemplating his future by engaging with two forces, one played by a female dancer, one by a male. Williams marries choreography, visuals and music in a way that's lovely and inspiring, always daring the audience to look closer.
Out of Keeping is the evening's second world premiere, the creation of Hubbard Street company member Penny Saunders. Branimira Ivanova's rainbow of coordinated costumes is a vibrant contrast to Michael Mazzola's all-white set, and the mashup of several different musical artists lends the piece an exciting edge. Saunders' choreography, which features one main couple and four secondary couples, stretches the dancers to their limit and makes for intense shadows on the blank, white backdrop. Out of Keeping is thoroughly engaging from beginning to end: there's not a dull moment, an unexplored movement, or a poorly-thought out transition to be found.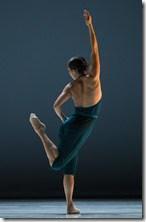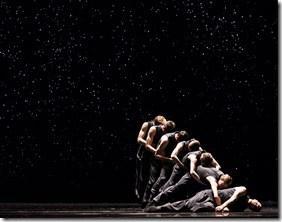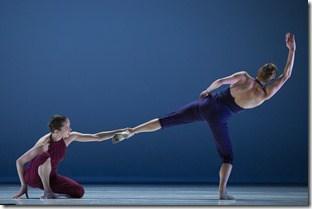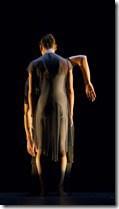 The final piece is Crystal Pite's U.S. premiere of Solo Echo. Scored with the music of Johannes Brahms, Solo Echo is based on Mark Strand's poem "Lines for Winter," a simple but haunting study of contemplation and love set against a snowy backdrop. Lighting designer Tom Visser and stage designer Jay Gower Taylor stay true to the poet's vision, with a combination of falling snowflakes (somehow more thoughtful and adult than what you'll see in The Nutcracker) and strategically placed rays of light. The effect is a glorious backdrop for Pite's choreography, an exercise in trust for its seven dancers, who interact and connect with one another in every imaginable way. Solo Echo is a perfect end to the evening, a grown-up Nutcracker that sends the audience out into the night not with childlike glee, but with a deeper, more calming sense of joy.
Hubbard Street Dance Chicago is always a wonderful choice for a night out, whether you're seeking a solo cultural experience, traveling with a pack of dance fanatics, or wanting to introduce someone new to the world of modern dance. The Winter Series is no exception: four stunning pieces with something for everyone. The dances and dancers are strong and powerful, and the performances will stay with you long after you've exited the Harris Theater.
Rating: ★★★★
Season 38 Winter Series continues through December 13th at the Harris Theater for Music and Dance, 205 E. Randolph (map), with performances Friday and Saturday at 8pm, Sunday 3pm.  Tickets are $39-$99, and are available by phone (312-850-9744) or online through their website (check for half-price tickets at Goldstar.com). More information at HubbardStreetDance.com.  (Running time: 2 hours 20 minutes, includes two intermissions)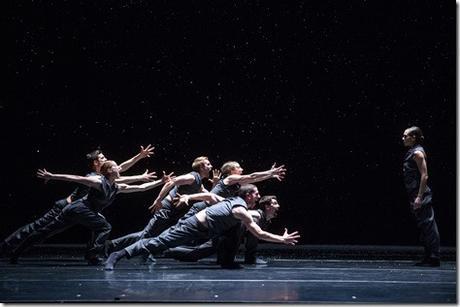 Photos by Todd Rosenberg 
---
artists
cast
Note: casting varies according to performance.
Hubbard Street Dance Chicago: Jesse Bechard, Jacqueline Burnett, Alicia Delgadillo, Jeffery Duffy, Kellie Epperheimer, Michael Gross, Jason Hortin, Alice Klock, Emilie Leriche, Florian Lochner, Ana Lopez, Andrew Murdock, Penny Saunders, David Schultz, Kevin J. Shannon, Jessica Tong
Hubbard Street 2: Katlin Michael Bourgeois, Zachary Enquist, Elliot Hammans, Jade Hooper, Natalie Leibert, Adrienne Lipson, Christina Vargas (Apprentice)
behind the scenes
For A Glimpse Inside a Shared Story:
Yin Yue (choreography), Gas, Machinefabriek, The Advent, Jason Fernandes (music), Julie E. Ballard (lighting design), Rebecca M. Shrouse (costume design)
For Waxing Moon:
Robyn Mineko Williams (choreography), Robert F. Haynes, Tony Lazzara (music), Burke Brown (lighting design), Hogan McLaughlin (costume design)
For Out of Keeping:
Penny Saunders (choreography), Olafur Arnalds, Volker Bertelmann, Hilary Hahn, Danny Norbury, Domenico Scarlatti (music), Michael Mazzola (set and lighting design), Branimara Ivanova (costume design)
For Solo Echo:
Crystal Pite (choreography), Johannes Brahms (music), Tom Visser (lighting design), Jay Gower Taylor (stage design), Joke Visser and Crystal Pite (costume design), Eric Beauchesne (staging)
For Hubbard Street Dance Chicago:
Glenn Edgerton (artistic director), Jason D. Palmquist (executive director), Karena Fiorenza Ingersoll (general manager), Terence Marling (director, Hubbard Street 2), Lucas Crandall (rehearsal director), Kathryn Humphreys (director, Youth, Education and Community Programs), Claire Bataille (director, Lou Conte Dance Studio), Suzanne Appel (director of external affairs), Todd Rosenberg (photos)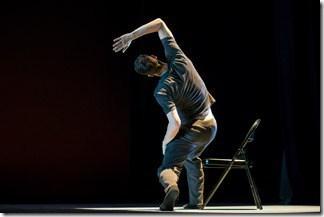 15-1224