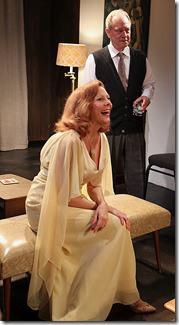 Who's Afraid 
  of Virginia Woolf?
Written by Edward Albee
Redtwist Theatre, 1044 W. Bryn Mawr (map)
thru Oct 11 | tix: $30-$35 | more info
  
Check for half-price tickets  
 
---
A long, dark night of the souls remains a brilliant, blistering classic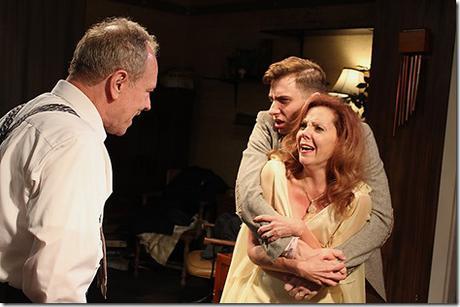 Redtwist Theatre presents
Who's Afraid of Virginia Woolf?
Review by Clint May 
It's been half a century since Edward Albee dropped his nuclear family bomb on the supposedly utopian versions of the 50s, and we're still dealing with the radioactive fallout. Eager audiences and fawning critics still fill up theatres to leer voyeuristically at one of the most dysfunctional couples to tread the boards. Brought to life at least once a year somewhere in the city, one wonders at our continued fascination with witnessing these two sadists tear into each other. Are modern audiences masochists?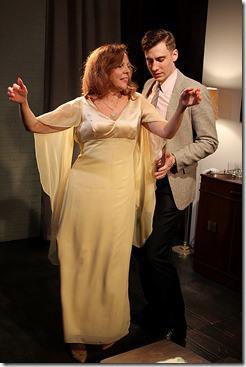 Certainly George (
Brian Parry
) and Martha (
Jacqueline Grandt
)—auspiciously named for our founding first family—need an audience. Perhaps after 23 years they've grown tired of sparring in a vacuum and need additional victims to absorb their vitriol. Within moments of returning home from a university mixer, they're at each other in what is clearly a well-rehearsed sparring pattern. George is a sad "bog" of an associate professor in history who apparently never learned it well because he is endlessly repeating it. Martha is a daddy's girl and daddy just so happens to be the president of this minor New England institution.
Drawn into their maelstrom is the hapless new biology professor Nick (Stephen Cefalu, Jr.) and his sickly, 'slim-hipped' wife Honey (Elizabeth Argus). They watch in both horror and disbelief as their hosts blithely begin their carnivorous games. Though they begin as naifs, they slowly reveal that they too have the bitter seeds of a future George and Martha ready to sprout.
This simple Aristotelian setup belies dense thematic undertones. Three emotionally draining acts are barely enough to contain Albee's scathing, yet sometimes sympathetic, indictment. Infertility, illusion, alcoholism, entrapment, social convention—even eugenics— and more become the crucible in which all civility is burned away until nothing but the frightening truth remains. Eric Berne's bestselling "Games People Play" would be published two years after the debut of Woolf, and would detail several of the schizoid traits found in Albee's couple. In a neat summation he would write, " Many games are played most intensely by disturbed people, generally speaking, the more disturbed they are, the harder they play." Later psychologists have said that George and Martha are classic sufferers of bipolar depression.
Staged with their usual in-the-round intimacy at Redtwist, the entirety feels as though one is observing a boxing match. The psychic blows land just feet from your face. I wonder how many couples wander shellshocked into the night, looking at each other with a bit more wariness than before after carousing with this cautionary example of ghosts of relationship's future. There's something Dante-esque about watching these people try to escape their personal purgatories with the dismantling of their lies. Albee famously sets the stage naturalistically and pushes inexorably towards the absurd (not the least absurd for the matter that no one leaves until the final blows have been struck, as if quagmired in the "swamp" of George and Martha).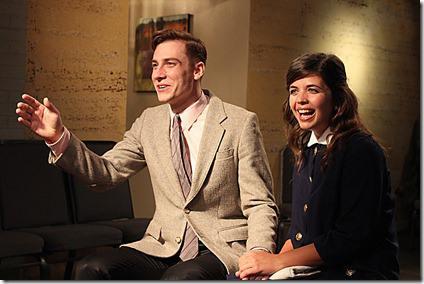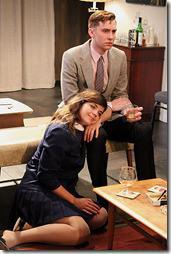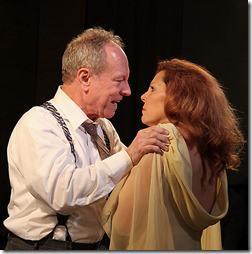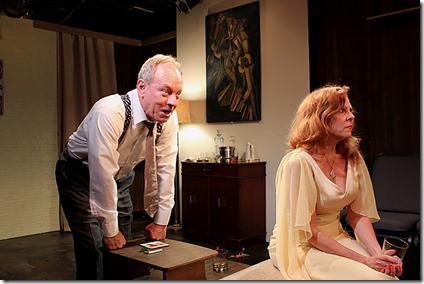 While Argus and Cefalu do well as the young upstarts, what you really come to see is Grandt and Parry. They do not disappoint. These two have played variations of similar characters in the past, and Redtwist loves this kind of production (Woolf was last produced there in 2008), one that takes its characters and tears them apart to lay bare what's inside. Grandt was mesmerizing in June's Good People, and she positively drips poison here. Parry reinvents and purifies the type of playful-cum-cruel churlish character  he's played in shows like Clybourne Park or Bedroom Farce. There's something about him that makes him such a great fit for shows set in the sixties and seventies. Jason Gerace has perfectly balanced them into models of anguished antagonism and they are as mesmerizing to watch as those old-time staged train wrecks.
In Greek myth, the Furies tortured the betrayers of family by turning the interior self up to an inescapable volume, thus driving their subjects mad. Though I can't remember where I first heard that specific psychological interpretation of those creatures, I couldn't escape the thought of it here. Each person is both torturer and victim, unable to escape themselves and the fury they have wrought. Gerace and crew have brilliantly captured that sort of troubled landscape, Albee's earth-shattering insights and the dim light of dawn that represents the only escape.
Rating: ★★★★
Who's Afraid of Virginia Woolf? continues through October 11th at Redtwist Theatre, 1044 W. Bryn Mawr (map), with performances Thursdays-Saturdays at 7:30pm, Sundays 3pm.  Tickets are $30-$35 (seniors/students $5 off), and are available through their website (check for half-price tickets at Goldstar.com). More information at Redtwist.org.  (Running time: 2 hours 55 minutes, includes two intermissions)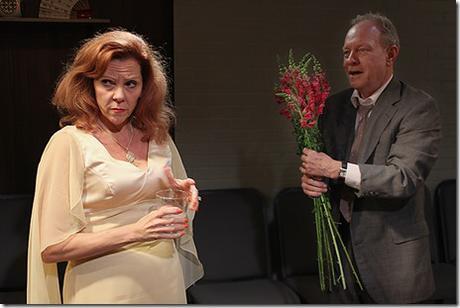 Photos by Jan Ellen Graves
---
artists
cast
Elizabeth Argus (Honey), Stephen Cefalu, Jr. (Nick), Jacqueline Grandt (Martha), Brian Parry (George), Abby Dillion (u/s, Honey), George Ellison (u/s, George), Sheila Landahl (u/s, Martha), Shane Rhoades (u/s, Nick)
behind the scenes
Jason Gerace (director), James Fleming (assistant director), Sam Garrott (stage manager), Melissa Nelson (assistant stage manager), Chelsea Hano (assistant stage manager), Eric Broadwater (set design), Daniel Friedman (lighting design), Karli Blalock (sound design), kClare McKellaston (costume design), Josh Hurley (props design), Jeff Gamlin (set construction), Catherine Miller (casting director), Charles Bonilla (box office manager), E. Malcolm Martinez (box office associate), Johnny Garcia (box office associate, associate producer), Jan Ellen Graves (co-producer, graphic designer, marketing, photos), Michael Colucci (co-producer)
15-0920