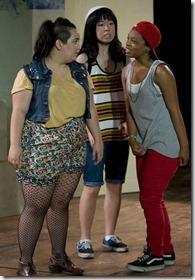 What's the T? 
Written by Sara Kerastas and the Ensemble
Directed by Eric Hoff
at VG Upstairs Loft, 2433 N. Lincoln (map)
thru June 2  |  tickets: $15   |  more info
  
Check for half-price tickets 
  
  
   Read entire review
  
---
Authentic, high-energy cast sheds light on evolving queer community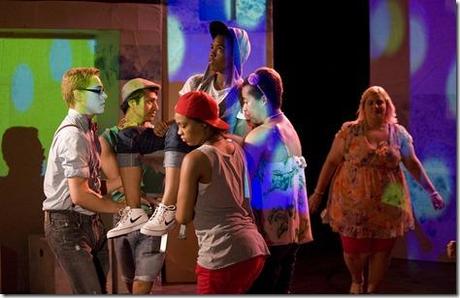 The About Face Youth Theatre presents
What's the T?
Review by Lawrence Bommer
Spring's surge can't hold a daffodil to the pile-driving energy of these LGBT players—a sweet and sour 16. About Face Youth Theatre Ensemble has revived last summer's What's the T?, with a focus on stories from the streets, stores and subway. In only 75 minutes their pell-mell short scenes recreate assorted Windy City locales, though the focus is on Boystown, specifically the clashes in 2011 between Lakeview neighbors, outside teenagers drawn to the Center on Halsted, and Chicago cops drawn into a culture clash.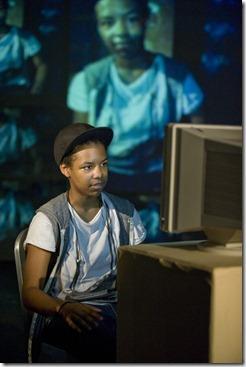 If last year's edition of
What's the T?
(slang for "What's the truth?") dealt with transgendered survivors, this year's target is the constantly evolving "queer community." At its core is Ms. Ma (
Mikkhal Holt
), a community organizer whose busy YouTube website and interventions help runaway, throwaway and homeless kids find food and shelter, avoid police harassment and locate "safe places" in a mean town.
The episodic script, developed by Sara Kerastas and the ensemble, delivers hit-and-run vignettes, always scattershot and sometimes slipshod, detailing daily encounters that LGBT kids experience: Cubs fans get too close to a gay couple in an el train, while a loudmouth queen ruins another ride for everyone in the car. A closet racist is exposed in a tense conversation in a Boystown hair salon. Friends teach a closet case how to recognize a "gay nod," "gay voice" and "gay haircut." A zealous security guard hassles shoppers of color in a Lakeview boutique. A yuppie condescendingly proclaims her affection for "My gays" (one of several heavy-handed stereotypes peddled here). A mortuary becomes a platform for a denunciation of the city's decision to no longer pay for "indigent" funerals. Chums document their friendship with their phones. A tranny contends with parental rejection and the soul-shrinking loneliness of being on her own.
When Ms. Ma gets jailed, the aimless storylines almost come together in protest against the gratuitous arrest and in testimony to how much she helped her gay family. But it turns out to be just another passing moment in this rather unfocused cross-section of lavender life in the big city.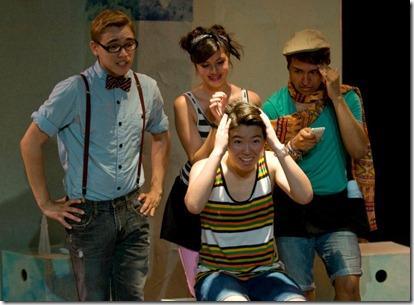 With countless entrances and exits and a video backdrop to open up the anecdotes, Eric Hoff's staging is too driven to be dull. But it's also subject to jerky or clumsy pauses when the acting can turn wooden and the dialog seem improvised.
Happily, the incidents come fast and thick: Nothing outstays its welcome. And, no question, these mainly teen players are paying their dues in life as much as anything they show on stage. It's that authenticity that makes this a YouTube video you can live in.
Rating: ★★½
What's the T? continues through June 2nd at Victory Gardens Upstairs Loft, 2433 N. Lincoln  (map), with performances Fridays and Saturdays at 7pm, Sundays at 3pm.  Tickets are $15 (youth tickets: $5), and are available at the door or in advance through OvationTix.com (check for half-price tickets at Goldstar.com). More information at AboutFaceTheatre.com.  (Running time: 75 minutes, no intermission)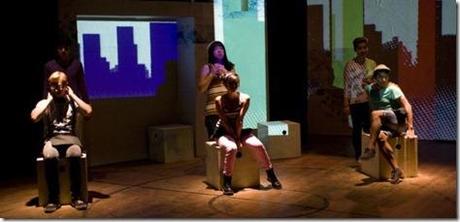 Photos by Michael Brosilow 
---
artists
cast
Julian Alvarado, Paydro Camarillo, Ruben Castro, Ashley Dozier, Freddy Flores, Joseph Freeman, Cristian Gorostieta, Mikkhal Holt, Reanna Mares, Ophelia Ashley Murillo, Anna Rangos, Jade Ryin, Neomara Serges, Leo St. Leo, Sukari Stone, Irene Tu
behind the scenes
Eric Hoff (director), John Holt (set design, technical director), Mieka van der Ploeg  (costume design), Jeff Glass (lighting design, production manager), Erik Roldan (sound design), Liviu Pasare (projections design), Nic K (choreography), Rupert Priniski (production coordinator), John Rooney (stage manager), Michael Brosilow (photos)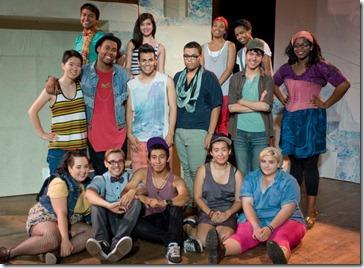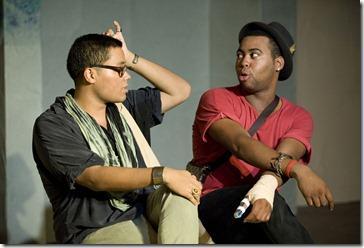 13-0536