Audiences have been beaten and battered this summer by one big-budget action movie and high-profile animated family film after another.  Can the new Jason Sudeikis-Jennifer Aniston team-up We're the Millers offer a much-welcomed comedic detour?  Or is this another case of Sudeikis proving his not-ready-for-movie-stardom status, and Aniston failing yet again to shake the grim specter of Rachel Green (Friends)?  Find out below.
THE PLOT
There's this guy (Jason Sudeikis).  He's a pot dealer who's down on his luck (awwww, the world should play a pot-scented violin for him).  His boss (Ed Helms) is making him retrieve a huge stash of pot awaiting retrieval in Mexico.  Holy crap, that's a big job.  Our intrepid pot dealing hero is the guy housewives go to for an herbal "mommy's little helper"; not an international drug smuggler.  Inspired by an altercation he observes between a lost family of four and a police officer, he recruits a local stripper (Jennifer Aniston) and two local kids (Emma Roberts, Will Poulter) to pose as his wife and children respectively as the perfect cover. The plan is to go to the pick-up spot in an RV, looking every bit the part of a normal American family on vacation.  Of course, they suffer a series of comic mishaps and only-in-a-movie coincidences both there and back.  That's right, you guessed it – hilarity ensues.
The screenplay is from two competing pairs of writing partners, with Bob Fisher & Steve Faber (The Wedding Crashers) delivering the original drafts and John Morris & Sean Anders (Hot Tub Time Machine, Mr. Popper's Penguins, She's Out of My League) handling the re-writes.  This is director Rawson Marshall Thurber's highest profile gig since he directed Dodgeball: A True Underdog Story back in 2004.

THE REVIEW
At the premiere of We're the Millers, screenwriter Bob Fisher told The Hollywood Reporter that he viewed his new film as being similar to his last one, "Wedding Crashers started off as a critique of marriage and ended up being an embrace of it.  We're the Millers does the same thing."  Unfortunately, that message seems to have been lost in the countless drafts the script went through during its 7-year production cycle, and the result is a film which looks exactly like something written at one stage by certain people and re-written by other people not on the same exact page at a later stage.  It is a bizarrely schizophrenic movie which segues somewhat uneasily between dark comedy meant to play upon the creepiness of the scenario (e.g., a fake sister teaching her fake brother how to kiss), and tacked-on action scenes with paper-thin bad guys and almost wholesome "awww, isn't that cute, they're starting to act like a real family" moments.  
It's also a surprisingly lazy film, hyper-focused on marking off checkmarks (character goes from this to this, plot point A goes to plot point B) without devoting enough time to explanation.  There are so many moments, most notably near the film's climax, where something happens or a character shows up so suddenly it screams of a film which either has plenty of deleted scenes or a script which lost necessary scenes at some point and never recovered them.  It plays like "okay, I know where that character arc is going" and then that arc just suddenly seems to skip a step as if they had no patience for it.
Plus, it has Jennifer Aniston doing a strip-tease mostly just because they couldn't believe their good luck when they asked her and she said yes.  Aniston (and potentially her body double in certain shots) looks good; her abdominal muscles are certainly worthy of praise.  It is likely the closest thing to a nude scene she'll ever do.  It's just hard to escape how unnecessary it feels.  Yes, there is obvious comedic potential for a woman posing as a capri-pant loving housewife to unleash her inner-Nomi Malone (Elizabeth Berkley's character from Showgirls), especially with her fake family watching.  To be fair, they do try to make it integral to the plot.  However, somehow by having Sudeikis literally look directly into the camera (and at the audience) during to sequence and smirk in a "yeah, we know what we're doing, but we're doing it partially ironically…maybe" fashion made it even worse.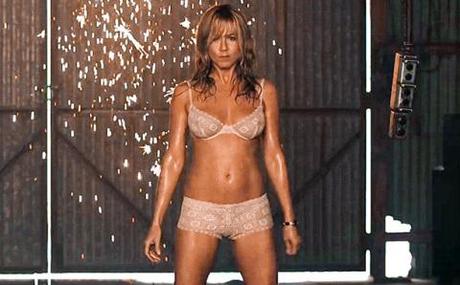 Just as Swordfish is the now known as the movie where you can see Halle's Berry's breasts, We're the Millers will be remembered as the movie where you can see Jennifer Aniston look like this.
All of that is what makes it so surprising that We're the Millers is actually kind of enjoyable, and not in a "look at the train wreck that is this movie" kind of way.  For a nearly 2-hour film, the pacing is admirably tight, and the jokes always just-around the next corner.  Not all of the jokes land, but the good thing is that a dud will be followed by a good one right after it.  There are very few laugh-out-loud moments, especially if you've seen any of the revealing trailers, but there is enough here to elicit a sufficient amount of smirking and/or chuckling (which is technically laughing out loud, just not as enthusiastically).  
The performers are handed utterly predictable beats and character arcs, but are at least capable of playing up to the material.  Jason Sudeikis as an actor still seems like a work in progress, as his line delivery is clearly SNL-trained but his ability to actually make you like him or believe the emotions come off as stilted.  He works best with straight men to play off of his motor-mouthed jokes, and the somewhat surprising revelation of We're the Millers is not his comedic timing as a duo with Jennifer Aniston (which is okay) but just how funny he is with Will Poulter as Kenny, his big-hearted neighbor pretending to be his son just for fun.  A genuinely sweet romance between Poulter and Molly Quinn as the daughter of an actual family in an RV on vacation (parents played by Kathryn Haan and Nick Offerman) is perhaps the most effective element of the entire film.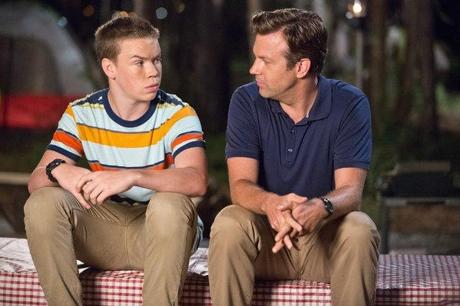 Sudeikis and Poulter as Kenny and Dave.
Aniston and Roberts, as the primary female characters in the film, are clearly positioned as the woman who's made all the mistakes and the young girl who's about to do the same.  They don't actually get a whole lot of the laughs, mostly just getting to react to the boys.  Aniston is not at all convincing as the stripper at the beginning of the film, and her timing and chemistry with Sudeikis is not the greatest.  However, she does deliver a likable performance, in keeping with her current trend of image-shaking roles after Wanderlust and Horrible Bosses.  Roberts has even less to do, but is equally enjoyable.  Haan and Offerman, particularly the former, have the showiest roles in the film other than Ed Helms, but are great comedic foils for Aniston and Sudeikis.  Helms, on the other hand, could have benefited from somebody telling him to play it at an 8 because he's at a 12.  
THE CONCLUSION
We're the Millers is a definite mixed bag of lazy, almost schizophronic writing and jokes which fail to deliver a true gut punch, but a masterful sense of pacing and good-but-not-great performances all around make it an enjoyable watch.  The Aniston strip sequence is unnecessary, and Ed Helms is a little over the top.  The price of admission to see it in theaters is probably higher than the quality of the film merits.  However, by the time it makes it to Redbox or Netflix it is definite candidate for rental and/or streaming.
It should be noted that if you've seen the Red Band trailer you don't really need to see the movie.  The trailer gives away so much that it'd be tantamount to reading an unabridged version of a novel whose abridged version you'd previously read – sure, you'll get a little more context, but you already know all the important stuff.
See It – Stream/Rent It – Skip It – Stream/Rent It
THE TRAILER [Not the Spoiler-y Red Band Version]
We're the Millers is rated R for crude sexual content, pervasive language, drug material and brief graphic nudity.  It has a 110 minute running time.
Second Opinions