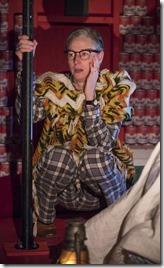 Non-traditional casting, innovative production values make for entertaining production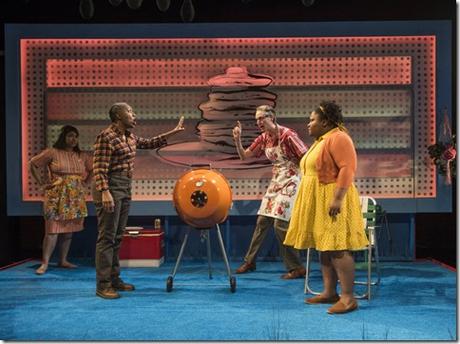 Review by Lauren Whalen
People (often white, straight, cisgender men) idealize the early 1960s as a time of collective innocence. They conveniently forget about the constant threat of nuclear war, which led to paranoia in even the safest of suburbs. Basil Kreimendahl's We're Gonna Be Okay explores this fear through the eyes of two neighboring families, who decide to take a big step toward a future they perceive as uncertain. Will Davis' stellar direction, nontraditional casting spearheaded by The Chicago Inclusion Project, and innovative production values make the overall experience enjoyable. Thanks to Kreimendahl's scattershot script, however, I'm uncertain as to what this experience is supposed to mean.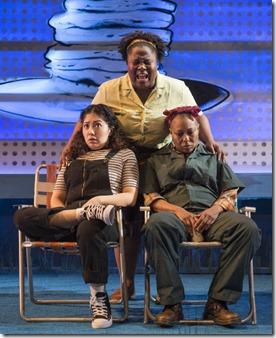 Patriarchs Efran (
Kelli Simpkins
) and Sul (
Penelope Walker
) are neighbors and friends. Each is happily married with a teenage offspring, and both enjoy a good grilled steak and a beer. However, it looks like their safe worlds will soon come to an end. What are two suburban dads to do? As the men progress in their plans for a shared fallout shelter, their wives and children wrestle with sexuality, empowerment and craft nights involving macramé.
First, the good: Davis (now ATC's new Artistic Director) is a gifted, dynamic director. As always, his staging is adventurous and his passion for the work both obvious and contagious. With help from the Chicago Inclusion Project, Davis has assembled a fantastic group of actors - none of whom are men, and only one, Simpkins (plus understudy Gaby Labotka) is white. There's no reason every play, classic or new, shouldn't be cast with such an open mind, and kudos to ATC for breaking new ground. Simpkins is excellent as the quintessential 1960s male: loyally American, but blind to any problems and issues he himself doesn't experience. As Leena, Efram's wife who loves crafting and longs to put her degree to use, Adithi Chandrashekar is bright and energetic, and BrittneyLove Smith shines as Sul's wife Mag, quiet and contemplative with a big secret of her own. Scenic designer William Boles perfectly creates an AstroTurf backyard and an unfinished fallout shelter, as well as a "backstage" area (visible to the audience) that perfectly resembles a living room of the time period, complete with color television, dish of butterscotch candies, and a guide to fallout shelters. Jeffrey Levin's sound design, incorporating President Kennedy's speeches and old-school soda pop jingles, is equally brilliant.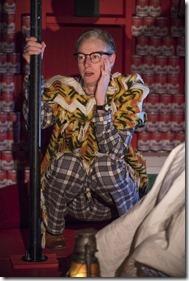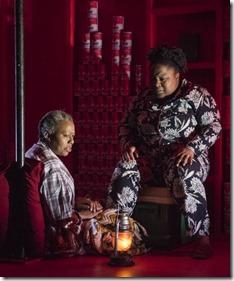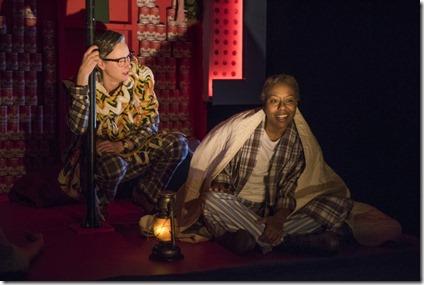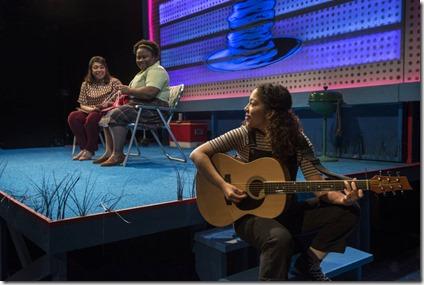 We're Gonna Be Okay struggles not in its execution, but in its source material. Kreimendahl's play feels unfinished, unpolished. While there are some funny lines and strong character moments, the play feels like a series of connected scenes or vignettes rather than a cohesive whole. None of the characters have much of an arc, and the ending feels like Kreimendahl ran out of ideas. If I were to ask the playwright, "what is this about?" (referring to theme, and not the very loose plot), I'm not sure they could answer me. I walked away from We're Gonna Be Okay with a deep admiration for the director, performers, and designers, but confused as to what exactly I was supposed to get out of the production as a whole. I can happily recommend American Theater Company's latest for many reasons, but its script is not one of them.
We're Gonna Be Okay continues through March 4th at American Theater Company, 1909 W. Byron (map), with performances Thursdays & Fridays 8pm, Saturdays 2pm & 8pm, Sundays 2pm. Tickets are $38, and are available by phone (773-409-4125) or online through their website (check for availability of ). More information at ATCweb.org. (Running time: 2 hours, includes an intermission)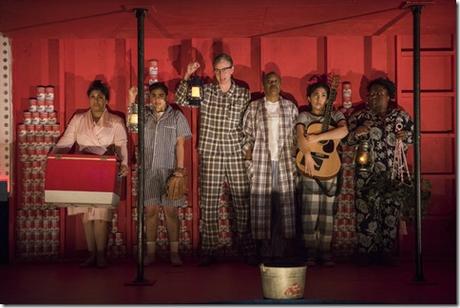 Photos by Michael Brosilow
Understudies: Gabrielle Lott-Rogers (Mag/Leena), havalah grace (Sul/Efran), Mia Vivens (Deanna), Gaby Labotka (Jake)
behind the scenes
(director), William Boles (scenic design), Rachel K. Levy (lighting design), Jeffrey Levin (sound design), (costume design), Jamie Karas (production design), The Chicago Inclusion Project (casting), Katie Klemme (production stage manager), Majel Cuza (production manager), Julia Rufo, Yinzhou-Peter Chen (assistant directors), Topher Leon (technical director, assistant director), Nadya Naumaan (assistant stage manager), Andrew Glasenhardt (technical director), Billy Murphy (master electrician), Andy Kauff (associate master electrician), Jenna Meyers (assistant production manager), Madeline Scott (assistant to the lighting designer), Michael Brosilow (photos)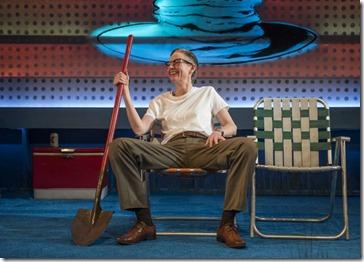 Tags: 18-0142, Adithi Chandrashekar, American Theater Company, Andrew Glasenhardt, Andy Kauff, Avi Roque, Basil Kreimendahl, Billy Murphy, Brittneylove Smith, Chicago Inclusion Project, Chicago Theater, Gabrielle Lott-Rogers, Gaby Labotka, Havalah Grace, Jamie Karas, Jenna Meyers, Julia Rufo, Katie Klemme, Kelli Simpkins, Lauren Whalen, Madeline Scott, Majel Cuza, Melissa Ng, Mia Vivens, Michael Brosilow, Nadya Naumaan, Penelope Walker, post, Rachel Levy, Sarai Rodriguez, Sarai Rodriquez, The Chicago Inclusion Project, Topher Leon, Will Davis, William Boles, Yinzhou-Peter Chen
Category: 2018 Reviews, American Theater Company, Lauren Whalen, Video, YouTube