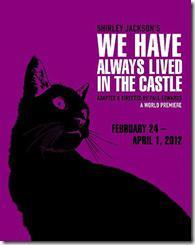 We Have Always Lived
   in the Castle 
Adapted and Directed by Paul Edwards
From the novel by Shirley Jackson 
at City Lit Theatre, 1020 W. Bryn Mawr (map)
thru April 1  |  tickets: $18-$25   |  more info
  
Check for half-price tickets  
  
   Read entire review
  
---
A chilling, worthy testament to Shirley Jackson's genius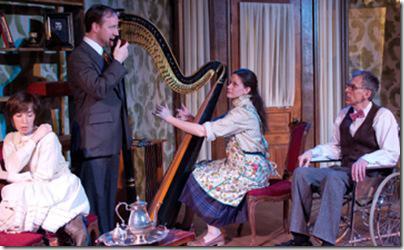 City Lit Theatre presents
We Have Always Lived in This Castle
Review by Catey Sullivan 
She's best known for her short story "The Lottery", but for my money, Shirley Jackson's masterpiece is the American gothic "We Have Always Lived in the Castle". It is a haunting, horrifying and vastly poetic page-turner, a macabre saga of magic , murder and the unbreakable blood ties between two fiercely loyal sisters. The environment surrounding the saintly Constance Blackwood, her devoted wild-child younger sibling Merricat and their enfeebled Uncle Julian is a masterpiece portrait of darkness on the edge of town. At the heart of the Blackwood estate is the "castle," a scrupulously isolated manse of House-of-Usher-like grandeur and secrecy. It is a world apart, protected by barbed wire and witchcraft, from the loathsome and predatory rubes of an ultra-provincial New England town.
It's surely no accident that townsfolk Merricat loathes with such vehemence and Constance fears with paralysis-inducing panic resemble the vicious mob of "The Lottery". In "We Have Always Lived in the Castle", the narrow-minded provincials don't unleash their horrific ids in an annual ritual stoning, but they are defined by the same mix of primal fear, rage, blind hatred and ignorance. At the core of that malicious fear and loathing is money and mass murder. Some six years before the action begins, most of the wealthy Blackwoods died during a family dinner capped by arsenic-topped blackberries . And while Constance was eventually acquitted of the murder, it's common lore among the villagers that the demure, soft-spoken young woman was indeed responsible. The gruesome event is the undying topic of gleeful gossip and a mob mentality rooted in the belief that those rich and snobby Blackwoods got what they deserved.
In short, "We Have Always Lived in the Castle" is at once a hair-raising murder mystery, a commentary on ignorance and intolerance and a story of sisterly love so great it can survive even when one of the sisters might be a cold-blooded killer.
Adaptor/director Paul Edwards clearly understands Jackson's strong sense of independent morality, her fascination with the persecution of the Other and her deliciously morbid sense of humor. His production isn't without significant flaws, but on the whole it's a faithful and compelling adaptation of a great and often overlooked piece of seminal American literature.
The primary problem with Edwards' We Have Always Lived in the Castle lies not in its skillful adaptation but in a cast that needs to tone things down a bit. The pack of feral villagers, for example, stops just short of being Creature Feature caricatures – less would be more here. Rein in those clawed hands and hissing threats and you've got a mob mentality that is truly unnerving. As Merricat, Elise Walter similarly overplays her hand. This is an intensely shaded role – childlike innocence filtered over sociopathic rage and unswerving devotion all wrapped around the ancient soul of Hecat. With her expressive eyes and feline-like body language, Walter looks the part. But she tips uncomfortably close to Bad-Seed-send-up mode at times and often allows Merricat's deeply ingrained sinister side to become no more than a veneer of exaggerated juvenile brattiness.
As Constance, Sheila Willis does well as a loving homebody whose sunny domesticity is rooted in bone-deep terror , a radiant earth-mother whose strength turns to ashes when she's exposed to glare of the world beyond the Blackwood farm.
But it's the men who ultimately anchor Lifeline's production. As Uncle Julian, Kingsley Day is superb. He shifts from the eloquent, regal authority of a gentleman scholar ("I am a survivor of the most infamous poisoning case of the century,") to the befuddled, frightened confusion of a child ("Did it really happen?") with marvelous ease and authenticity. Forever reliving the day of the murders as he compiles an exhaustive book on the case and the minutia of the domestic events surrounding it , Uncle Julian studies his notes and shuffles through timelines with the absorbed concentration and fierce dedication of a historian preparing a career-crowning dissertation.
Equally memorable is Thad Anzur as Charles, a long-estranged Blackwood cousin who breaches the sisters' solitary lair and instigates fiery havoc on their lives. Anzur reveals Charles' motivations for visiting with a tension-inducing deliberateness, only gradually allowing the underside of the cousin's kindly, concerned demeanor to surface like a snake slithering out from under a rock.
Joe Schermoly's set design cleverly captures the importance of powerful potions and talismans Merricat and Constance bury to protect Blackwood Farm, while Daniel Carlyon's sound design underpins the story with an understated but incendiary subtext. And while the final 10 minutes of Edwards' adaptation would benefit from some streamlined editing, We Have Always Lived in the Castle is a chilling, worthy testament to Jackson's genius.
Rating: ★★★
We Have Always Lived in the Castle continues through April 1st at City Lit Theatre, 1020 W. Bryn Mawr (map), with performances Fridays and Saturdays at 8pm, Sundays at 3pm.  Tickets are $18-$25, and are available by phone (773-293-3682) or online at BrownPaperTickets.com (check for half-price tickets at Goldstar.com). More information at CityLit.org.  (Running time: 2 hours 15 minutes, which includes one intermission)
---