Products supplied for review

As you may have read the case of my fallen arches, I tend to wear mostly flats wherever I go. So I was grateful when I was sent a couple of pairs from Walnut Melbourne. My sweet and cheeky Curly and I received a parcel full of shoes a few weeks ago to wear then do a review. I think I took a million photos from the day I unboxed them and then in-between, but last week when I was wiping Curly's shoes so I could pack them for our Melbourne trip, I thought these shoes still look as new and as when we unboxed them. So I've chosen to only include recent photos to show you how the quality have remained almost unchanged after wearing the shoes for more than a month (Curly wore his to school and family outings, and I wore mine to work and play).
I got two pairs with rounded toes: a pair of impressive Dee Ballet Flat Slate (faux python) and the other is Elle Faux Nubuck with Bow in black with a tailored faux bow on its front. They both have leather-look lining and a rubber out-soles. They feel soft and are very comfortable to wear.
Let's start with the Dee Ballet Flat Slate (faux python) which are now my go-to pair for work when I'm wearing khaki, brown or black. I love the print pattern and the color. As I have wide feet I've found this Dee pair to be a good fit due to how it shapes around my toes. The shoes were a little just to start with but stretched a little the more I wore them. They now fit much better and I don't have any with the size.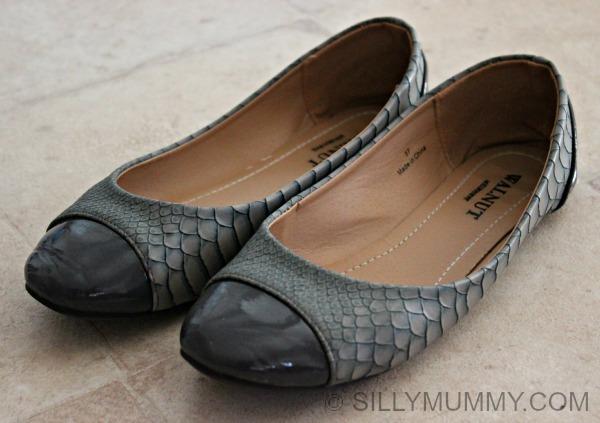 I've also worn this pair in light rain and didn't notice and water getting inside the shoes through the bottom or sides. I'm not sure whether they are meant to be weatherproof, so don't take my word for it.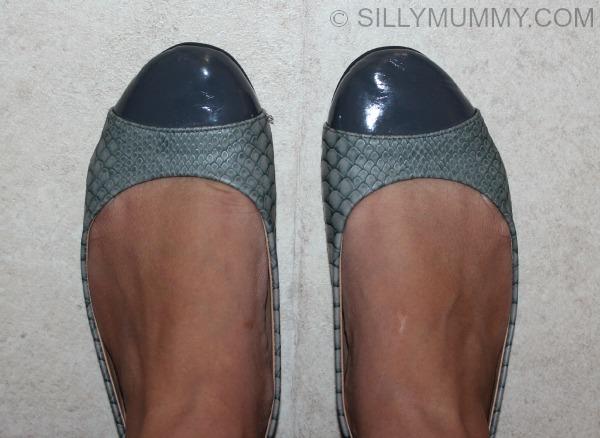 I don't recommend the Dee Ballet Flats for long walks, they can become uncomfortable after a while. I mostly wear them when I know I'll be hopping on and off public transport or driving to my destination.
Moving on to the Elle Faux Nubuck with Bow in black. I love their soft, fake leather look and they go well with my evening outfits, especially dark denims. These flats took a little longer to adjust to the shape of my feet as they are not as round as the Dee Ballet Flats. I've worn them a few times at night and had the chance to wear them four times on long shopping outings (1-2 hours) and so far so good.
They are easy to clean. Usually I just wipe them with a dry towel to remove dust or dab a piece of cloth in water and wipe any dirt off gently. The color in those spots have not changed at all.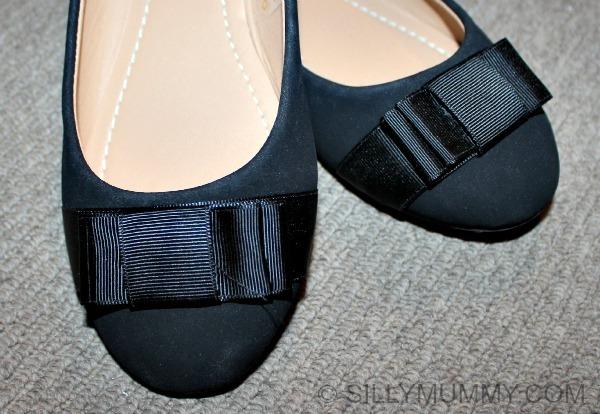 ************************
Curly received a pair of non-slip Ben Velcro Canvas shoes in taupe and navy with double Velcro straps. They are well made and Curly hasn't complained once since he started to wear them.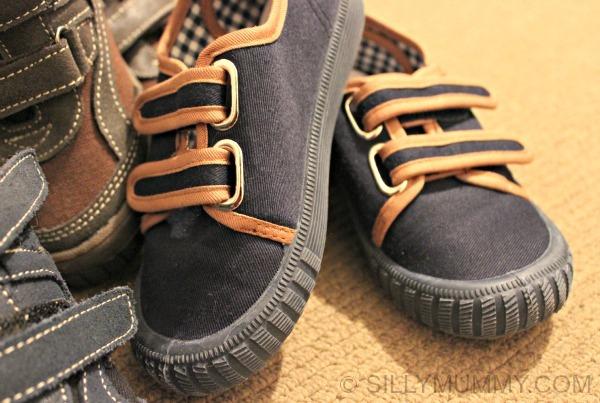 Curly wears these two size 10 Boys Action Boots to school as they seem to protect his socks better when he plays on the wet playground, especially in the wet sandpit at the after-school care. Again, don't assume that they are fully weatherproof.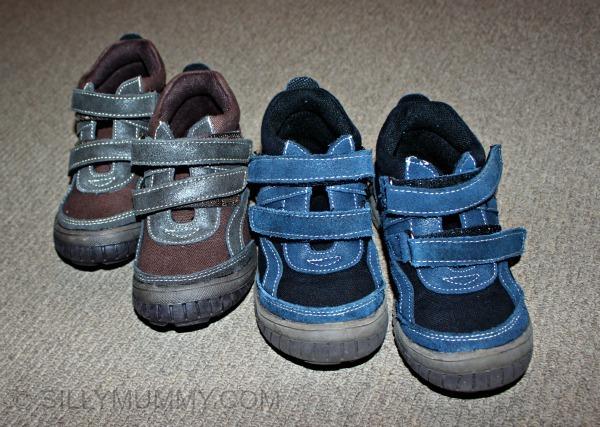 Although a little pricey for my liking ($64.95), the shoes sent to Curly look like they will last quite a while, because they're well made with tough materials. So I suppose the price takes into account the quality and duration. His other shoes tend to wear out easily after a fortnight. These ones are the way you see them after a whole month of wearing on school days and occasionally even on weekends. Hopefully I won't need to buy him new shoes until he's no longer a size 10.