Hi lovelies!
We're excited to bring you our next review! This is a palette that I had recently read about in Nouveau Cheap's post about Urban Decay's Naked palette dupes.  Although the Victoria's Secret website didn't offer any pictures of the actual palette, I was sorely tempted to get this palette!  Luckily, some of the Muse's readers were able to take a blurry/unclear picture of the colors and I was pretty much convinced that I needed to get it!
Luckily, my boyfriend knew that I really wanted to buy this palette so he went all the way to the Beverly Center and picked it up for me! :) He's such a nice boyfriend, giving in to my makeup addiction! :P
In any case, here is the picture of the actual item!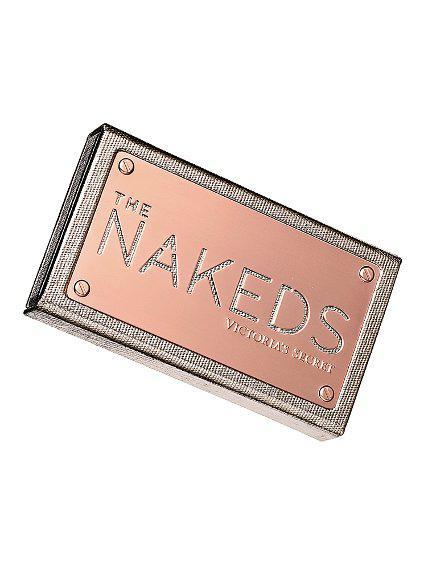 Some of you are probably suspicious about the similarity/copy of the name from the Urban Decay Naked palette but they actually have a bra campaign called the Nakeds and this palette is the continuation for that campaign.
But enough of all that jazz! Let's get on with the review!  
Particulars
The Victoria's Secret The Nakeds Eye Kit contains 10 shades of eyeshadows that are about 1.75 grams each and comes with a two-ended brush and an eyeliner in black. The palette also comes with a card that explains how to achieve their two signature "Naked" eye looks.  The colors that are included in this palette are:
Barely Pink
Copper Sand
Graystone
Brown Sable
Sparkling Black
Warm Vanilla
Tawny Pink
Smoky Lilac
Sparkling Brown
Charcoal Black
Claims
According to their website: Victoria's Secret
From subtle earth tones and muted pastels to smoky gray and shimmery black, this versatile eye shadow palette has everything you need to create the sexiest neutral eye looks of the season, plus step-by-step instructions on how to get our two favorite looks:
Barely Naked
and
Seductively Naked
.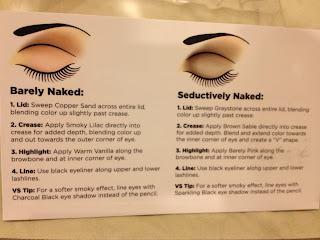 Includes:
10 eye shadows
Eye liner pencil
Dual-ended eye shadow brush
Domestic and Imported
18.28 g/.64 oz
This palette retails at around $28 online and their physical retail stores.
Packaging
I thought that the overall packaging of the product was great!  Much sturdier in comparison to the first UD Naked palette.  There's a magnetic closure and a large mirror on the inside.  Although it's not smash proof like the UD Naked 2 palette, I think that this would handle pretty well in your luggage on a flight.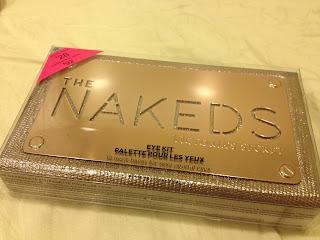 Swatches
Here are the swatches of the 10 different eyeshadow shades.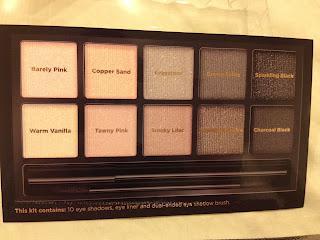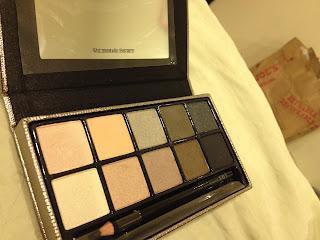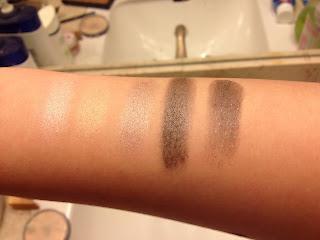 In order: Barely Pink, Copper Sand, Graystone, Brown Sable, Sparkling Black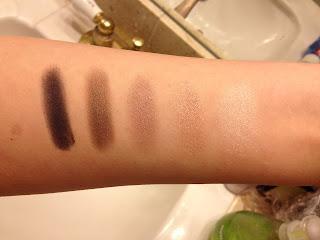 In order: Charcoal Black, Sparkling Brown, Smoky Lilac, Tawny Pink, Warm Vanilla
Overall I thought the swatches were okay.  Some of the lighter colors were difficult to swatch with just one go and had to be layered in order to be seen.  The darker colors had great pigmentation but didn't seem to be smooth during application.  I think that these should do much better with some sort of eyeshadow primer underneath.
Here is the swatch of the eyeliner that came with the palette along with a smudge test.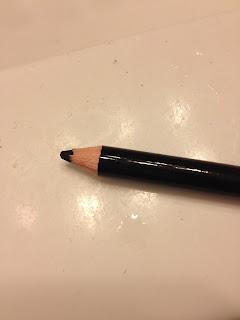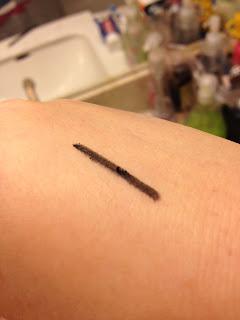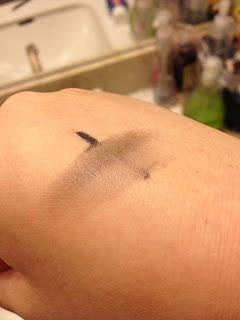 This eyeliner would obviously fall short of any other liner on the market with absolutely no staying power.  This would probably be better used as some sort of smudge shadow rather than an actual liner. As for the brush that came with the palette, it's definitely not something that would have be jumping for joy.  It doesn't do a good job of picking up eyeshadow and definitely doesn't do a good job applying it.  Although I was originally happy they didn't include sponge tip applicators for this palette, the quality of the brush kind of left me wishing they had.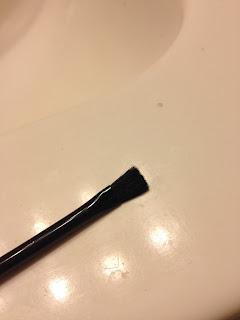 Thoughts Overall, I think that this is a good palette to start out with if you want to play with a lot of neutral shades without paying an arm and a leg for the UD Naked palettes.  The pigmentation of the shadows is very good but the staying power didn't seem to great and it seemed to crease after wearing it for a short amount of time.  This palette had one particular shade that I liked the best: Smoky Lilac.  All the other shades seemed to be easily duped.  It's very good quality for the price you're paying for it and if you're willing to take extra time to use an eyeshadow primer then this palette would be a good investment.
Rating
:
3.5/5 stars
What do you all think? Would you invest in this palette? 
Disclosure: This palette was purchased by SUPERbijinUP for review purposes.