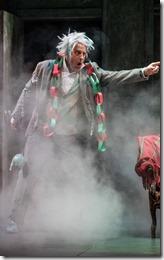 Holiday hilarity at its finest!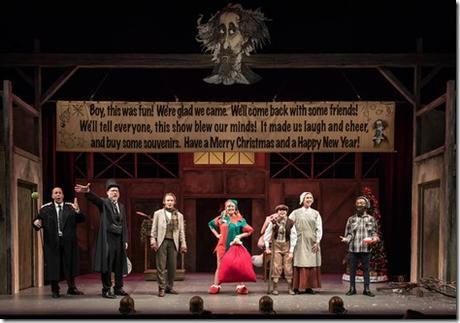 Review by Lauren Whalen
As Twist Your Dickens' ghostly barbershop quartet points out in the show's opening, Charles Dickens' A Christmas Carol is public domain. (This explains why everyone has either seen or done some version of A Christmas Carol, often multiple times.) In 2012, The Second City put its own spin on the classic tale of redemption-by-haunting by premiering Twist Your Dickens in Los Angeles. The bawdy, irreverent blend of improv and scripted comedy has since played multiple cities and enjoys its third year on the Goodman Theatre's Owen stage. (It's worth noting that a more traditional version of A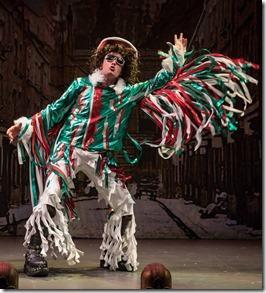 Christmas Carol is playing next door on Goodman's Albert main stage.) This was my first year at Twist Your Dickens and I giggled through every laugh-packed, satirical moment, thanks to a stellar ensemble of the city's finest comedians.
After the barbershop quartet, Twist Your Dickens begins in the usual Christmas Carol way: Scrooge () is an evil miser who won't give his long-suffering employee Bob Cratchit (Greg Matthew Anderson) the holiday off. The story is set in Victoria-era London, right? So, as a heckling audience member () yells, why are Scrooge's cronies drinking from red Starbucks cups while Cratchit fiddles with a Bluetooth? It's all downhill from there: while ostensibly about Ebenezer Scrooge's journey from nasty codger to enlightened and generous human, Twist Your Dickens makes frequent detours into Charlie Brown's existential holiday despair, the Island of Misfit Toys and the office of a Donny and Marie Osmond-like songwriting team. While the show is mostly scripted, there are frequent improv games and opportunities for audience participation. Twist Your Dickens ends in the usual way, mostly, though Mrs. Cratchit (Katie Caussin) is still hell-bent on revenge...
VID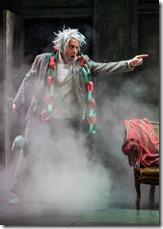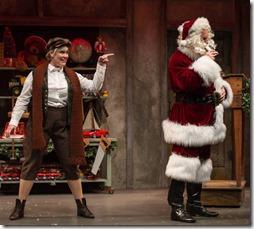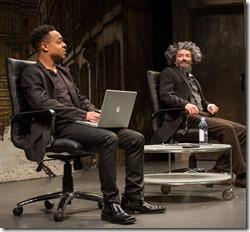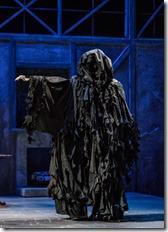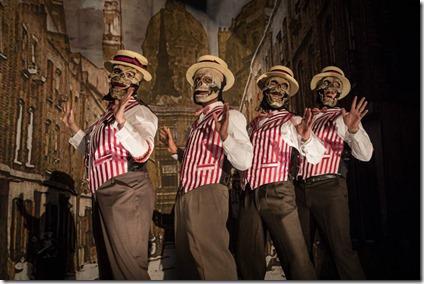 Chicago is fortunate to house Second City, the famous improv and comedy mecca that welcomes professionals, amateurs and everyone in between. Twist Your Dickens is holiday hilarity at its finest, thanks to a laugh-a-minute script by former "Colbert Report" writers Peter Gwinn and and an ensemble that's nothing short of perfect. Everything is priceless, from cameos by Logan Square hipsters swilling PBR and taking selfies, to Mrs. Cratchit's aforementioned bloodlust, to Scrooge's wry observations on politics, gullibility and Tiny Tim's mysteriously lethal leg. Each actor undergoes an Olympian two hours of lightning quick costume, prop and character changes, and their collective stamina is both brilliant and inspiring. Standouts include West's gleefully nasty Ebenezer Scrooge (he also directs the production with lightning-quick aplomb), Carisa Barreca's Ugg boot-sporting, intoxicated Ghost of Christmas Present, and Boyd's skillful command of a plethora of characters including a Rick James-like Ghost of Christmas Past, a smarmy Hollywood exec trying to charm author Charles Dickens, and the increasingly tipsy heckler.
Twist Your Dickens is a must-see for hardcore Christmas Carol fans and Dickens holiday naysayers alike. Thanks to incredible writing, direction and comic timing, the Second City's tribute-parody is a new Chicago holiday classic. Twist Your Dickens is dirty, silly and ultimately satisfying - a welcome, slightly snarky diversion from treacly holiday fare of yore.
Twist Your Dickens continues through December 30th at Goodman's Owen Theatre, 170 N. Dearborn (map). Tickets are $25-$47, and are available by phone (312-443-3800) or online through their website (check for half-price tickets at Goldstar.com ). More information at GoodmanTheatre.org. (Running time: 2 hours, includes an intermission)
Note: Twist Your Dickens contains mature language and content, and is recommended for ages 16 and up.
Photos by Liz Lauren
Ron West (Scrooge), Joel Boyd (Ghost of Christmas Past, Ensemble), Joe Dempsey (Jacob Marley, Ensemble), Sarah Dell'Amico (Tiny Tim, Ensemble), Carisa Barreca (Ghost of Christmas Present, Ensemble), Katie Caussin (Mrs. Cratchit, Ensemble), Greg Matthew Anderson (Bob Cratchit, Ensemble), Will Clinger, Mishell Livio, Jordan Wilson (understudies)
behind the scenes
Ron West (director), Tom Buderwitz (set design), Rachel Lambert (costume design), Leah Piehl (additional costumes), Chris Mould (Dickens illustrations), Jesse Klug (lighting design), Alex Kliner and Casi Pacilio (sound design), Beth Kligerman (casting), Mara Filler (production stage manager), Liz Lauren (photos)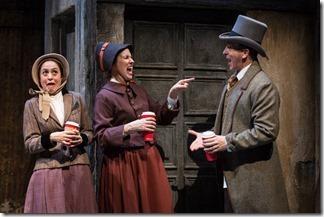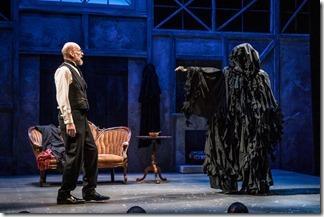 Tags: . Sarah Dell'Amico, 16-1221, Alex Kliner, Beth Kligerman, Bobby Mort, Carisa Barreca, Casi Pacilio, Chicago Theater, Chris Mould, Goodman Theatre, Greg Matthew Anderson, holiday show, Jesse Klug, Joe Dempsey, Joel Boyd, Jordan Wilson, Katie Caussin, Lauren Whalen, Leah Piehl, Liz Lauren, Mara Filler, Mishell Livio, Owen Theatre, Peter Gwinn, post, Rachel Lambert, Ron West, The Second City, Tom Buderwitz, Will Clinger