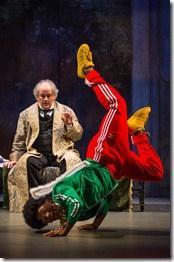 Twist Your Dickens! 
By Peter Gwinn and Bobby Mort
Goodman Theatre, 170 N. Dearborn (map)
thru Dec 27  |  tix: $15-$45  | more info
  
Check for half-price tickets  
  
---
Happy Chris-meta-mas to all in this second outing
that improves on the original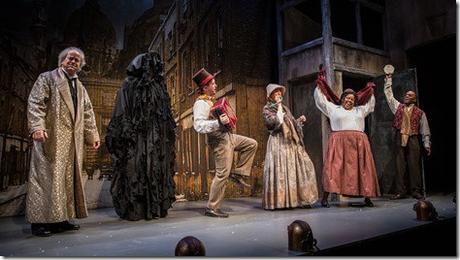 Goodman Theatre i/a/w The Second City present
Twist Your Dickens or Scrooge You!
Review by Clint May 
Back for its second year, Second City and Goodman have returned their smash holiday satire, and lo and behold, it's better this time around. There's something ineffably better than it's debut—maybe it's the changes in casting, the tweaks to the script, or some other quality I can't quite put my finger on, but what quibbles existed for the 2014 version appear to have been (mostly) ameliorated, at least for this theater goer. Twist Your Dickens is a whip-smart satire of not just Dickens, but of many enshrined Christmas traditions you know and love. Seamlessly blending improv with sketch comedy in true Second City style, this emerging holiday tradition adds yet another worthy competitor to the increasingly large field of excellent shows vying for Chicago's seasonal spending.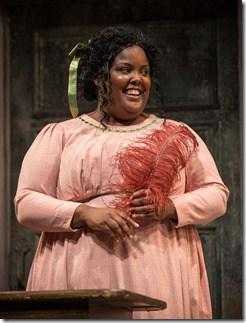 Before entering the show, it's advised you think on your misdeeds so you can anonymously add them to the construction paper chain hung about Marley's (Playwright
Peter Gwinn
) neck for some uproarious confessions. If you're lucky, it could become a call-back gag, as did this night's admission of beating up a brother for saying "wolfs" instead of "wolves." Seriously though, who does that? If you're reading this, I hope you still feel shame. Everyone knows you only do that for using "irregardless"…
Sketch comedy forms the greater bulk of Twist, and it's the short-form send ups of holiday classics that exploits the cast's talents to greatest effect. From some Reaganomics-loving wise men to a Peanuts gang who is a little fed up with Linus' religious exclusionism, the laughs come fast and furious. Even a skit about misfit toys being adopted by ironic hipsters seemed funnier this time around.
Part of this must come from the revised cast, which is made of half Twist newcomers. For my money, Danielle Pinnock edged out the rest by a hair as the funniest new addition. Without saying a word, her chronically depressed misfit doll is a stitch, while her Mrs. Cratchit-musings on how to off Scrooge for the money steal the show. Peter Gwinn and Bobby Mort's script has gotten a few updates as well to reflect some current events and tweak a few weaker sections. The one cast change I hope they never make is to Scrooge himself, played with arch acerbic timing by 'serious' actor Francis Guinan. As the lynchpin of the whole zany enterprise, his ability to deliver an incredulous retort or shake his booty is as indispensable as it is hilarious.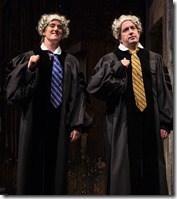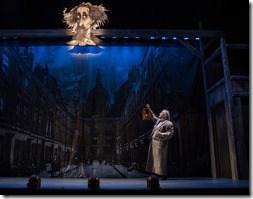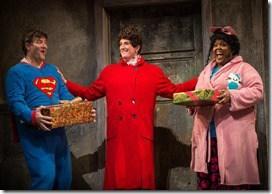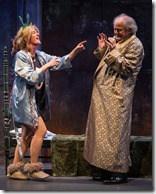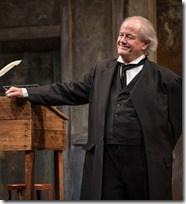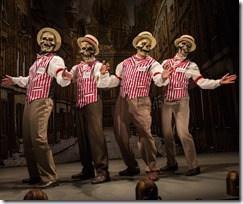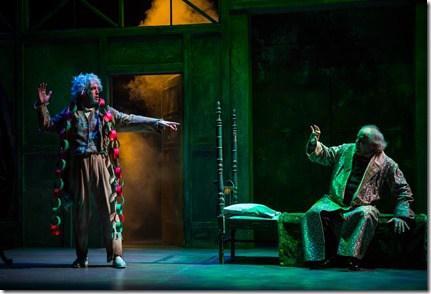 Beth Melewski makes a more than welcome return with her boozy lounge singer who can't get the words right—from "Police Navidad" to "Jeff's Nuts Roasting on an Open Fire"—but it's the audience-inspired carol that kills. Her rendition of "Eggnog Nightmare" (props to the audience member who had that on the tip of his tongue) sung as Alice Cooper was the evening's improv highlight. Close on its heels however would be the improvised jobs and hobbies of Belle's new lover, whom on this particular evening became a hangman/potter/butterfly killer.
Though an exact count would be difficult, it may prove true that these (holi)days, Chicagolanders have an equal or greater amount of satirical Christmas productions—and especially the niche of Christmas Carol take offs—than those that seek to tell an earnest story. An entirely new article could be written pondering the question, "Will far future generations have enough sacred Christmas cows to lampoon, or will they have to start lampooning the lampoons of the past? Can we manufacture nostalgia at the same pace as the glory days of Rankin/Bass?" But that's neither here nor there. Twist Your Dickens makes a comically compelling case for its annual renewal with this sophomore redux, offering audiences the great gift of laughter when they need it most.
Rating: ★★★½
Twist Your Dickens continues through December 27th at Goodman's Owen Theatre, 170 N. Dearborn (map), with performances Tuesdays and Wednesdays at 7:30pm, Saturdays 8pm, Saturdays 4pm & 8pm, Sundays 3pm.  Tickets are $15-$45, and are available by phone (312-443-3800) or online through their website (check for half-price tickets at Goldstar.com). More information at GoodmanTheatre.org.  (Running time: 2 hours, includes an intermission)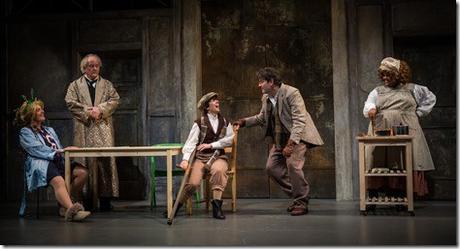 Photos by Liz Lauren
---
artists
cast
Peter Gwinn (Jacob Marley), Travis Turner (Ghost of Christmas Past), Francis Guinan (Scrooge), Danielle Pinnock (Mrs. Cratchit), Beth Melewski (Ghost of Christmas Present), Sue Salvi (Tiny Tim), Tim Sniffen (Bob Cratchit)
behind the scenes
Matt Hovde (director), Tom Buderwitz (set design), Rachel Lambert (costume design), Jesse Klug (lighting design), Mara Filler (stage manager), Casi Pacilio (sound designer), Liz Lauren (photos)
15-1225