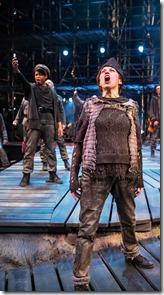 Well done epic, mixed results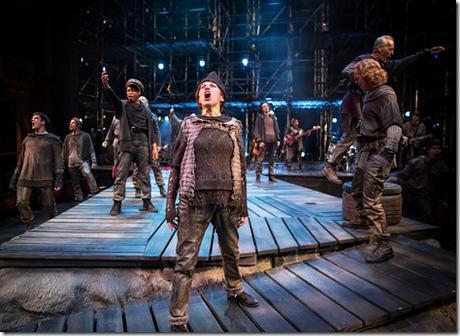 These days, plays tend to be very short or very long. The 90-minutes-no-intermission trend is thriving, shortening the working hours of critics everywhere, but on the other end of the spectrum, epic productions have also found a place in the Chicago sun. , the Hypocrites' adaptation of every single Greek tragedy, was such a smashing success that it's already been revived once. Additionally, The House Theatre enjoyed a successful run of , a 9-hour Lord of the Rings-style story featuring a dragon voiced by Tracy Letts. Seeming to want in on the action, Chicago Shakespeare is giving the marathon approach a go with Tug of War , a two-part adaptation of Shakespeare's history plays, featuring a small but mighty cast, a live band, and lots of powerful action. Tug of War: Civil Strifewill premiere in the fall, but the saga begins with Tug of War: Foreign Fire . The plays: Edward III, Henry V and Henry VI, Part 1. The time span: 6 hours, including 3 intermissions and one meal break. The results: decidedly mixed.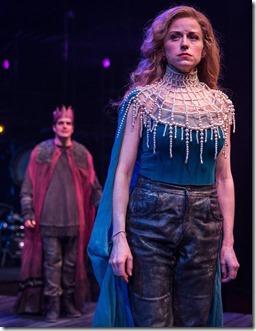 Tug of War: Foreign Fire opens with Edward III, which scholars have credited in part to Shakespeare. King Edward III (Freddie Stevenson) is the father of both the York and Lancaster branches of English royalty, but he is grappling with domination of rival country France. Eventually, this conflict launches the War of the Roses and the Hundred Years' War, and on the home front Edward III seeks the married Countess of Salisbury (Karen Aldridge) as his mistress, growing more aggressive as she resists. Next is Henry V, when Edward's descendant Prince Hal (John Tufts), a good-time guy with a lust for life, ascends to the throne and the front lines of battle, becoming a beloved king and a worthy enemy to France. He and the French princess Philippa (Heidi Kettenring) marry and bear a son, who becomes Henry VI (Steven Sutcliffe). Innocent and bookish, this new King struggles to overtake the French territories once again, battling both a reluctant king and the warrior Joan of Arc (Kettenring).
has the best of intentions. Director Barbara Gaines states in the press release a desire "to honor the men and women in [Shakespeare's] plays, in his world and in our world who serve their country" [emphasis hers]. I have no doubt her goal is a genuine one. The history plays are typically not everyone's favorite, but Gaines and company have done their best to punch them up, emphasizing the stage combat (beautifully choreographed by Matt Hawkins) and integrating music that ranges from traditional war songs to classical to contemporary (Pete Townshend and P!nk melodies pop up). The latter comes courtesy of a live onstage band of electric guitar, cello, keyboard, ukulele and percussion, as well as several of the actors. It's rare that live music doesn't enhance a production, and this band, led by music director Matt Deitchman, is Tug of War's true standout. It's not all perfect: I could do without the actors singing (they have varying degrees of vocal ability), and some of the more modern songs are ill-placed - not to mention that the P!nk reference was lost on a good 80 percent of the audience members at opening. Also, the music cues are inconsistent, with more songs in Edward III than in the following two plays. Still, the musicians are skillful and emotional, bringing an exciting twist to the drier scenes and adding a lovely, personal layer to 's more intimate moments.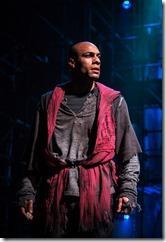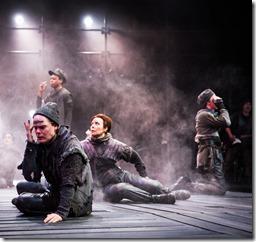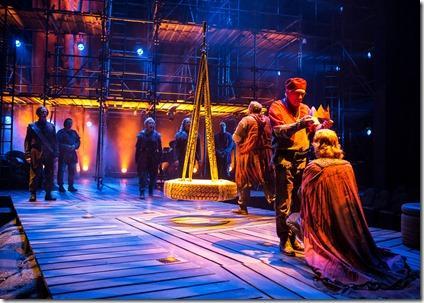 As with all of Chicago Shakespeare productionsfeatures top-notch design elements. While I wish scenic designer Scott Davis had gotten a little more creative than the standard scaffolding that signifies "gritty," his use of a gold spray-painted tire swing to signify the coveted throne and all it symbolizes is pure brilliance. (Because what is war if not a bunch of kids on a playground, duking it out over a simple dispute or misunderstanding that could be easily resolved if not for pride and stubbornness?) Costume designer Susan Mickey eagerly plays along with this commentary, outfitting the monarchs in paper crowns reminiscent of a British children's party, which the characters treat with the utmost reverence, and ragged capes that have the tattered elegance of a dignified dress-up box. Additionally, Mickey's use of the color red for England and blue for France - seamlessly incorporated into each garment - is incredibly helpful to the audience in distinguishing one character from the next: a must when multiple wars are waged and the 20-member cast portray over 100 characters. In this vein, Melissa Veal's wig design is essentially flawless.
Gaines and casting director Bob Mason have assembled an ensemble that's stunning even by Chicago Shakespeare standards. Parts of the history plays aren't all that compelling, but are necessary for exposition's sake, and these actors can make the most minor soliloquy into a work of art. Larry Yando is such an actor: one of Chicago's finest, he delivers iambic pentameter with a playful ease, holding the audience in the palm of his hand with every syllable. Alex Weisman shines in several small roles, and Daniel Kyri makes an exciting Chicago Shakes debut as Edward III's naïve Prince Philip. Aldridge's Countess of Salisbury is a revelation: intelligent, conflicted and thrust into an uncomfortable, potentially deadly, tryst. Kettenring is a fierce Joan of Arc in Henry VI, and Dominique Worsley (another CST debut) is equally excellent as Edward III's dynamic Prince of Wales and the spoiled Lord Rambures in Henry V. The title monarchs are pitch-perfect: Stevenson's King Edward III is equal parts sympathetic and terrifying in his single-mindedness. As Henry VI, Sutcliffe projects a Marie Antoinette-like sense of being completely out of one's element. And Tufts' Henry V projects truth with each gesture: his coming-of-age journey over the course of the play is raw and real.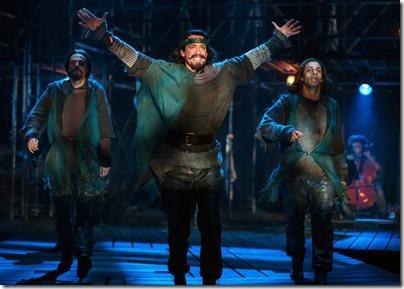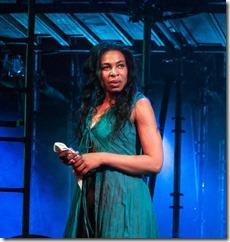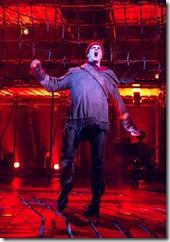 Despite all of its strengths, however, doesn't quite work. Both All Our Tragic and The Hammer Trinity were crafted to be epic productions. All Our Tragic worked interactive moments into its 12 hours, and The Hammer Trinity slowly built a following by debuting in parts over previous seasons, with Part III premiering both on its own and as part of the 9-hour event. While wisely uses live music and boasts gorgeous production values and stellar acting, six hours of Shakespeare (particularly the history plays) is almost too much even for the most die-hard fan or scholar. Also significant is the target audience factor: as a whole, followers of The Hypocrites and the House Theatre are significantly younger than Chicago Shakespeare subscribers. While Chicago Shakes has done an excellent job increasing access to its shows for all theatergoers with initiatives such as the $20 under 35 program, the steep ticket price for may deter younger theatergoers as well. The press release tries to spin as "a live binge-watching experience," conveniently ignoring that access to one's couch and a remote control with a pause button, as opposed to the confines of a theater seat with live performers and limited facility and snack breaks, are integral parts of the binge-watching experience. Simply put, live Shakespeare isn't ideal material for a marathon watch.
Tug of War: Foreign Fire has a very specific audience and requires a big time commitment. It is up to the theatergoer whether said commitment is worth it: the experience is somewhat rewarding but quite intense and most of all, very, very long. The design, music and actors are phenomenal, but Shakespeare's history plays can only be enhanced so much. There is much to like about , but the 6-hour running time (even with frequent breaks) is wearying, and Chicago Shakespeare isn't the only city theater with wonderful actors, talented designers and compelling Shakespeare.
Tug of War: Foreign Fire continues through June 12th at ), and are available by phone (312-595-5600) or online through their website (check for half-price tickets at Goldstar.com ). More information at ChicagoShakes.com. (Running time: 6 hours, which includes 3 intermissions and a meal break) Chicago Shakespeare, 800 E. Grand (). Tickets are $100 ($85 if booked with this fall's Tug of War: Civil Strife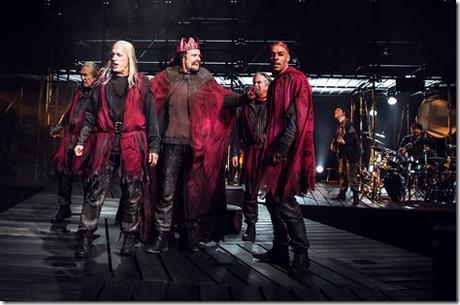 Photos by Liz Lauren
Karen Aldridge, David Darlow , Matt Deitchman , Jed Feder, Neil Friedman, Kevin Gudahl, Shanna Jones, Heidi Kettenring , Daniel Kyri , Michael Aaron Lindner, James Newcomb, Barbara Robertson, Freddie Stevenson , Steven Sutcliffe , , Tahirah Whittington, Alex Weisman , Dominique Worsley , Larry Yando (ensemble), Patrick Budde, Shanna Jones, Matt Deitchman , Neil Friedman, David Keohane, Henson Keys, Will Lidke, Christopher Prentice, Lewis Rawlinson, Sarah Ruggles, Jacob Schweitzer, Bri Sudia, Shawn Wilson (understudies)
behind the scenes
Barbara Gaines (director, adaptation), Scott Davis (scenic design), Susan Mickey (costume design), Anthony Pearson (lighting design), Lindsay Jones (sound design, original music and arrangements), Melissa Veal (wig and make-up design), Matt Deitchman (music director), Geoff Button (assistant director), Matt Hawkins (fight choreographer), Harrison McEldowney (movement director), Eve Breneman (dialect coach), Larry Yando (verse coach), Stuart Sherman (scholar-in-residence), Bob Mason, Nancy Piccione (casting), Deborah Acker (production stage manager), Liz Lauren (photos)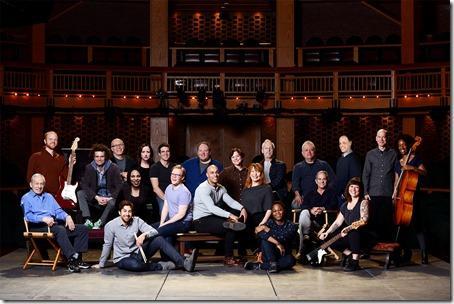 Tags: 16-0514, Alex Weisman, Anthony Pearson, Barbara Gaines, Barbara Robertson, Bob Mason, Bri Sudia, Chicago Shakespeare Theater, Chicago Theater, Christopher Prentice, Daniel Kyri, David Darlow, David Keohane, Deborah Acker, Dominique Worsley, Eve Breneman, Freddie Stevenson, Geoff Button, Harrison McEldowney, Heidi Kettenring, Henson Keys, Jacob Schweitzer, James Newcomb, Jed Feder, John Tufts, Karen Aldridge, Kevin Gudahl, Larry Beckett, Larry Yando, Lauren Whalen, Lewis Rawlinson, Lindsay Jones, Liz Lauren, Matt Deitchman, Matt Hawkins, Melissa Veal, Michael Aaron Lindner, Nancy Piccione, Navy Pier, Neil Friedman, Patrick Budde, Sarah Ruggles, Scott Davis, Shanna Jones, Shawn Wilson, Steven Sutcliffe, Stuart Sherman, Susan Mickey, Tahirah Whittington, Tim Buckley, Tracy Letts, Will Lidke, William Shakespeare
Category: 2016 Reviews, Adaptation, Chicago Shakespeare, Lauren Whalen, Navy Pier, New Work, Video, William Shakespeare, World Premier, YouTube