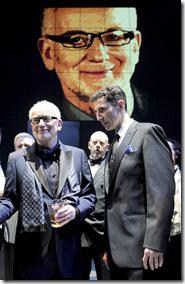 Timon of Athens 
Written by William Shakespeare 
Directed by Barbara Gaines 
at Chicago Shakespeare, Navy Pier (map)
thru June 10  |  tickets: $44-$75   |  more info
  
Check for half-price tickets 
  
  
   Read entire review
  
---
Forgotten work of Shakespeare is successfully modernized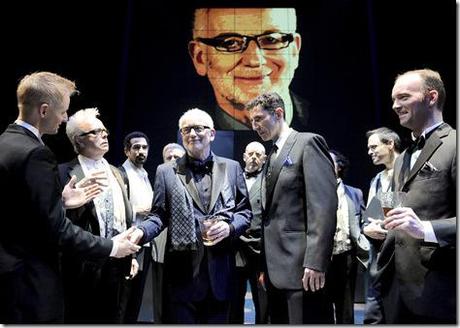 Chicago Shakespeare Theater presents
Timon of Athens
Review by Keith Glab
It's very rare to see a production of Timon of Athens or even have it taught in a literature class. Apart from being widely believed to be unfinished and a collaborative work with Thomas Middleton, the play has lower stakes than most of William Shakespeare's work. Rather than dealing with death and love, Timon of Athens concerns money and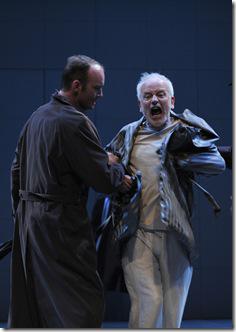 friendship.
Timon (Ian McDiarmid) spends the first act of the play bestowing unimaginable generosity upon his "friends." His servant, Flavius (Sean Fortunato), warns that Timon's gifts come "out of an empty coffer," his extravagance having caused him to fall unwittingly into great debt. When the creditors come to collect, Timon sends Flavius to secure loans from the various people he's lavished his wealth upon over the years, only to find them full of excuses as to why they cannot help, as "self-interest sits above conscience."
Timon holds a final banquet for these folks, but it's hardly something out of Titus Andronicus. He serves them hot water and stones, then flicks water and unkind words upon them. McDiarmid gives Timon enough venom in this scene to make it compelling, and director Barbara Gaines raises the stakes a bit by letting McDiarmid lay waste to Kevin Depinet's clean, ultramodern set.
Undeterred, Depinet reveals an even more impressive misty beach setting after intermission to an audience ovation. Timon has left Athens for the coastline, where he stumbles upon a hidden trove of gold. He's visited by several former flatterers who hear about his return to wealth, including Alcibiades (Danforth Comins), a captain who was banished from Athens for questioning the death sentence given to one of the soldiers under his command. Timon funds Alcibiades' efforts to raise an army to storm Athens before succumbing to the harsh wilderness.
No one is going to mistake this for one of Shakespeare's best scripts, but Gaines and her cohorts sculpt it to follow a clearer narrative line and move at a brisk pace. They particularly improve upon the ending, allowing Timon to deliver his own epitaph rather than having Alcibiades read it as it's scripted. This is a more effective presentation regardless of the actors involved, but particularly so as McDiarmid boasts a far more advanced mastery of Shakespearean language than does Comins, who often sounds awkward and uncomfortable with his dialog. Gaines also adds a final scene with Flavius that raises more questions than it answers – but in a good way.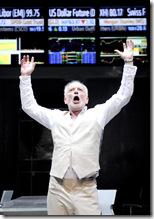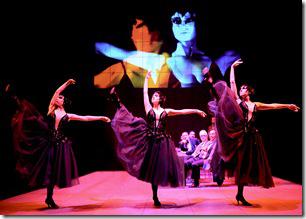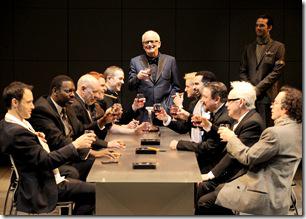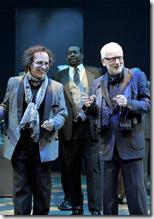 While McDiarmid, who is renowned for his role as the Emperor in "Return of the Jedi", turns in a superb performance as the headliner, it is Fortunato's Flavius who steals the stage. Even during the opening scenes in which Timon prances around ostentatiously enjoying his philanthropy, the audience can't help but notice Flavius' muted and pained disapproval. Fortunato is able to convey Flavius' genuine affection for Timon, even when he's admonishing his master's spendthrift ways. The supporting cast is generally solid, although there are times when they speed through some beautiful lines to where their full impact is lost or don't allow their voices to fully fill the space.
This play works better as a modern-day adaptation than any Shakespeare I've seen: time-old Shakespearean lines such as "here's news" are delivered after a glance at a cell phone; a painting of Timon is effortlessly sent from a tablet to Timon's giant LED wall. In an age when most people can boast hundreds of "friends" on Facebook, the question of what true friendship consists of is most pertinent indeed. Wealth is perhaps more centric to our society than ever, and many people can relate to spending more than they have, losing their homes, or suddenly having a lowered standard of living, particularly so in Athens.
Given the timeliness and anonymity of this work, it's almost as though someone resurrected the bard and had him write a brand new play for the 21st century, really making this a must see. Timon of Athens is no Othello or King Lear, but unlike those masterpieces, you might not ever have a chance to see it performed again, and you'll almost certainly never see it as well-adapted as Chicago Shakes has done here.
Rating: ★★★½
Timon of Athens continues through June 10th at Chicago Shakespeare, Navy Pier (map), with performances Tuesdays-Fridays 7:30pm, Wednesdays 1pm, Saturdays 3pm and 8pm, Sundays 2pm and 6pm.  Tickets are $44-$75, and are available by phone (312-595-5600) or online here (check for half-price tickets at Goldstar.com). More information at ChicagoShakes.com.  (Running time: 2 hours 15 minutes, includes 15-minute intermission)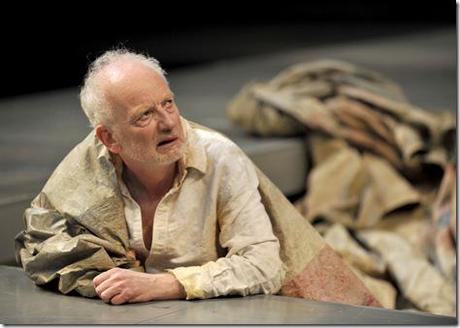 All photos by Liz Lauren
---