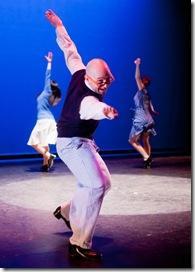 Tidings of Tap 
Choreographed by Mark Yonally 
   and Rich Ashworth
at UIC Theater, 1044 W. Harrison (map)
thru Dec 16  |  tickets: $20-$35   |  more info
  
  
      
  
---
Catch the rhythm of the season with this tap-tacular production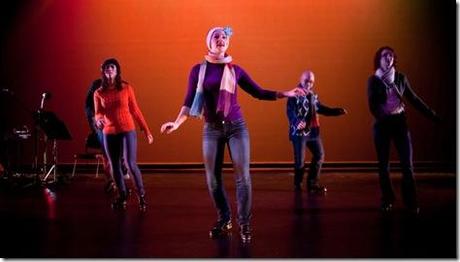 Chicago Tap Theatre presents
Tidings of Tap
Review by Lauren Whalen 
The world needs more tap. It's an exercise in utmost exactitude, creation of concentrated noise and an art form that's virtually impossible to fake. Moreover, it makes people happy. After observing a rehearsal for Chicago Tap Theatre's Tidings of Tap, my face hurt from over an hour of nonstop smiling. As an always-jaded, often-grumpy critic, I can't remember the last time that happened. Tidings of Tap is a delightfully wrapped, very loud package as Chicago Tap Theatre unleashes its powerhouse precision in the midst of holiday frenzy.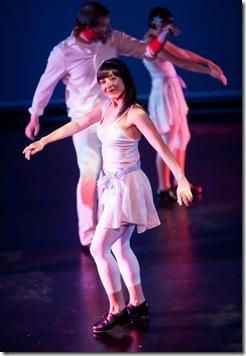 In
Tidings of Tap,
CTT Artistic Director
Mark Yonally
and his merry band of hoofers – plus several top-notch musicians – put the beat in the season. Nearly two hours of shuffle ball changes and Maxi Ford turns might seem excessive, but the rehearsal I observed flew by faster than a snow flurry. I sat in the chair Yonally procured for me, enchanted by everything from "Beatcracker in a Nutshell" (a lively group number accompanied by beatbox) to "Klever Dreydlekh" (set to a mash-up of klezmer tunes) to the dynamic "Carol of the Bells" (in which the ensemble taps out the iconic holiday carol). In case you're worried about sugar shock, have no fear: the sweetly restrained "Candelight" and the somber "River" highlight the sadder moments of a very fraught season – without alienating younger, more innocent audience members.
Tapping is a very particular type of dance in many ways. One, it provides its own accompaniment. Unlike ballet, tap is deliberately noisy – and if scored wrong, it can work against the music, not with it. Two, though every form of dance requires a certain order (yes, even modern dance – try taking a class in Martha Graham's style, and you'll learn there's deliberation behind every undulation), in tap one can hear every misstep. Each scrape or slide that's not supposed to sound like that is glaringly obvious, especially in a group number. And finally, tap requires dancers to be one with the floor, rather than float above it. Most dancers study various forms, and transitioning from ballet or modern can be difficult, sometimes impossible.
Tidings of Tap's numbers are not only precisely danced, but well thought-out: the music provides a delightful underscore to the steps, except during exciting bits like the aforementioned "Carol of the Bells" and Yonally's exceptional solo. (Fans of "Name That Tune" will be delighted with the show's several interludes, in which a dancer taps out a holiday song for the audience to guess and eventually sing along.) As an ensemble, CTT is tight – as a result of their clear familiarity with one another's moves and styles, their sound is perfect with nary a stray toe-heel. And CTT dancers aren't just in the floor, they practically make love to it: so clear is their marriage of metal tap to wood plank.
Though the group cohesion is stellar, each company member has special individual qualities. Yonally (also CTT's co-founder) has an easy grace reminiscent of Gregory Hines, while Jennifer Pfaff Yonally brings a loose-limbed elegance similar to Fred Astaire. Rich Ashworth's fun sense of character – most obvious in the Dr. Seuss-inspired "You're a Swingin' One, Mr. G" – complements his stellar technique. And Kirsten Uttich's vibrant poise, in everything from elegant turns to sweet back essences, renders her a positively magnetic presence. Throughout the show, CTT's three apprentices (and their violinist) join in: of them, Hannah Wilson stands out with a pleasant charm in every time step.
Because I watched a rehearsal at the Joel Hall Dance Center, I can't speak for Tidings of Tap's production values. But I can say this: the amount of sheer adrenaline created in that small space can only result in a cheery explosion in a larger venue. Note to tap enthusiasts: Tidings of Tap's final number is a "Shim Sham" with (completely voluntary) audience participation, so bring your shoes. I wish I could find mine. Because though I haven't done a Maxi Ford turn in over a decade, I studied tap for 14 years and am now strongly considering picking it up again. Chicago Tap Theatre, it's all your fault!
Rating: ★★★½
Tidings of Tap continues through December 16th at UIC Theater, 1044 W. Harrison (map), with performances Friday and Saturday at 8pm, Sunday at 3pm.  Tickets are $20-$35, and are available online through BrownPaperTickets.com (check for half-price tickets at Goldstar.com). More information at ChicagoTapTheatre.com.  (Running time: 1 hour 45 minutes, includes an intermission)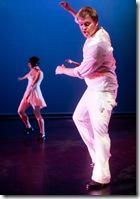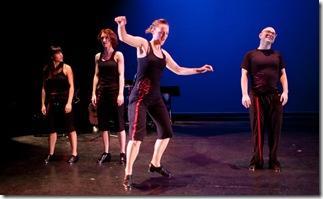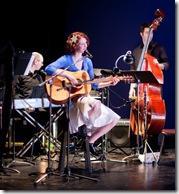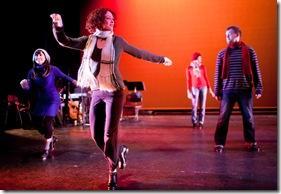 Photos by Josh Hawkins (from 2011 production)
---
artists
cast
Dancers: Rich Ashworth, Kirsten Uttich, Jennifer Pfaff Yonally, Mark Yonally
Apprentices: Christine Thielke, Jessica Williams, Hannah Wilson
Musicians: Arne Parrott, Annette Bjorling, Kurt Bjorling, Ken Fuller, Samantha O'Connell, Anna Rhoads
behind the scenes
Mark Yonally (artistic director), Jennifer Pfaff Yonally (business manager), Rich Ashworth (rehearsal director), Lynda Pasteur (marketing), Leah Martin (social media), Arne Parrott (music director), Jason Pikscher (production manager), Lauren Girard Forster (stage manager), Joshua Paul Weckesser, Michael Goebel (lighting), kClare Kemock (costumes), Kristie Kahns (photography, graphic design), Josh Hawkins  (photography), Laura Lockwood (videography)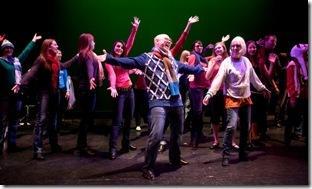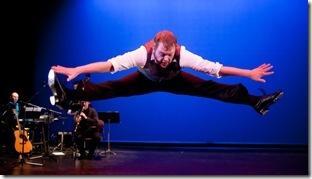 12-1228