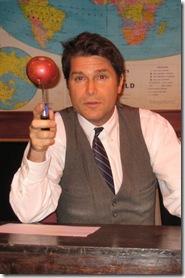 They Call Me Mr. Fry 
Written by Jack Fry 
Directed by Jeff Michalski 
at Stage 773, 1225 W. Belmont (map) 
thru Oct 14  |  tickets: $30   |  more info 
  
Check for half-price tickets  
  
  
  Read entire review 
---
A touching, hilarious story, straight from the source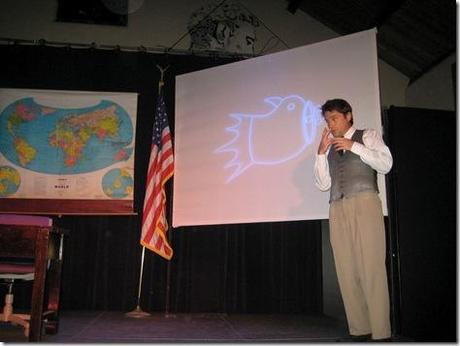 School Teach Productions presents
They Call Me Mr. Fry
Review by Clint May 
One of the most classic episodes in the early era of "The Simpsons" involves Lisa becoming enraptured with a particularly talented substitute teacher by the name of Mr. Bergstrom. When he leaves, she's devastated, but left with a wonderful memento that she cherishes. Leaving Jack "Mr. Fry" Freiberger's one-man show, I was similarly moved by the education he offers in They Call Me Mister Fry. It follows in the footsteps of other true tales of public school such as "My Posse Don't Do Homework" by Louanne Johnson (later made into a shallow, contrived movie you might have heard of, "Dangerous Minds"). It's my sincerest hope no one ever makes a movie out of this story. Being from that Fry is from LA, I imagine the offer will or has come up already given that this show has garnered a lot of attention in its travels and with good reasons. Movies of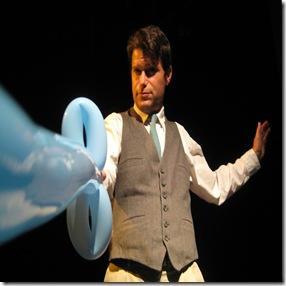 this ilk, like those aforementioned and the fairly inaccurate "Lean On Me", need nice beginnings, middles and ends for maximum palatability. While Mr. Fry's is an absolutely engrossing narrative, it's pleasantly messy in a way I'd hate to see smoothed out for movie audiences. This inspirational love letter to teaching and an inadvertent hero's journey is deeply entwined to him and his obvious affection for his students, the life-changing details, and the nuances of what it means to teach and how we continue to learn.
Despite being self-proclaimed as a lazy and irresponsible substitute (he thinks of himself as a 'subslut'), it's clear he has a lot of unrealized potential. As a former promotional clown with Shakespearean training, he brings his alter ego King Arthur and an Excalibur-shaped balloon to the classroom to knight his students (King Arthur's internal idealism continues throughout the tale). Life is good. Only when his girlfriend prods him to get a more stable career path does he seek a full time teaching job. His first search for a regular gig at an upper-crust elementary strikes out. When another job teaching 5th graders opens at a South Central LA school, he gets it with suspicious ease. To say he's a fish out of water upon arrival is a gross understatement. Privately schooled by his upper-middle class family in the Midwest, he's completely unprepared for a 'lock down' on his first day. A 'lock down' is parlance for 'someone with a gun has been spotted in the area.' Many of us may be able to say we've had rough days on the job, but few can say they had to use a closet as a bathroom with a class of students until 10pm because you're not allowed to leave the room for fear of being shot. That this is one of the more mild stories he relates is shocking in and of itself.
Two particularly troublesome students, "Anthony" and "Jasmine" (names are of course changed), provide most of the stories for Mr. Fry. His interactions with these two are created by some incredibly affecting impersonations as he recreates them with lightning quickness. To give away the details of the rise and fall of the relationships they forge and their trial and error attempting to negotiate a treacherous emotional landscape with them would merit my being sent to detention. Suffice to say there's no easy answers to a boy born of rape and a girl who just wants a dad in a school system struggling under the ridiculous thumb of "No Child Left Behind." This isn't a political production or simple " hero in the bad part of town" story however.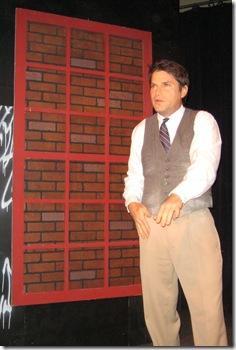 Mr. Fry is short at 80 minutes (I could have easily gone another hour), and in that little time there's a virtual roller coaster of emotions. I found myself laughing out loud with tears still evaporating on my cheeks. Fry is a natural showman with a sublime, down to Earth affability and comedic timing. In an interview, he states that "if you're not an actor when you go in a classroom, you'll definitely learn to be one." The same talents that serve him well as a teacher help him create an effortless connection with no trace of artifice. This is a performance, yes, but it goes beyond that in the way the best one-person shows can. When he tells the stories of how his kids changed his life and he changed theirs, of the little moments that made the brutal hours worth it, showing the physical mementos carefully preserved—it goes beyond performance and teacher-story clichés and into a special realm only created when real experience meets the best of storytellers. There's an intense energy that's very well-channeled, as though Mr. Fry is a more controlled Robin Williams. Veteran comic director 
Jeff Michalski
(who worked with my hero Stephen Colbert) ensures Jack has the looseness to make much of this feel freshly improvised despite its polish.
They Call Me Mister Fry is an indelible show—a visceral and hilarious look at the delicate art of teaching that's not just for teachers. Don't think of this four-star review as an endorsement; this is a course requirement.
Rating: ★★★★
They Call Me Mr. Fry continues through October 14th at Stage 773, 1225 W. Belmont (map), with performances Fridays and Saturdays at 8pm, Sundays 3pm.  Tickets are $30, and are available by phone (773-327-5252) or online through Stage773.com (check for half-price tickets at Goldstar.com). More information atTheyCallMeMisterFry.com.  (Running time: 80 minutes, no intermission)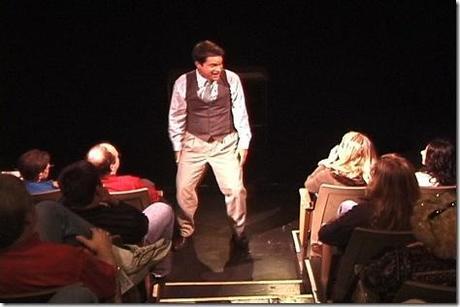 ---
artists
cast
Jack Fry
behind the scenes
Jeff Michalski (director, lighting); Anne E. Shilling (vocal coach); Tom Blomquist (creative consultant); Ralph Roberts (producer, set design)