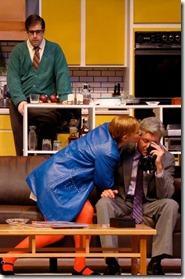 There's a Girl in My Soup 
Written by Terence Frisby
Directed by David Belew  
Metropolis Arts Centre, Arlington Heights (map)
thru Feb 23  |  tickets: $40-$44   |  more info
  
Check for half-price tickets 
  
  
   Read entire review
  
---
Why produce unlovely comedy?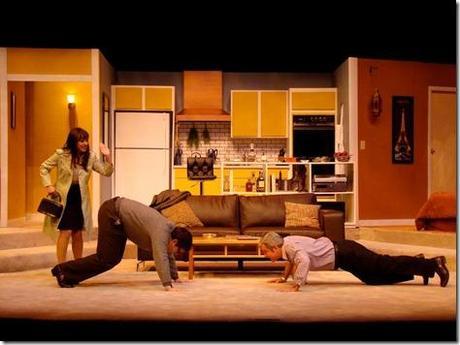 Metropolis Performing Arts Centre presents
There's a Girl in My Soup
Review by Leah Zeldes 
There's a Girl in My Soup premiered in London's West End in 1966. It was probably passé by 1967, when it opened on Broadway for a 10-month run, but it played on in London through 1973, and was made into a film with Peter Sellers and Goldie Hawn in 1970. New York Times critic Roger Greenspun called the movie "competent to no purpose," and that's just how I'd describe Metropolis Performing Arts Centre's production.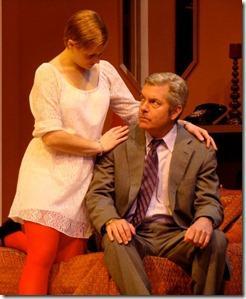 Metropolis can do sex comedies. Its 2010 production of
Out of Order
(
my review
) was sidesplitting. This play, however, doesn't even have the saving grace of being a droll period piece. It just feels dated.
Robert Danvers is a famed, 41-year-old gourmet with a voracious appetite for women. His pickup line, "My God, but you're lovely," became a catchphrase after the film hit theaters. As Robert's friend and publisher Andrew Hunter puts it, "Your sex life is like a continual wine tasting: you roll 'em around and spit 'em out." We see Robert seduce his regular bed partner, Clare, despite her determination to stop seeing him due to her impending marriage; we watch him hit on Paola, his friend's Italian babysitter; and finally, we see him bring home Marion, an irreverent and unromantic 19-year-old.
That's the first act: so much stage setting, which drags along. Things get somewhat livelier in the second act, commencing with arrival of Jimmy, Clare's drummer boyfriend. But beyond the amusement factor in seeing gender tables turned, the comedy's humor just doesn't hold up.
The supporting cast does a fine job. Lisa Savegnago is deliciously arch as Clare, Chuck Sisson expressive as the long-suffering apartment porter, John, and Ashlee Edgemon charming as Paola. Colin Wasmund as Andrew and Sean Walsh as Jimmy are both very comic. But they aren't enough to save the play from its moldy script.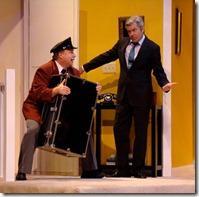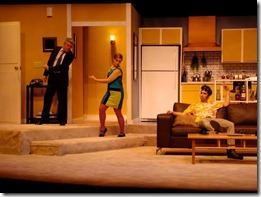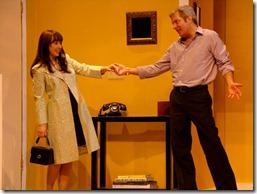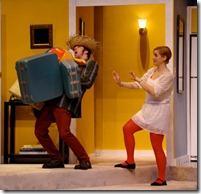 Moreover, Russell Alan Rowe comes off as older than the part he's playing, giving his character more chickenhawk aspect than the playwright probably intended. Shanna Brown, as Marion, goes beyond pragmatism into stolidity, and it becomes hard to see any chemistry between the two.
Not helping the continuity is the decision of Director David Belew and his designers to move the play's setting forward into 1968. That gave Sound Designer William A. Franz a greater choice of incidental music, but it doesn't all quite fit. Playwright Terence Frisby was looking back at the early 1960s by the time his comedy opened, and the dividing line between that cocktail-soaked Mod Era and the heady hippie years succeeding it is pretty definitive: the 1967 "Summer of Love." Cathy Tantillo's costumes anachronistically straddle the line, with Clare in smart styles reminiscent of Courrèges and a pillbox hat and gloves, and Marion in a Mondrian-inspired minidress, but Jimmy in tie-dye and Dr. Martens.
Although there's nothing majorly wrong with this production, with so little merit to the script, I can't help but wonder why Metropolis didn't turn its talents to a more worthy project.
Rating: ★★
There's a Girl in My Soup continues through February 23rd at Metropolis Performing Arts Centre, 111 W. Campbell, Arlington Heights (map), with performances Thursdays at 7:30pm, Fridays 8pm, Saturdays 7pm, Sundays 3pm.  Tickets are $40-$44, and are available by phone (847.577.2121) or online through Tickets.com (check for half-price tickets at Goldstar.com). More information at MetropolisArts.com.  (Running time: 2 hours 15 minutes, includes an intermission)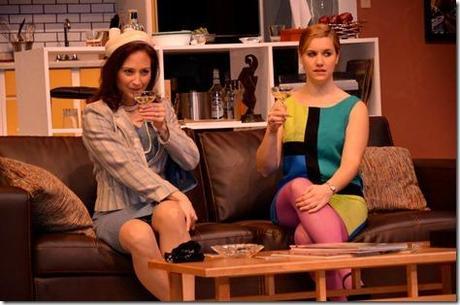 ---
artists
cast
Shanna Brown (Marion); Ashlee Edgemon (Paola); Russell Alan Rowe (Robert); Lisa Savegnago (Clare); Chuck Sisson (John); Sean Walsh (Jimmy); and Colin Wasmund (Andrew).
behind the scenes
David Belew (director); Scott Sumerak (scenic designer); Joe Mohamed (lighting designer); Cathy Tantillo (costume designer); William A. Franz (sound designer); Theresa Neumayer (properties designer); Sammi Grant (dialect coach); Carly Franz (stage manager); Eamon McDonagh (technical director).
13-0143