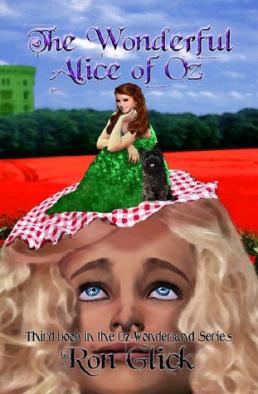 The Wonderful Alice of Oz (Oz-Wonderland Series # 3) by Ron GlickAuthor Website
Amazon (UK)
Amazon.com
I was given a free copy by the author in exchange for an honest review.
Createspace (ebook), 2014181 Pages
Three Wicked Witches vie for control of the Magical Land of Oz, while the Wizard appears no closer to solving the mystery of how to return the former Wyrds to Wonderland. But Glinda's secret may shift the balance in an entirely unforeseen direction! Meanwhile, a quest beyond the Looking Glass may have gleaned more than anyone was hoping for when Dorothy's return from that magical realm attracts the attention of a new player in the conflict...

Written with a faithful eye to the original Baum and Carroll classics, The Wonderful Alice of Oz concludes the first story arc of the series, while setting the foundation for the next chapter to unfold.
'Oh dear,' muttered the White Rabbit, his hands twisting feverishly. 'Oh dear, oh dear, oh my'.
The Wonderful Alice of Oz picks up where the second book, Dorothy through the Looking Glass left off. I continue to be impressed by the way the author blends the worlds and characters of Oz and Wonderland into a very original tale. I really enjoyed the way the story develops. We learn that Oz and the Looking Glass world cannot exist without each other. More interesting titbits about the past of the characters is revealed including Glinda's history and Betsy, a girl from Oklahoma who also lives in Oz. I loved the way the story and action develops. The ending left me looking forward to the next instalment.