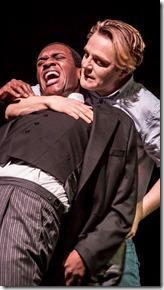 Vivid conceptualized design still can't resuscitate problematic script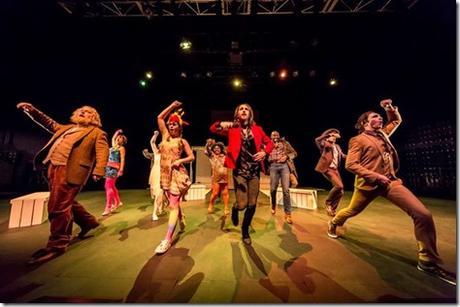 Review by Catey Sullivan
Of all the plays Shakespeare wrote, The Winter's Tale is - unarguably, in my opinion - the most problematic. (Note: Spoilers ahead. If you aren't familiar with the 400-year-old plot, consider yourself warned.) Directed by Declan Donnellan, Cheek By Jowl's highly conceptual staging of the play does little to mitigate the all-but irredeemably troubled script.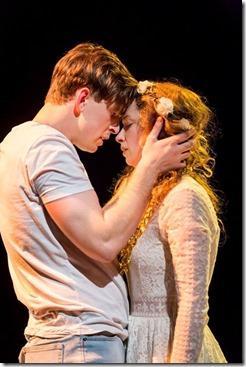 A plot synopsis illustrates the trouble with The Winter's Tale : The story centers on a wildly misogynistic king who kills his nearly nine-months-pregnant wife. He does this because he's a paranoid asshole who has decided a) that his queen is unfaithful and b) that adulteresses deserve the death penalty. After Queen Hermione dies, King Leonates takes the miraculously surviving infant and instructs his servants to leave it in the wild for wolves to eat. Meanwhile, Leonates' and Hermione's older son - who the king has been smacking around throughout - dies too. It could be of grief, but Mamillius' death could also be the result of getting punched in the throat by his father one too many times. Shakespeare then skips 16 years ahead.
The next time we see Leonates, he's sorry and weeping torrents of man tears. Poor fellow; he regrets terrorizing and murdering his entire family. The final scene in the play all but insists that the audience forgive Leonates. Never mind he's never been charged with any crimes and never had to pay so much as a fine for killing his wife and child. Nope, he's been king-ing along for 16 years, scot-free from any tangible consequences for his heinous actions.
Many critical analyses of The Winter's Tale argue that the play is all about the power of redemption and the grace of true forgiveness. Leonates does terrible things. He lives to rue them. He is not the man he was. We should love and forgive him and support him in his grief. Oh, puh- lease. So the king is sorry for slut-shaming his wife and then leaving her to die in some hellhole dungeon cell? He feels bad for smacking his son around and leaving a helpless baby for wild animals to rip apart? Excuse my French but So. Fucking. What. Repentance isn't that easy.
Donnellan and designer Nick Ormerod have taken this hugely problematic story and gussied it up with sleek, contemporary minimalism, memorable original music and a vivid conceptual design. The production is punctuated by stylized movements that sometimes turn into masterful tableaux reminiscent of paintings. Most strikingly, the staging beautifully emphasizes the vast disconnect between the world of Leonates' court (which dominates the first half of the piece) and the homespun, pastoral world of the country folk (which dominates the second half.) The former is all but colorless, a place of stark angles, impeccably tailored suits, and precisely calibrated waltzes.
The countryside and the rustics who take over the latter half of the play are a world away from court. The costume design features retina-searing bursts of color, talk is boisterous and vulgar, and the dancing straight out of a drunken Saturday night at Gilly's.
Where everyone at court is measured and reserved, everyone at in the country might as well be guests on the Jerry Springer show. Indeed, the play's riotous sheep-shearing party devolves into very Springer-like antics, with a slick flimflam man presiding as a pair of caterwauling women who get into a knock-down-drag-out cat fight over some sheep herder who has slept with both of them.
Composer Paddy Cunneendoes a marvelous job creating original music for both worlds. The sound of court is driving paranoia made audible. In the country, the music is all wild guitars, stamping feet and naughty lyrics.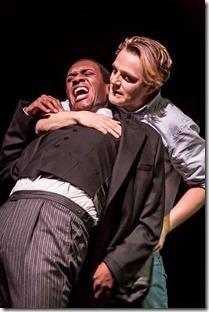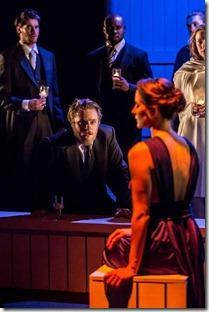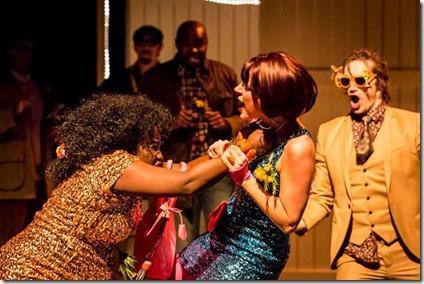 Designer Ormerod has crafted a set dominated by a white box that looks like it belongs on a container ship. The flexible, confined space becomes a hospital room, a ship at sea, and the porch-like entryway to a sheep-shearing party at various points in the piece. It's mostly effective, but it also too small for the cavernous space of Chicago Shakespeare's downstairs theater. It's dwarfed by the looming walls, and affords a clear - and potentially distracting - view of the backstage wing area.
Donnelllan's cast is fine, although not as memorable as the singular design of the production. Orlando James' Leonates is a bro-some blond, whose descent into jealousy is as inexplicable as it is hateful. Natalie Radmall-Quirke brings a saintly dignity to the much-abused Hermione. What she's lacking is anger. Even as her husband is humiliating her in the worst possible ways, Hermione remains stoic and almost gentle. The lack of rage is as inexplicable as her husband's insistence that she be shamed and sent to the gallows.
Donnellan has a curious take on Mamillius (Tom Cawte), the adored (initially) first born of Hermione and Leonates. Mamillius' emotions are extreme to say the least; at times, he literally seems to be tearing his hair out while screaming inconsolably at the top of his lungs. Donnellan makes the character a raging, out-of-control emotional wreck, so much so that you doubt he'd have survived in the wider world even if he hadn't died before hitting puberty. It's a novel approach to a character that is usually fairly forgettable. It's also a puzzling approach. It almost seems that we're to conclude that Mamillius has some sort of profound mood disorder. And while that would certainly have an impact on how his father's character could be interpreted, it's not adequately explored.
The final moments of The Winter's Tale are hushed and somber, culminating in a tableaux that evokes Michelangelo's "Pieta." It's a gorgeous, striking portrait of family unity. But if it's supposed to engender a sense that this marriage (and family) can be saved, it doesn't work. For that to happen, Shakespeare himself would have to rewrite pretty much the whole play.
The Winter's Tale continues through December 21st at Chicago Shakespeare Theater, 800 E. Grand (map). Tickets are $35-$80, and are available by phone (312-595-5600) or online through their website (check for half-price tickets at Goldstar.com ). More info at ChicagoShakes.com. (Running time: 2 hours 40 minutes, includes an intermission)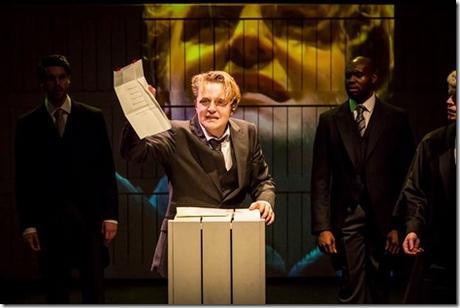 Photos by Johann Persson
Orlando James (Leonates), Edward Sayer (Polinixes), Natalie Radmall-Quirke (Hermione, Dorcas), Eleanor McLoughlin (Perdita), Joy Richardson (Paulina, Mopsa), Ryan Donaldson (Autolycus), Sam Woolf (Florizel), Peter Moreton (Old Shepard, Antigonus), Sam McArdle (Young Shepard), Grace Andrews (Emilia, Time), Joseph Black (Cleomenes), David Carr (Camille), Guy Hughes (Dion, live music supervisor), (Mamillius).
behind the scenes
Declan Donnellan (director), Nick Ormerod (designer), Judith Greenwood (lighting designer), Paddy Cunneen (composer), Jane Gibson (movement director), Angie Burns (costume supervisor), Simon Bourne (technical director), Marcus Roche (assistant director), Tim Speechley (company manager), Johann Persson (photos)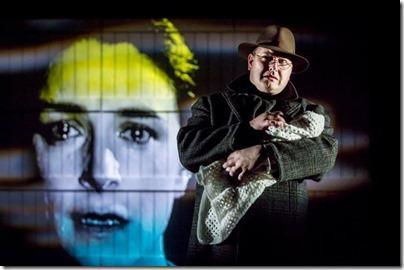 Tags: 16-1232, Angie Burns, Catey Sullivan, Cheek by Jowl, Chicago Shakespeare Theater, David Carr, Declan Donnellan, Edward Sayer, Eleanor McLoughlin, Grace Andrews, Guy Hughes, Jane Gibson, Johann Persson, Joseph Black, Joy Richardson, Judith Greenwood, Marcus Roche, Natalie Radmall-Quirke, Nick Ormerod, Orlando James, Paddy Cunneen, Peter Moreton, post, Ryan Donaldson, Sam McArdle, Sam Woolf, shakes400chi, Shakespeare 400 Chicago, Simon Bourne, Tim Speechley, Tom Cawte, William Shakespeare
Category: 2016 Reviews, Catey Sullivan, Cheek by Jowl, Chicago Shakespeare, William Shakespeare