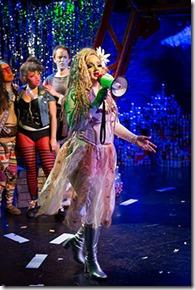 The Walk Across America
   for Mother Earth
Written by Taylor Mac 
Music by Ellen Maddow 
Directed by Bonnie Metzgar
at Steppenwolf Garage, 1624 N. Halsted (map)
thru April 25  |  tickets: $20   |  more info
  
Check for half-price tickets 
  
  
   Read review
  
---
All sparkle,  no substance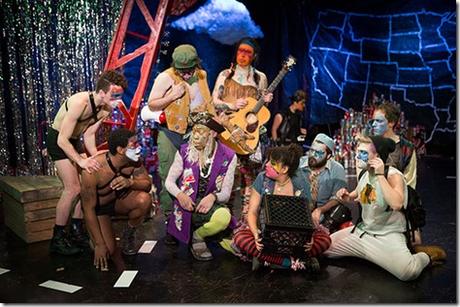 Red Tape Theatre presents
The Walk Across America For Mother Earth
Review by Lauren Whalen 
Even the loftiest idealism can quickly diminish, thanks to the human realities of sex, power and jealousy. The loss of world-changing innocence isn't a new concept for a play, but it's usually an interesting one. Usually. That's not the case in The Walk Across America for Mother Earth, Red Tape Theatre's glitzy yet empty contribution to Steppenwolf's annual Garage Rep series. While the production values and choreography are impressive, the script lags where it should snap and the players seem too caught up in their own world to bother including the audience at all (when they're not forcing them out of the lobby and into a "talent show," that is).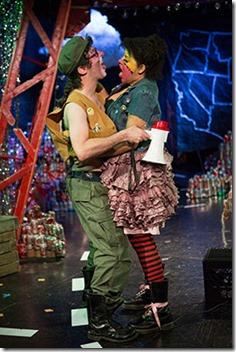 Walk's loosey-goosey plot centers around Nick (Nick Combs) and Angie (Morgan McNaught), two teens who flee suburbia in 1992 to join a protest march from D.C. to Nevada. They may not be clear on what exactly they're protesting, but their desire to eschew what they call "Real America" in favor of something bigger is as obvious as their wide eyes. Populated with urine-drinking lesbians, rural drag queens and Belgians, the protest group starts strong, but slowly dissipates as the walk progresses. And when charismatic leader King Arthur (Sadie Rogers) commits a horrifying act to cement his dwindling power, both chaos and cataclysmic weather ensue.
Both Taylor Mac's script and Bonnie Metzgar's direction suggest heavy influences from the musical Hair – except under the latter's flower child surface, Hair carries a deeper message. Walk has made it as far as clown makeup, wacky and glitzy outfits and a set that's junkyard-meets-drag show, but the show sorely lacks any real meaning. One can appreciate the fun dancing and commedia dell'arte style, but find it hard to connect with any of the characters. For all the flash, Walk's protestors (some of whom were supposed to be cartoonish, but others who strained to be "relatable") had the emotional intelligence of fruit flies and absolutely no desire to share their enthusiasm with the audience.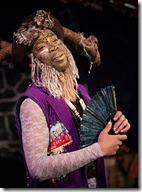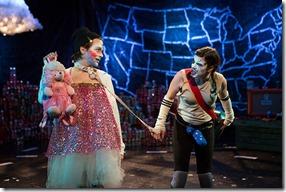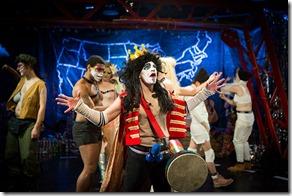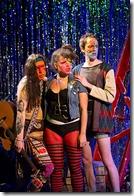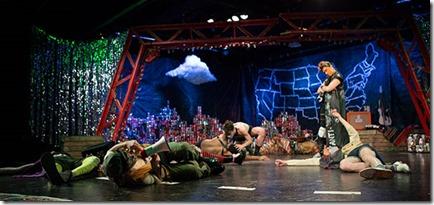 Walk's design elements are well-executed: Yu Shibagaki's set seamlessly blends shiny confetti with recyclables, and Rebecca A. Barrett's lighting is equal parts naturalistic and theatrical. Thanks to the brilliant costume and makeup design of Izumi A. Inaba (with assistance from Liesl Krieger), the gender-bending players are transformed into fantastical clown dolls – I particularly admired the multicolored wig worn by Ruth Margraff's vain hippie Flower. Joyfully eclectic choreography from Witch Hazel ranges from ecstatic conga line to breathtaking ribbon dancing (the latter lovingly executed by Nikos Brisco, with music by Taylor Swift), elevating the shoddy script for three-minute intervals. Ellen Maddow's score directed by Jon Schneidman verges on ridiculous in the best possible way.
The Walk Across America for Mother Earth simultaneously tries too hard, and doesn't try hard enough. With its often cliché commentaries on gender and sexuality and its virtual screaming at the audience, the play tries too hard. However, Walk also shows a disregard bordering on disrespect for those witnessing the action. Watching this play is a bit like witnessing preschoolers play a game that they'd devised on their own, with ever-changing rules uttered in gibberish. I was glad the cast was having fun but wished they'd thought to include the spectators.
Rating: ★½
The Walk Across America… continues in repertory through April 25th at Steppenwolf Garage, 1624 N. Halsted (map).  Tickets are $20 (students $15) or $45 for 3-play pass, and are available by phone (312-335-1650) or online through Steppenwolf.org (check for half-price tickets at Goldstar.com). More information at RedTapeTheatre.org.  (Running time: 1 hour 50 minutes, includes an intermission)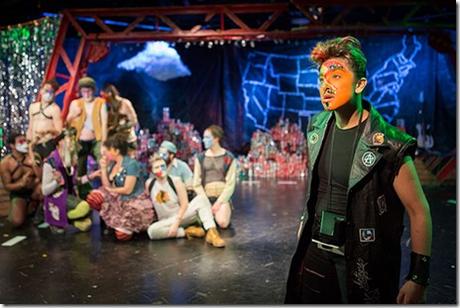 Photos by Michael Courier 
---
artists
cast
Nikos Brisco (Beeka), Nick Combs (Nick), Sean Ewert (Marsha), Alex Grelle (Kelly), Witch Hazel: Devin Casey, Imp Kid and Ariel Zetina (Jimica, Key-Key, Ensemble), Ruth Margraff (Flower), Morgan McNaught (Angie), Sadie Rogers (King Arthur), Angelica Roque (Rainbow Carl), Johnard Washington (Greeter), Breon Arzell, Luke Michael Grimes (ensemble)
behind the scenes
Bonnie Metzgar (director), Eric Hoff (artistic consultant), Ellen Maddow (original music), Yu Shibagaki (scenic design), Izumi Inaba (costumes, makeup design), Rebecca A. Barrett (lighting design), Aaron Stephenson (sound design), Scott Dickens (properties design), Witch Hazel (choreography, additional sound and costume design), Jon Schneidman (music director), Julian Gonzalez (production manager), Ian Olsen (technical director), Katrina Dion (assistant director), Laura Durham (casting director), Joshua Baggett, Melissa Phillips (rehearsal stage manager), Janette Bauer (production stage manager), Liesl Krieger (assistant costume design), Michael Courier (photos)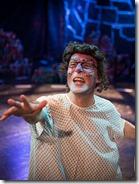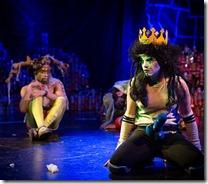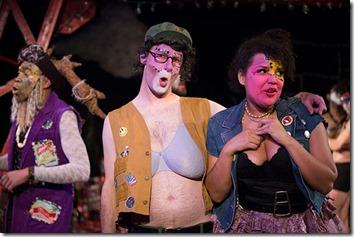 15-0328