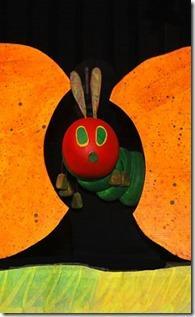 The Very Hungry Caterpillar  
Adapted from the books of Eric Carle  
Directed by Jim Morrow  
at Ruth Page Center, 1016 N. Dearborn (map)
thru June 1  |  tickets: $25   |  more info
  
Check for half-price tickets 
  
  
   Read review
  
---
Magical puppet imagery brings books to life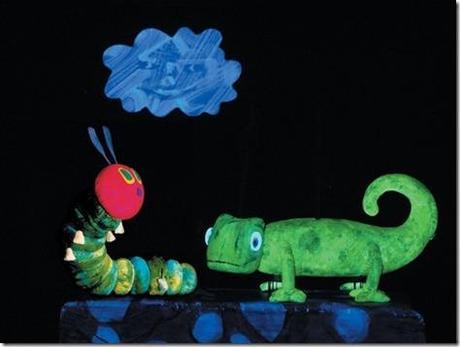 Mermaid Theatre of Nova Scotia i/a/w Chicago Children's Theatre presents
The Very Hungry Caterpillar
  and other Eric Carle Favourites
Review by Kat Hey
I decided that I needed an expert assistant on this assignment of The Very Hungry Caterpillar, so I enlisted the expert 6-year-old sensibilities of my niece Elina Sofia. Her class has read some of Eric Carle's whimsical books, and Elina told me they read it the week before the show!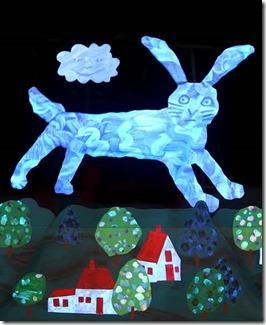 This show is made up of three lovely tales from Carle. First up is
The Little Cloud
and then
The Mixed Up Chameleon
.
The
Mermaid Theatre of Nova Scotia
performs this show with gorgeous puppets colored exactly like the books. The characters are either from nature or animals and it's narrated by
Gordon Pinsent
, who has a melodious voice reminiscent of Edward Everett Horton.
The Little Cloud changes into shapes such as a sheep or a bigger cloud. This is a brilliant way to get a child to look at his or her world with an imaginative eye. The puppetry is superb with an amazing rain effect that was my favorite effect of the show. Ultra violet lighting against a pure black cyc wall illuminates the puppets. The puppeteers are dressed like ninjas in all black including stocking caps. The result is great 3D imagery that floats across the stage. It is quite magical to watch and definitely holds the attention of a very young audience.
The Mixed Up Chameleon is a short tale about a chameleon that is perfectly happy blending in and eating flies – that is until he spies the characteristics of other creatures. He takes on the redness of the fox, and the trunk of an elephant and a whole herd of changes. When he gets hungry and his new body cannot catch a juicy fly, he wishes that he could be himself again. It is a sweet and simple morality tale about being you and the fact that the grass is not always greener on another hide. (Couldn't resist!)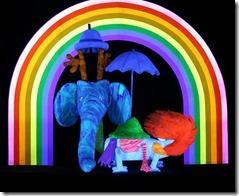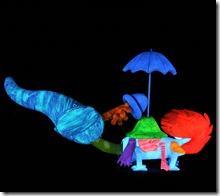 The Very Hungry Caterpillar follows a cute larva with a major case of the munchies. He nibbles out the sides of apples and appears to go through pears and other delicacies, getting plumper by the bite. The tale follows the Caterpillar through the stages of cocooning and becoming a beautiful butterfly. The appreciative "ooh!" from my niece and the rest of the crowd confirms the coolness of the transformation. All three segment keep a very young crowd enraptured and the announcer at the beginning says, "This is not a shush kind of show".
The show accommodates the curiosity of the children and the grownups with a Q&A after the show. It is great fun to go behind the scenes and be in on the special effects. Performers Kat McCormack and Simon Rainville are equally animated and charming out of the black backdrop. I'm not giving away any secrets but I do recommend this show as a fantastic way to spend time with your little whether you have them or borrow them.
Rating: ★★★
The Very Hungry Caterpillar continues through June 1st at Ruth Page Center for the Arts,  1016 N. Dearborn (map).  Tickets are $25 (scholarships available), and are available by phone (872-222-9555) or online through PrintTixUSA.com (check for half-price tickets at Goldstar.com). More information at ChicagoChildrensTheatre.org.  (Running time: 55 minutes with no intermission, followed by coloring, juice and cookies)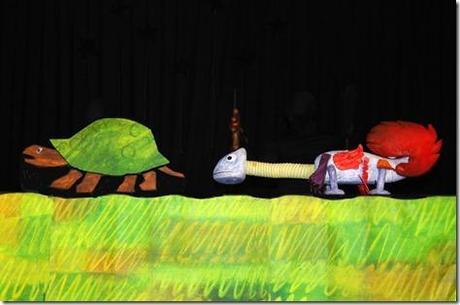 Photos by Margo Ellen Gesser
---
artists
performers
Kat McCormack and Simon Rainville (tour performers), John Allen Maclean and Mary Rebecca Russell (performers on video)
behind the scenes
Jim Morrow (director, production designer), Steven Naylor (composer), Gordon Pinsent (narrator), John Allen MacLean (puppetry coach, assistant director), Shawn Sorensen, Yvonne Yip (stage managers), Margo Ellen Gesser (photos)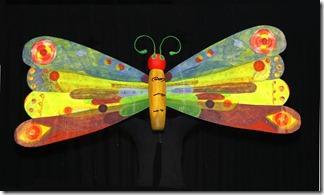 14-0511