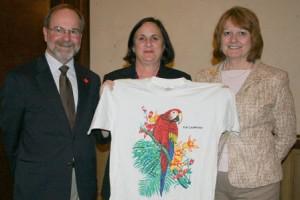 Pietra Rivoli, Center, holding up the t-shirt that inspired her journey.
The Travels of a T-Shirt in the Global Economy is a novel first published in 2005 by Pietra Rivoli. Professor Rivoli is on the faculty of Georgetown University's School of Business and serves as its deputy dean. She earned her PH.D in 1983 from the University of Florida in Finance and International Economics.
Travels of a T-Shirt has been translated into over 14 languages since its publication and has won numerous accolades from both the academic community and the mainstream media including Best Business Book of the Year by the Financial Times, Booz Allen Hamilton, Foreign Affairs, the Library Journal ,and by Amazon.com. In addition, the book was also named as a finalist for the Inaugural Financial-Times-Goldman Sachs Book of the Year Award.
The book is based on the tenants of Karl Polanyi's double movement although that is not disclosed to the reader until the very end. Double movement according to Polanyi is what happens when the market pulls away from being an integrated part of society. The response to this is social protectionism or the instinct to protect oneself from the ups and downs of the free market.
Rivoli illustrates this by tracing the journey that a t-shirt she bought from a bin from a beach side Walgreens in Florida took to get to where she bought it and then what happens to them after they're worn. Readers are taken to Washington, DC,  Lubbock, Texas, Shanghai, China, Miami, Florida, Washington DC (Again),  Brooklyn New York, and Dar es Saalam, Tansania.
In explaining the travels of a t-shirt, Rivolvi not only reveals how much it actually takes for a t-shirt to get to the consumer but she also tells many different sides of the international trade puzzle both at the time of the book as well a s through different points in history. From 17th century England to the 19th century American South to small villages in the poorest parts of Africa and the halls of Washington DC nothing about international trade and economics comes without the good or the bad and you cannot have one without the other.
Travels of a T-Shirt is told through the eyes of people not through theories and every person the reader meets throughout the book is real and fights hard to keep doing their part of what keeps the economy alive. And by the end, the audience walks away with more awareness and knowledge of the economy than before… But most importantly, Rivoli emphasizes that even the smallest details matter.
Sources: Georgetown.edu- "Pietra Rivoli"
Wikipedia.org- "The Great Transformation"
Travels of a T-Shirt in a Political Economy, 2005
Image Credit: Rawls School of Business, Texas Tech University