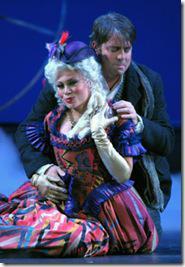 The Tales of Hoffman
Written by Jacques Offenbach (score)
and Jules Barbier (libretto)
Stage Directed by Stephane Roche
Conducted by Emmanuel Villaume
Civic Opera House, 20 N. Wacker (map)
thru Oct 29  |  tickets: $34-$229  |  more info
Check for half-price tickets 
  
   Read entire review
---
A playful, poetic journey to find true love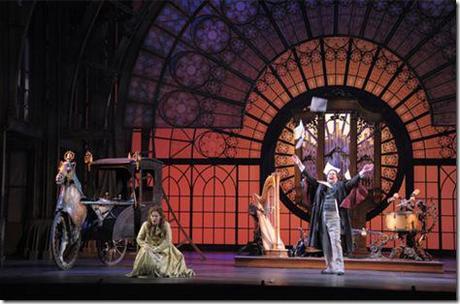 Lyric Opera presents
Tales of Hoffman
Review by Katy Walsh 
At a tavern, a guy drinks too much and starts telling stories.  Sounds like an ordinary pub tale but at The Lyric nothing is ever ordinary.
The Lyric Opera of Chicago presents The Tales of Hoffman, a French opera fantastique in three acts.  A poet is looking for loving inspiration.  He seeks it from a diva, a robot, an invalid and a hussy.  On his romantic quests, Hoffmann is accompanied by his muse and his nemesis.  The muse is incarnated as his sidekick, Nicklausse.  His nemesis changes personas to thwart each love chapter.  Despite his track record with the ladies, Hoffmann keeps putting himself out there.  Or is it all in his head?  The Tales of Hoffman is a playful poetic journey to find true love.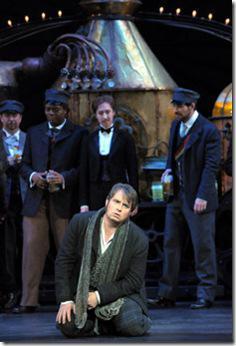 The Lyric Opera kicks off its 2011/2012 season with a lovefest!  There is a lot to love about
The Tales of Hoffman
.  It's almost a triple-play as each act is its own little contained love story.  In the lead,
Matthew Polenzani
(Hoffmann) charms as the hero wearing his heart on his sleeve.  Polenzani shows plenty of range whether entertaining in the tavern or pledging the depths of his love… yet again.  Polenzani gradually gets more forceful in his declarations, culminating in a powerhouse aria in 'O Dieu, de quelle ivresse.' His muse, the wonderful
Emily Fons
(Nicklausse), is present to keep Hoffmann in check.  Fons gets thunderous laughter for mimicking one of the ex-girlfriends, and delivers her own magnificent love song in Act 2 with 'Vois sous l'archet fremissant.' 
James Morris
flourishes as four different villains, bringing a distinct interpretation to each of the dark comedy roles.   As the magician, his strong bass-baritone elicits bravo-exclamations throughout the theater.  Under the direction of conductor
Emmanuel Villaume
, all the characters and chorus blend together in this fun-loving fantasy.  It's impossible to describe the many moments of pure pleasure in this frolicking show.  Two standouts for their operatic buffoonery are
Rodell Rosel
(Frantz) and
Anna Christy
(Olympia).  Their lively cameos are unforgettable.
As is The Lyric hallmark, The Tales of Hoffman is a visual spectacle.  Set Designer Ezio Frigerio has constructed an over-sized metal framework complete with elevators.  The intricate design on the structure makes it whimsical. It's a cross between the magical land of Oz and an old-fashion train station.  And to stun the audience even more, The Lyric drives in a smoke-puffing train engine.  Having seen a live horse on their stage before, I'm impressed but not surprised. Later, two gondolas glide across the stage in a mystical mist. More gorgeous imagery. In another scene, a pile of instruments begin to play on their own.  It's all so magical and adds to this opera fantasy.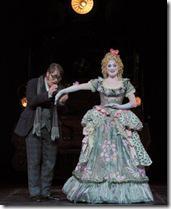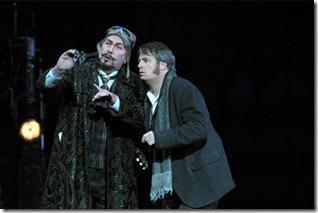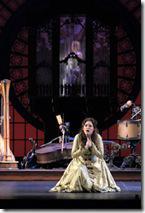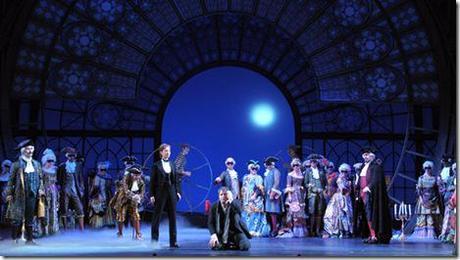 "Long live passion!"  The Lyric has initiated a contemporary advertising campaign to connect new audiences to its 50+ year tradition.  "Our singers don't need microphones" is a curiosity teaser for any music lover. Chicago has a world-class institution in its front yard. It's time to experience it. People ask me why I love opera.  I've never had a simple answer until this summer.  When I was at The Lyric's free concert in Millennium Park, I had the epiphany. Love, betrayal, revenge are not new emotions.  They resonate within all of us and have for centuries. In today's sophisticated culture, the feelings are just suppressed.  They lie dormant.  We feel it.  We just can't express it.  Instead of bursting into song when the person we desperately love walks in the room, we smile.  When our heart has been ripped apart by the same person, we change our facebook status.  What do I love about opera? It makes me feel my life. My joy, my despair, my rage are bottled up pressurized complications.  Opera pops the cork!  The Tales of Hoffman is a champagne soaked romantic comedy.  The poet within all of us will fall in love with falling in love Hoffmann style!
Rating: ★★★½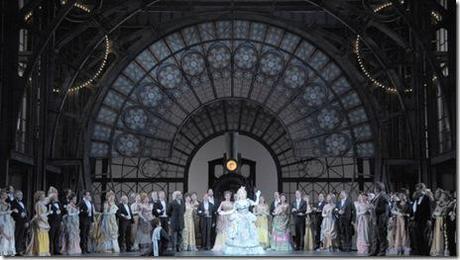 Lyric Opera's Tales of Hoffman continues through October 29th at the Civic Opera House, 20 N. Wacker Drive (map), with performances at 7:30pm (October 5, 15, 18, 21, 24 and 29) and 2pm (October 9 and 12). Tickets are $34-$229, and can be purchased by phone (312-332-2244 x5600) or online. More information at LyricOpera.org. (Running time: 3.5 hours, which includes 2 intermissions.  In French with projected English translations)
All photos by Dan Rest 
---
artists
cast
Matthew Polenzani (Hoffman); James Morris (Four Villains); Anna Christy (Olympia); Erin Wall (Antonia); Alyson Cambridge* (Giulietta); Emily Fons (Nicklausse); Rodell Rosel (Four Servants); David Cangelosi (Spalanzani)
behind the scenes
Emmanuel Villaume (conductor); Nicolas Joel (original production); Stephane Roche* (stage director); Ezio Frigerio (scenic); Franca Squarciapino* (costumes); lighting, chorus master, Dan Rest (photos)
*Lyric debut