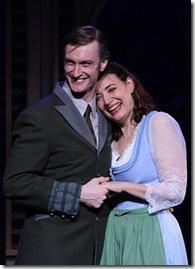 The Sound of Music 
Written by Richard Rodgers (music)
   and Oscar Hammerstein II (lyrics) 
Directed by Chuck Gessert
Athenaeum Theatre, 2936 N. Southport (map)
thru Sept 16  |  tickets: $10-$30   |  more info
  
Check for half-price tickets 
  
  
   Read entire review
  
---
Beautiful singing can't overcome acting stumbles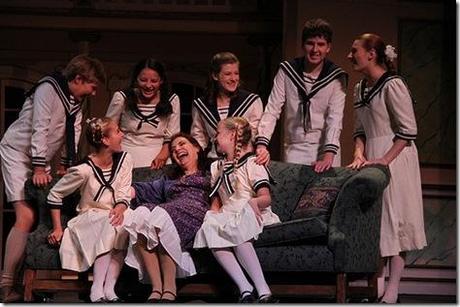 Chamber Opera Chicago presents
The Sound of Music
Review by Lauren Whalen 
Any stage production of The Sound of Music has big shoes to fill. The Julie Andrews film, with its lush Salzburg scenery and perfect voices, is near-impossible to replicate for even the most professional of theater companies. Chamber Opera Chicago's production of the Rodgers and Hammerstein classic tries very, very hard. In some respects, it succeeds: the vocals are beautiful. But Sound of Music cannot succeed without a strong leading lady, and Barbara Landis' overacting casts a pall on the show's potential.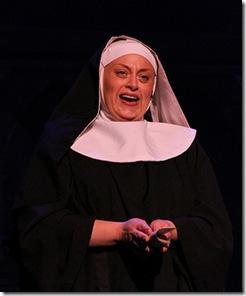 In late 1930's Austria, young postulant Maria Rainer (
Landis
) struggles to balance her love for God with her musical
joie de vivre
. Maria leaves the Nonnberg Abbey on the orders of wise Mother Abbess (
Erika Morrison
) to serve as a governess for the seven children of strict Captain von Trapp (
Ryan de Ryke
). Maria brings music back into the von Trapp household and wins the heart of the staunch Captain, but Nazi occupation looms, and soon the new family must re-think their future beyond the sacred hills of Austria.
Chamber Opera Chicago presents opera and musical theater productions in English, and provides performance opportunities for Chicago-area singers and musicians. (Their newly-revised musical adaptation of Jane Austen's Persuasion debuts at the Athenaeum in January.) The Sound of Music's program makes for impressive reading: cast members have received prestigious musical honors and performed around the world and on television and film. These notable credentials are reflected in the production – to an extent.
The production's large chorus of nuns creates a stunning vocal portrait of Godly devotion. Frederick J. Joseph III is the epitome of Nazi Youth-on-the-verge, and his beautiful tenor blends with Sarah Huffman's sweet soprano in "Sixteen Going on Seventeen", one of the show's highlights. As family friend with wavering loyalty Max Detweiler, Peter Vamvakas relishes each snappy quip and shrugging shoulder, happy to chew scenery without ever pulling focus. Nancy Wiebe Mazurowski portrays Captain von Trapp's fiancée Elsa Schrader with empathy and intelligence rarely seen in the character. The von Trapp children are bubbly and endearing – especially Sarah Qing Markovitz's Brigitta and Tatiana Ranallo's Marta – and Morrison's Mother Abbess radiates authoritative warmth, delivering a goosebump-inducing rendition of "Climb Ev'ry Mountain".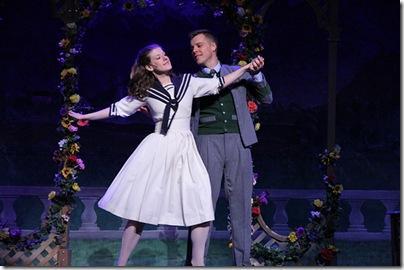 Unfortunately, the above first-rate performances are overshadowed by Landis' utterly terrible Maria. Though she sings well, her acting is community theatre-level tragic. No line of dialogue is un-exaggerated or unaccompanied by either eye-rolling or mugging. Landis is the Artistic Director of Chamber Opera Chicago and an accomplished opera singer with a page-long program bio. But all the vocal prowess in the world won't help if the characterization falters.  A faithful, passionate young woman trying to find her place in the world, Maria has her share of goofy, awkward moments, and a skilled interpretation of these would have been most welcome. It doesn't happen here.
The Sound of Music is a universally-beloved musical: so many have grown up with "My Favorite Things" and dreamed of playing a von Trapp child. If last night's audience was any indication, parents and grandparents are sharing this love with the next generation. However, Chamber Opera Chicago's production is a prime example of how one performance can taint two and a half hours of enjoyment. Ms. Landis, I respect your musical acumen and decades of experience. But please, tone it down.
Rating: ★½
The Sound of Music continues through September 16th at Athenaeum Theatre, 2936 N. Southport (map).  Tickets are $10-$30. More info at ChamberOperaChicago.org.  (Running time: 2 hours 45 minues, includes an intermission)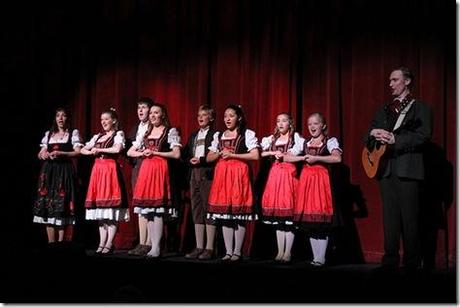 ---
artists
cast
Barbara Landis (Maria Rainer), Ryan de Ryke (Captain Georg von Trapp), Sarah Huffman (Liesl von Trapp), Kenny Lumb (Friedrich von Trapp), Katherine Hoth (Louisa von Trapp), Brandon Burkhardt (Kurt von Trapp), Sarah Qing Markovitz (Brigitta von Trapp), Tatiana Ranallo (Marta von Trapp), Karissa Burkhardt (Gretl von Trapp), Erika Morrison (Mother Abbess), Peter Vamvakas (Max Detweiler), Nancy Wiebe Mazurkowski (Elsa Schrader), Anne Marie Lewis (Sister Berthe), Kay Rutherford (Sister Margaretta), Ling Zhao Markovitz (Sister Sophia), Jeanne Scherkenbach (Sister Catherine), Sarah McIntyre (Sister Agatha), Frederick J. Joseph III (Rolf Gruber), Laural Reinhart (Frau Schmidt), Bob Douglas (Franz, the butler), David Wojtowicz (Herr Zeller), John B. Boss (Admiral von Schreiber), Bob Baker (Baron Elberfeld), Alexandra Torchinskiy (Baroness Elberfeld), Jessica Lauren Fisher (Ursula), Sarah Linske (New Postulant), Anne Dolik, Benjamin Hale, Marilyn Maurer (Trio of the Saengerbund of Horwegen), Gretel Mink (Fraulein Schweiger)
Nun Chorus: Elizabeth Abowd, Susan Arjmand, Lindsay Barche, Christin Boulette, Dana Campbell, Maggie Clennon Reberg, Nicole Cooper, Katherine Dalin, Karen Doerr, Anne Dolik, Jessica Lauren Fisher, Tracey Ford, Mirjana Jovanovic, Sarah Linske, Jennifer Martinson, Marilyn Maurer, Gretel Mink, Michaela Petre-Hunsaker, Erin Thomas, Jennifer Thompson, Alexandra Torchinskiy, Caroline Zavislak
Nazi Soldiers/Party Guests: Bob Baker, John Baumgardner, Jordan Brown, Benjamin Haile, Eric Landis, Brian Maurer, Eric Maurer, Ryan Morrison, Travis Palmer
Understudies: Christin Boulette, Anne Marie Lewis, Maggie Clennon Reberg, Tracey Ford, Jessica Lauren Fisher, Sarah Linske, Nicole Cooper
behind the scenes
Chuck Gessert (stage director); Brian Burkhardt (music director); Linda Fortunato (choreography); Matt Raftery (asst. director); Amanda Tanguay (asst. choreographer), Anatoliy Torchinskiy (pianist); Nyela Basney (chorus preparation); Yinbin Qian (orchestra personnel manager); Joshua Paul Weckesser (production manager); Jacob Snodgrass (lighting); Emily Nelson (costumes); Marvin Riebe (makeup and hair); Bob Douglas (floral design); Ron Wirth, Source One Media (sound design); Chris Kolody (sound engineer); Michael Tanko (audio); Giau Truong (stage manager, props); Abigail Strange (asst. stage manager, asst. props); Charles Combs (tech director, master carpenter); Brian Sauer (asst. tech director); Patrick Feder (master electrician), Alex Shankle (wardrobe supervisor)
12-0936