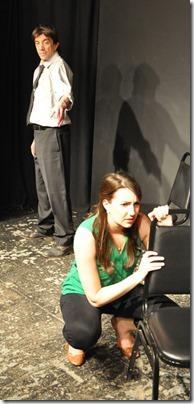 The Road Less Traveled
Created by the ensemble 
Directed by Tony Rielage
at Theatre Momentum, 1800 W. Cornelia (map)
thru July 26  |  tickets: $10   |  more info
  
Check for half-price tickets 
  
  
   Read review
  
---
Intriguing exploration falls short of possibilities

Theatre Momentum presents
The Road Less Traveled
Review by Clint May 
Frost famously said of his equally famous poem "The Road Not Taken" (written for friend Edward Thomas) that "it's a tricky poem—very tricky." As the central conceit of Theatre Momentum's The Road Less Traveled, it's a compelling inspiration in theory. Would it be a sort of Sliding Doors for improv? Before the show begins, the audience is asked to think about a time in their life when their road clearly forked. Realistically this can be only one of a few things: family, location, career. Opening night was a simple career choice from a gentleman eight months down his path.
The ensuing improvised story felt rather like a Judd Apatow production, not only because it meditated on life in the same dryly honest manner but Connor Doyle both looks and acts like a young Seth Rogen. The exercise is meant to demonstrate to the audience member how his life—and the lives around him—would be affected had he not made his career change. A series of interconnected couples wrestle with the wisdom of starting a family or getting married. What this had to do with showing the unnamed audience member his alternate life is a tenuous connection at best. It could have been anybody's life making any changes.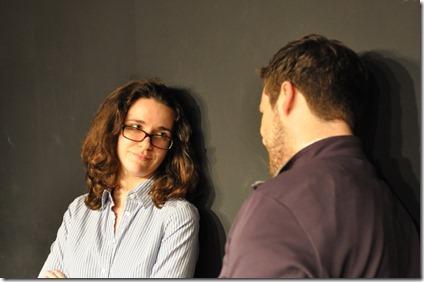 There's a good chemistry among the troupe, and they riff off each other with a well-honed naturalism. This is what I personally enjoy about this kind of improvisational theatre—that sense of true immediacy and nervy energy that makes everything feel real. Momentum gets some good jokes in and a few running gags amongst their reflection on the anxiety that permeates every major choice in life with increasing power (FOMO, anyone?). However, they don't quite hit the goal of creating a full dramatic arc with an edifying conclusion. Sure, they find funny moments, but they feel more like standard improv vignettes connected by force than anything related to a higher concept.
Obviously what the show will look like within a few weeks of its opening is anyone's guess. This is an obviously talented troupe and one of the nice things about reviewing improv is that it's possible to influence the future. One of the biggest impediments might be the shyness of the audience itself, perhaps unwilling to express doubt in a decision before strangers. Anonymous paper slips handed to audience members beforehand would be more discrete and may elicit a better depth to be mined. With some tweaks to the production (that's less than the cost of a movie), you might be able to see your life as it never was but might have been.
Rating: ★★
The Road Less Traveled continues through July 26th at Theatre Momentum Studio, 1800 W. Cornelia (map), with performances Fridays and Saturdays at 8pm.  Tickets are $10, and are available online through BrownPaperTickets.com (check for half-price tickets at Goldstar.com). More information at TheatreMomentum.com.  (Running time: 50 minutes without intermission)
---
artists
cast
Connor Doyle, Michael Dritto, Dennis Episcopo, Jillian Markowitz, Erin Monahan, Laine Peterson, Harz Sondericker, Danielle Swanson, Bridget Visser, Kayla Zaniboni
behind the scenes
Tony Rielage (director, artistic director)
14-0623