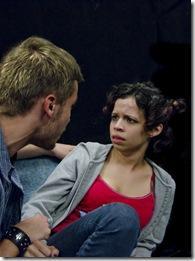 The Reckless, Ruthless,
   Brutal Charge of It,
   or The Train Play 
Written by Liz Duffy Adams
Directed by Andrew Jordan
at Oracle Theatre, 3809 N. Broadway (map)
thru Nov 17  |  tickets: donation   |  more info 
  
  
  
---
This train derails slightly, but keeps you thinking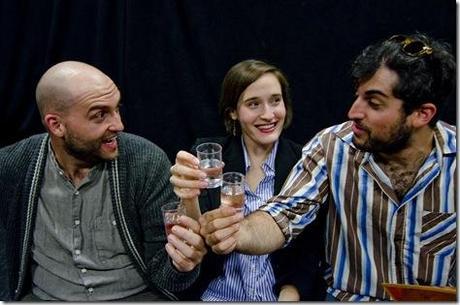 Will Act For Food presents
The Reckless Ruthless Brutal Charge of It,
   or The Train Play
Review by Joy Campbell
Although we never know the name of this train, it could easily be called The Existential Express. There's a young scientist (Scottie Caldwell) preoccupied to almost incoherence by something disturbing her profoundly; a 12-year-old girl (Tricia Rodriguez) who escapes into a superhero persona and embarks on a discovery of her superpower; Gabriel Angelfood (Colin Sphar), a being running from the constant torment of the angels who feed on him; Paul (Reece Thornbery), a bitter failure at life, reduced to hated travel writing in order to support himself; Gaia (yes, that Gaia, Greek mythical personification of Earth, played by Melissa Tropp), who must always find things to interest her lest she fall asleep and wake to find something grievously amiss; and three musical Russian brothers (Dennis Frymire , Adam Welsh, Volen Iliev) on a mission to spread a message of peace.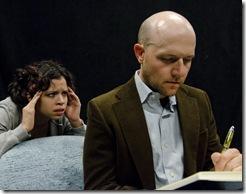 Beginning with the off-kilter train-departure announcement, we sense that this is no ordinary journey, and as each character's audible musings slowly reveal their characters and stories, a sense of dissonance and foreboding slowly builds. We understand that everyone wants change, and that many of them do not relish reaching their undisclosed destinations.
The problem with the script is that much of the exposition relies on the various stories being revealed by individuals speaking aloud to themselves. While it does work at times (Paul, speaking aloud the words he scribbles in his notebook; Leopard Girl narrating her adventures in the third person as children do), the device gets old. Even the Russians, who add a goofy, happy whimsicality, reminisce about their adventures and mission among themselves in a way that feels a bit obvious. There's also too much of it for too long; people sitting in train seats talking to themselves gets dull, and it feels like an endless tease, a long, slow vamp that doesn't seem to know what it's holding for. By the fourth or fifth round of wordy musings, you just wish they'd get on with it, already. There is some small interaction, but up until the last third or so of the play, not enough to introduce any particularly interesting dynamics.
It's too bad, because the actors are all strong. Particularly appealing is Tricia Rodriguez as Leopard Girl, a funny, geeky kid who discovers that she has a superpower – and that it's critical to the story's direction. Colin Sphar delivers with eloquence and passion his poetic reflections on angels and his search for a key that will release him from his torment. Scottie Caldwell maintains a palpable tension using only obscure observations and posture. Reece Thornbury conveys his cynical unhappiness with hilarious commentary, and Melissa Tropp adds a nice frivolity as the colorful, unconventional ancient goddess who's wearying of immortality. As the Russians, Dennis Frymire, Adam Welsh, Volen Iliev project a playfulness and camaraderie that convince us completely that they are brothers; and their singing, playing, and laugher inject an esprit that nicely offsets the feeling of impending apocalypse pervading the train.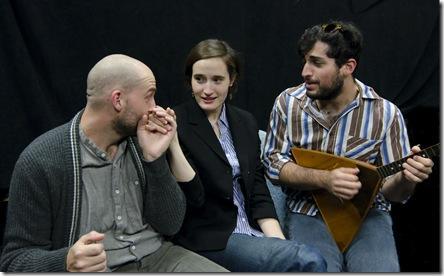 As the play builds to its climax, the characters do begin interacting with one another, in some cases very intensely, but it would have been more satisfying to have that interpersonal energy introduced earlier, build faster.
Eleanor Kahn's set is simple, suggested, and highly effective. Using a few sheets of corrugated metal, some metal piping, and simple chairs, she creates a train car that feels solid and claustrophobic despite its spare design. Sound designer Jack Hawkins' ambient train sounds create a sense of constant motion.
This is an odd, interesting piece, and despite the sluggish feel to the center of the show, you may find it's worked its way into your head and provides thoughtful reflection long after the show is over.  
Rating: ★★½
The Train Play continues through November 17th at Oracle Theatre, 3809 N. Broadway (map), with performances Thursdays, Fridays, and Saturdays at 8pm.  Tickets are a name-your-price donation.  More information at WillActForFood.com.  (Running time: 85 minutes without intermission)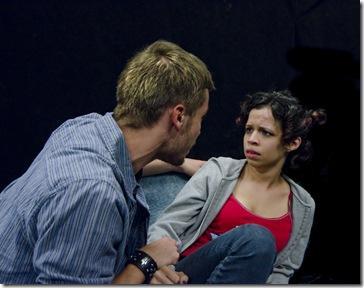 Photos by A. Jordan
---
artists
cast
Scottie Caldwell (Scientist); Tricia Rodriguez (Leopard Girl); Colin Sphar (Gabriel Angelfood); Reece Thornbery (Paul); Melissa Tropp (Gaia); Dennis Frymire (Mikhail); Adam Welsh (Sergei); Volen Iliev (Dmitri); William Bullion (voice)
behind the scenes
Andrew Jordan (director, photos); Shawn Galligan (stage manager); Justin Snyder (technical director); Eleanor Kahn (scenic designer); Rachel Sypniewski (costume designer); Jack Hawkins (sound designer); Nick Belley (lighting designer); Corrbette Pasko, Sarah Schultz (co-producers);