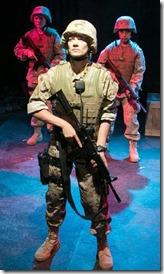 Strong performances propel world premiere military drama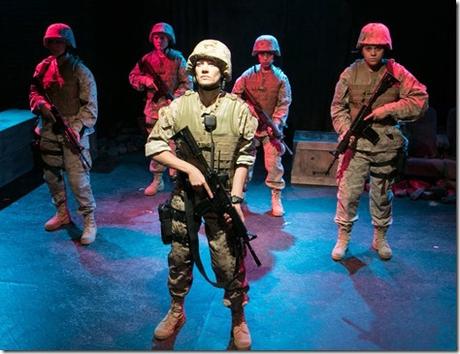 Review by Mark Davidson
Babes With Blades' world premiere of Dustin Spence's The Promise of a Rose Garden opens with what appears to be a nightmare of Captain Josephine Rockford (Maureen Yasko), involving two spooky Deciding Angels. Then, in the waking world, we see competitive banter between marine "wookies" (women rookies) Nichols, Sharif, Ruiz, and Ferguson (played respectively by Patti Moore, Arti Ishak, Izis Mollinedo, and Sam Long). They are preparing to undergo the US Marine Infantry Officer Course, a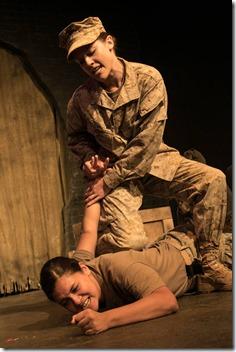 course of which only three women have ever passed - Captain Rockford, Major Selmy (
Kathrynne Wolf
) and the late Smith, who died in combat on a mission with the other two. The marines engage in sparring matches, which display Ferguson and Ruiz as arguably the best fighters. This is followed by another vision of the Deciding Angels, observed by Rockford in a macabre death ballet. The four wookies are put through a rigorous field test, and Captain Rockford then has to lead the four into enemy territory when a marine base is destroyed by insurrection. While there, Rockford sees the Deciding Angels again, with precarious results.
In the second act we see Rockford at home on medical leave. She works with therapist Tina (Catherine Dvorak) to come to grips with her posttraumatic stress disorder, with mixed results. While at home relaxing with her boyfriend Reggie (Aaron Wertheim), Rockford is confronted by one of the wookies about the past enemy mission. Try as she might, Rockford cannot adequately explain the visions of the Deciding Angels. The visions and the trauma continues to a startling denouement as Rockford desperately struggles to maintain her sanity.
Yasko gives easily the most powerful performance of the show as Rockford, while Ishak displays a hot-blooded simmer as Sharif. Long is convincing as Ferguson, who joins the unit with a chip on her shoulder. Wertheim brings sincerity to a role that could have been sappy if misplayed, and Dvorak brings an empathic kindness to the role of Tina. Both Wertheim and Dvorak are also impressive as the Deciding Angels, moving through the space with an almost acrobatic athleticism. Director Elyse Dawson is imaginative in her staging of most of the scenes, although the scene in the plane is staged, at first, in a confusing manner.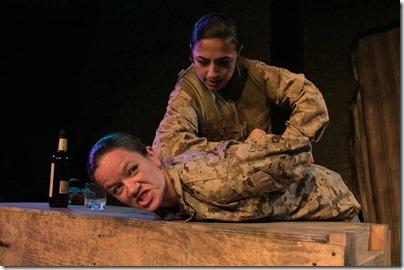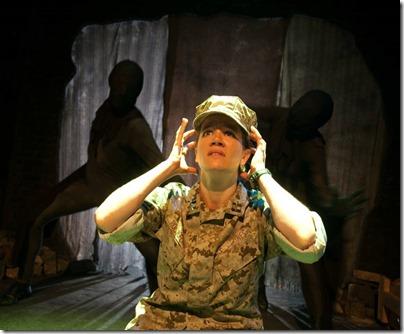 The set design by Milo Bue is efficient, with the destroyed car being the most atmospheric setpiece. The action is deftly enhanced by the lighting design of David Trudeau and the hypnotic sound effects of Matthew Reich, especially in the Deciding Angel scenes. As in most BWB productions, the stage combat is well-choreographed by Rachel Flesher.
While the play adequately shows the violent gung-ho culture of the military, it suffers from certain flaws in the script. The pace proceeds at a steady clip, until we get to the flashback scenes incorporated throughout Act Two. The momentum then proceeds in fits and starts; the flashback scenes might work better if presented in chronological order with the rest of the play and/or cut altogether. Additionally, an odd choice is made in the final scenes where, instead of ending at the climax upon which the story reaches what should be its natural end point, we are instead offered a coda featuring a conversation between two characters. This final scene is completely unnecessary and lessens the impact of an otherwise dramatic climax.
Despite these inconsistencies, however, Rose Garden is still recommended for its strong ensemble work and production design.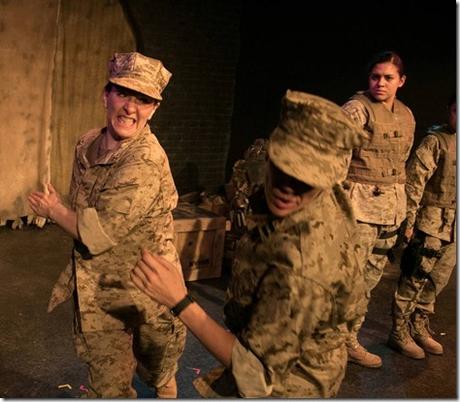 The Promise of a Rose Garden continues through September 10th at City Lit Theater, , address (map), with performances Thursdays-Saturdays at 8pm, Sundays 3pm. Tickets are $22 (students & seniors: $14), available by phone (773-904-0391) or online at BrownPaperTickets.com (check for half-price tickets at Goldstar.com ). More information at BabesWithBlades.org. (Running time: 2 hours, includes an intermission)
behind the scenes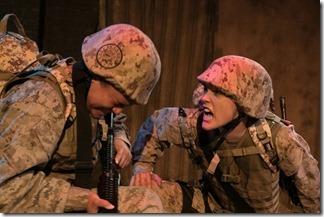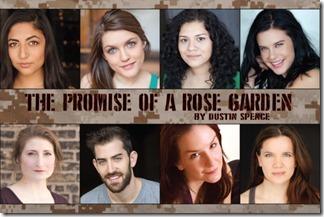 Elyse Dawson (director), Leigh Barrett (production manager), (scenic design, technical director), Brigidta De Souza (stage manager), Jason A. Fleece (dialect coach), Barbara Lhota (props design), Kimberly Morris (costume design), Matthew Reich (sound design), David Trudeau (lighting design), Rachel Flesher (violence design), David Woolley (competition sponsor), Johnny Knight (photos)
Tags: 16-0810, Aaron Wertheim, Arti Ishak, Babes With Blades, Barbara Lhota, Brigidta De Souza, Catherine Dvorak, Chicago Theater, City Lit Theater, David Trudeau, David Woolley, Dustin Spence, Elyse Dawson, Izis Mollinedo, Jason A. Fleece, Johnny Knight, Kathrynne Wolf, Kimberly G. Morris, Leigh Barrett, Mark Davidson, Matthew Reich, Maureen Yasko, Milo Bue, Patti Moore, post, Rachel Flesher, Sam Long
Category: 2016 Reviews, Babes With Blades, City Lit Theatre, Mark Davidson, New Work, World Premier