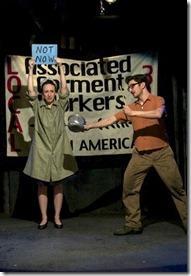 The Pajama Game  
Music/Lyrics by Richard Adler and Jerry Ross  
Book by George Abbott and Richard Bissell
Directed by Jess McLeod 
Music Theatre Company, Highland Park (map)
thru May 19  |  tickets: $32-$40   |  more info
  
Check for half-price tickets 
  
  
   Read entire review
  
---
Enthusiastic individual performances and sizzling score
can't overcome creaky script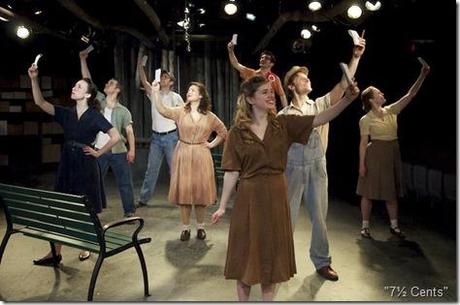 The Music Theatre Company presents
The Pajama Game
Review by Catey Sullivan 
File The Pajama Game under the category of musicals that have not aged well. There's no question but that the score (music and lyrics by Richard Adler and Jerry Ross) contains a roster of bona fide gems (Hey There, Hernando's Hideaway, Steam Heat, There Once Was Man). But the plot creaks terribly. And despite the enthusiastic efforts of Music Theatre Company in Highland Park, The Pajama Game is an uneven outing at best .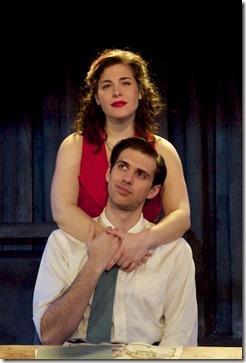 Directed by
Jess McLeod
,
The Pajama Game
combines spotty vocals with that troublesome book and comes up with a production that's earnest but amateurish . With a book by
George Abbott
and
Richard Bissell
,
The Pajama Game
centers on two primary stories: A workplace romance and a corps of dissatisfied factory workers who are demanding a 7.5 cent raise. Here's where the creakiness starts: First off, that romance would be considered sexual harassment viewed through today's lens. Without some white-hot chemistry between the leads, it's not credible. Second, there's simply no way to make a credible musical comedy based on the plight of wage slaves. That might sound heavy-handed, and perhaps it is. Still, there's no getting around the fact that
The Pajama Game
makes working for minimum wage (or something close to it) seem like a light-hearted romp. Factory work – with its long hours and crushing monotony – just doesn't lend itself to carefree song 'n dance numbers.
On the plus side, The Pajama Game has zip and zest in its winning score. Among the gems: The utterly joyous declaration of mutual love in "There Once Was a Man", the sultry-scorcher "Hernando's Hideway" and the infectiously percussive "Steam Heat". The trouble is, the Music Theatre cast of the Pajama Game, on the whole, fails to deliver that score with the confidence and the melodic zest it demands. You've really got to nail the musical numbers in order to overcome the glaring problems in the story, and the cast – while fully, undeniably committed to the material – falters. There are consistent problems with both acoustics and pitch, and they render those glorious songs ineffective. With musical direction by Matt Deitchman, the ballads are often tentative and pitchy, the uptempo numbers intermittently tuneless.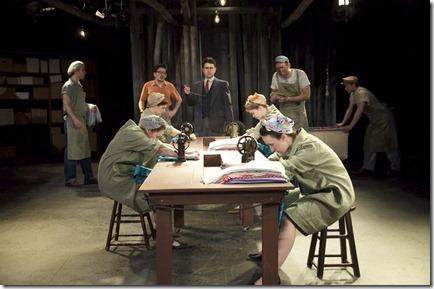 The story, such as it is, centers on money and love: Factory stitcher and union grievance committee chair Babe Williams (Sarah Bockel) and her crew of pajama sewers are agitating for a 7.5 cent raise at the Sleep Tite Pajama Company when handsome new floor superintendent Sid Sorokin (David Sajewich) saunters in. Faster than you can count to 7.5, Sid is making a play for Babe. Complications arise when the romance flourishes and Sid and Babe find themselves on opposite sides of the bargaining table. The star-cross'd couple is surrounded by juicy supporting characters, including Pre(Tyler Ravelson), a low-rent lothario; Hines (Jason Richards), a factory time-keeper who (hilariously) throws knives for a hobby and Gladys (Dana Tretta), a scampering, stressed-out secretary who is dating her insanely jealous boss.
Ravelson brings an oily, nerdish sex appeal to the skirt-chasing Hines while Tretta shines as the constantly anxious Gladys. Also turning in fine work is Nancy Kolton as Mabel, Sid's no-nonsense, matronly secretary. But the show needs more than shining supporting moments to come together as a solid whole. And between the quavering uncertainty of most of the vocals and the datedness of the material, that doesn't happen.
Rating: ★★
The Pajama Game continues through May 19th at The Music Theatre Company, 1850 Green Bay Road, Highland Park (map), with performances Thursdays-Saturdays at 8pm, Sundays 2pm.  Tickets are $32-$40, and are available by phone (847-579-4900) or online through OvationTix.com (check for half-price tickets at Goldstar.com). More information at TheMusicTheatreCompany.org.  (Running time: play length, includes an intermission)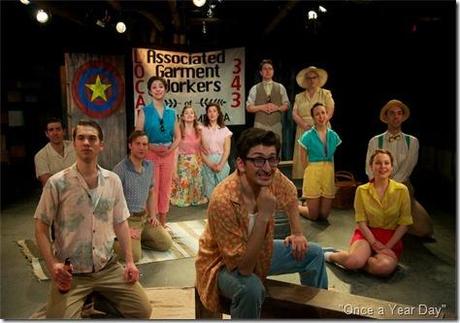 Photos by Sarah JHP Watkins 
---
artists
cast
Sarah Bockel (Babe), Donald Brearley (Hasler and Pop), Frankie DiCiacci (Swing), Nancy Kolton (Mabel), Tyler Ravelson (Prez), Jason Richards (Hines), Carly Robinson (Swing), David Sajewich (Sid), Dana Tretta (Gladys), Kelly Davis Wilson (Mae), Kelley Abell, Patrick Byrnes, Allyson Graves, Creg Sclavi, Christopher Logan (ensemble)
behind the scenes
Jess McLeod (director), Jessica Redish (choreographer), Matt Deitchman (music director and orchestrations), Charles Cooper (lighting design), Sarah JHP Watkins (scenic design), Izumi Inaba (costume design), Sally Weiss (properties design), Aaron Quick (sound design), Daniel J. Hanson (stage manager).
13-0454