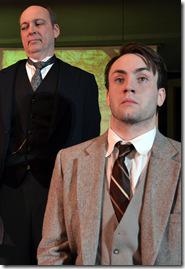 The Oxford Roof 
   Climber's Rebellion 
Written by Stephen Massicotte  
Directed by Thomas Weitz  
Lincoln Square Theatre, 4754 N. Leavitt (map)
thru April 14  |  tickets: $16-$20   |  more info
  
Check for half-price tickets 
  
  
   Read entire review
  
---
Dynamic and harrowing 'Rebellion'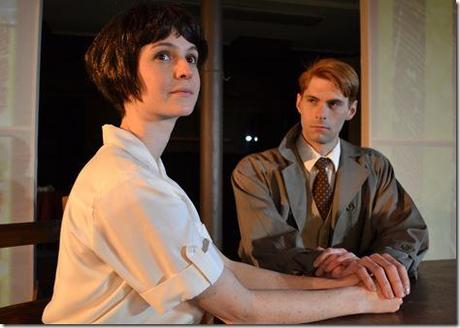 Caffeine Theatre presents
The Oxford Roof Climber's Rebellion
Review by Lauren Whalen 
Recently I traveled with family to France and Belgium. We visited many World War I battlefields, including Meuse-Argonne where my great-grandfather fought and survived. I never knew him. All I know is this: he was a medic, he carried a crucifix at all times, he just showed up on his parents' doorstep one day after the war ended and he never talked about it, except for the fact that he was gassed, and for that reason he always preferred to be outside or near fresh air. In those days, "post-traumatic stress disorder" was decades away from entering the lexicon, but as the Chicago premiere of The Oxford Roof Climber's Rebellion deftly illustrates, it existed with a vengeance and no soldier walked away clean.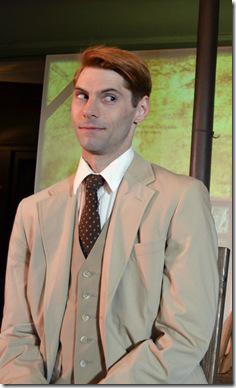 In Oxford, England in 1920, two men meet: standoffish poet Robert Graves (
Ian McCabe
) and snarky adventurer T. E. "Ned" Lawrence (
Brian Grey
). They're an unlikely pair – a survivor of the Battle of the Somme, Graves is a married father of two who struggles with writing, studying and running a failing shop. Playboy Lawrence's work as a desert saboteur has earned him the legendary moniker "Lawrence of Arabia." Yet, these men are bonded by startling dreams and haunting flashbacks of what they endured overseas; what others will never quite understand. The duo try to counteract these demons by pulling off childish pranks as "the Oxford Roof Climbers" – taken from Lawrence's fondest childhood memory – but as the pranks grow more serious and violent, they attract the negative attention of higher-up Curzon (
Vincent P. Mahler
) and threaten Graves' relationship with his feminist wife Nancy (
Lucy Carapetyan
).
At a fast-paced 105 minutes, The Oxford Roof Climber's Rebellion is an utterly absorbing look into the minds of two very different but equally brilliant men, the lifelong horrific effects of war and a friendship both therapeutic and toxic. Stephen Massicotte's script allows for the dark and clipped humor unique to the British, while portraying what was not yet known as PTSD with reality and respect. Even with only five characters, Massicotte effectively shows how everyone was affected by the war: for example, Lawrence lost both his siblings and Nancy not only lost her brother but must try to comfort Graves while relying on him as a business partner, husband and father. Director Thomas Weitz keeps the show moving with smooth transitions and Toni Kendrick's inspired set design makes the most out of the church basement venue with simple flats. Rasean Davonte Johnson's beautiful projections convey the tweedy Oxford campus, Graves and Nancy's shop and newspaper headlines with aplomb.
Rebellion's cast is by far its strongest suit, with five standout performers feeding off one another's considerable energy and wit. Mahler's Curzon is delightfully smarmy, conveying his distaste for women's rights with the pompous smile never leaving his face. Kevin Mullaney has some nice moments as Lawrence's assistant Jack, a dutiful Englishman who's carrying some sad secrets of his own. Though her wig isn't terrific, Carapetyan brings fierce cleverness, practicality and protection to Graves' wife Nancy – whose insistence on wearing men's clothes, going by her maiden name and fighting for suffrage make her a fascinating character who deserves her own play. And McCabe and Grey are a pitch-perfect duo, McCabe's taciturn reluctance complementing Gray's flamboyant impulsiveness, neither of which quite camouflages the men's inner turmoil.
Graves once pondered: "What life to lead and where to go, after the war, after the war?" Indeed, for the survivors of World War I, blithely going about day-to-day existence was no longer possible – and neither, at the time, was therapy. The Oxford Roof Climber's Rebellion looks at two of the more high-profile survivors of World War I, but has a universal feel that could be applied to any small-town American farmer (my great-grandfather for one). It was rare for these men to talk about their feelings. But it was impossible for them to forget.
Rating: ★★★½
The Oxford Roof Climber's Rebellion continues through April 14th at Lincoln Square Theatre at Berry United Methodist Church, 4754 N. Leavitt (map), with performances Thursdays and Fridays 7:30pm, Saturdays 3pm and 7:30pm.  Tickets are $16-$20, and are available by phone (312-409-4778) or online at BrownPaperTickets.com (check for half-price tickets at Goldstar.com). More information at CaffeineTheatre.com.  (Running time: one hour 45 minutes with no intermission)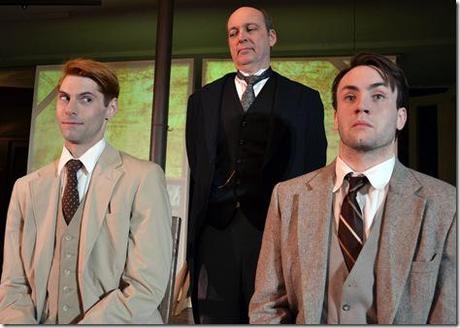 All photos by Jason Beck
---