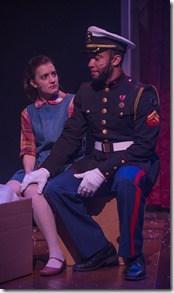 The Nutcracker 
Created by Jake Minton, Phillip Klapperich, 
   Kevin O'Donnell and Tommy Rapley
at Chopin Theatre, 1543 W. Division (map)
thru Dec 31  |  tix: $15-$45   |  more info
  
Check for half-price tickets  
  
---
A classic in its own right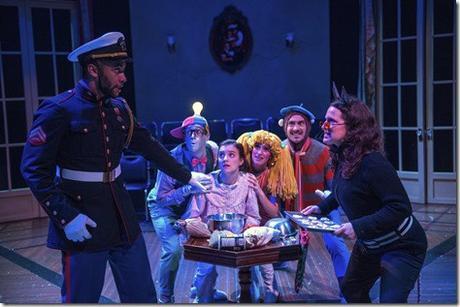 The House Theatre of Chicago presents
The Nutcracker
Review by Lauren Whalen 
It's easy to forget that children aren't as innocent as adults like to believe. Most experience grief and loss early on, and must rely on their own inner strength to overcome these emotional obstacles, especially if the grown-ups in their lives are not up to the task. The House Theatre of Chicago's original version of The Nutcracker is both a celebration of Christmas' true meaning and a testament to the fortitude of children. The musical play with magical elements has the feel of a 1980's kids' movie: family friendly, but doesn't shy away from the darker elements of childhood, and the many simple joys.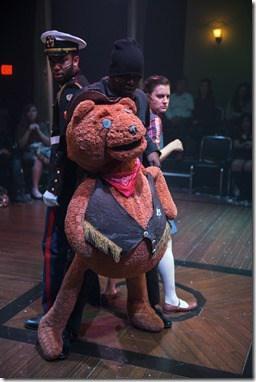 Young Clara (
Jaclyn Hennell
) absolutely adores
Christmas
. For her tight-knit family, the holidays mean a visit from Great-Uncle Drosselmeyer (
James Houton
), homemade sugarplum cookies and a party full of love and laughter. Clara is especially excited to welcome back her soldier brother Fritz (
Desmond Gray
). But when tragedy strikes Clara and her family, and Christmas may not come at all, it's up to Clara and her enchanted toys to bring back traditions old and new, and rediscover the happiness of the holiday.
The House Nutcracker premiered in 2007 as part of Steppenwolf Theatre Company's Visiting Company Initiative, and has run annually at the House's Chopin Theatre home since 2010. It's also enjoyed simultaneous 2012 productions in Chicago and Miami. I first reviewed this Nutcracker in 2011, in my early days as a theater critic, and am pleased to see how beautifully the production has evolved. Equal parts light and dark, the House's Nutcracker is sweet and whimsical without being cloying, heartfelt and sincere but not maudlin. Clara and her family experience a profound loss, the effects of which are deeply and realistically felt. But there is snow, there are trees and songs, and there is good old Drosselmeyer, Clara's adult ally, who reminds her that magic is real and that she has the power to affect change.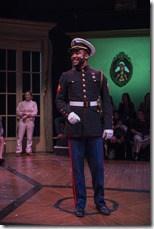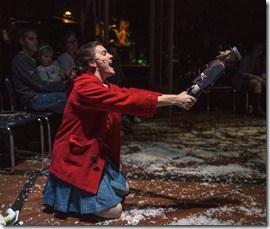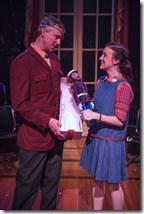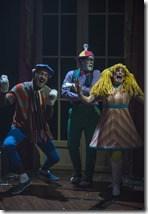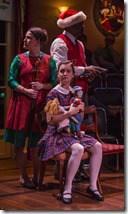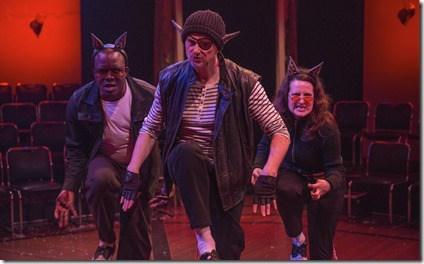 Company member Tommy Rapley co-wrote The Nutcracker and once again ably serves as director and choreographer. His staging, pacing and actor coaching are completely confident, sensitive to the characters but unafraid to pull punches. In less capable hands, The Nutcracker's story and direction could be utterly manipulative, even exploitative. Thankfully, Rapley (and co-creators Jake Minton, Phillip Klapperich and Kevin O'Donnell) takes his responsibilities seriously, and delivers a pitch-perfect blend of drama and whimsy.
As always, the House's production team and crew get absolutely everything right, from the seamless transitions to the delightful props and costumes. Every effect, from spontaneous snowfall to the puppetry of the evil Rat King, is lovingly designed and directed. Music director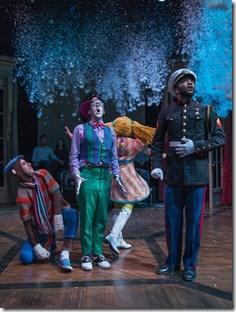 Matthew Muñiz also plays piano among a lovely quartet of violin (Agnieszka Likos), percussion (Anthony Scandora) and cello (Kelsee Vandervall), and stage manager Katherine Adams keeps every change smooth and clear.
This year's cast is an amalgam of House company members and new faces, and work together with the greatest of ease. Gray's Fritz is courageous and loving, and Abu Ansari and Marika Mashburn, as Clara's grieving mother and father, project sharp and tactile emotion with every syllable and gesture. Houton's Drosselmeyer is intelligent and compassionate with a believable air of mystery. As Clara's loyal battalion of enchanted toys, Andrew Lund, Rachel Shapiro and Chris Mathews display remarkable physicality and voice training, as well as one hundred percent commitment. And as Clara, Hennell sweetly but surely drives the action, as close to a real little girl as I've ever seen an adult actress. Hennell displays a deep understanding of the experience of childhood: its perils as well as its raptures.
At its core, E.T.A. Hoffmann's original Nutcracker story focuses on a young girl whose bravery in the face of darkness is ultimately rewarded. The House Theatre of Chicago's adaptation of the timeless classic, is a classic in its own right. From script to design to performance, this Nutcracker is a vibrant holiday treat not to be missed.
Rating: ★★★★
The Nutcracker continues through December 31st at Chopin Theatre, 1543 W. Division (map), with performances Thursdays/Fridays at 7:30pm, Saturdays 3pm and 7:30pm, Sundays 3pm and 7pm.  Additional performances Tuesdays, Dec 22 & 29 at 7pm, Monday Dec 28 at 7pm.  Tickets are $15-$45, and are available by phone (773-769-3832) or online through PrintTixUSA.com (check for half-price tickets at Goldstar.com). More information at TheHouseTheatre.com.  (Running time: 2 hours, includes an intermission)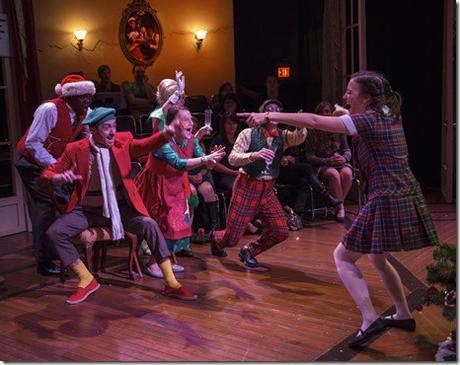 Photos by Michael Brosilow 
---
artists
cast
James Houton (Drosselmeyer, Really Quite Scary Rat), Abu Ansari (David, Quite Scary Rat), Marika Mashburn (Martha, Really Scary Rat), Desmond Gray (Fritz), Jaclyn Hennell (Clara), Andrew Lund (Hugo), Chris Mathews (Monkey), Rachel Shapiro (Phoebe, u/s Clara) Ian Maryfield, Laura McClain, Jeremy Sonkin (understudies)
musicians
Agniezska Likos (violin), Matthew Muñiz (piano, music director), Anthony Scandora (percussion), Kelsee Vandervall (cello)
behind the scenes
Tommy Rapley (director, choreographer), Collette Pollard (scenic design), Debbie Baer (costume design), Bridgid Danahy (asst. costume design), Lee Keenan (lighting design), Emma Deane (associate lighting design), Matthew Muñiz (music director), Michael Griggs (sound design), Kevin O'Donnell (composer), Sarah Espinoza (associate sound design), Mieka van der Ploeg (associate costume design), Dan Kerr-Hobart (puppet design), Marika Mashburn (casting director), Ben Lobpries (asst. director), Jamie Karas (props master), Katie Adams (stage manager), Logan Jones (asst. stage manager), Jon Woelfer (scenic supervisor), Ivy Reid (master electrician), Elise Petrucci (asst. costume manager), Emily Svendson (wardrobe supervisor), Chris Walls (audio engineer), Amy Hilber (costume manager), Aimee Sweet (run crew), Michael Brosilow (photos)
15-1131