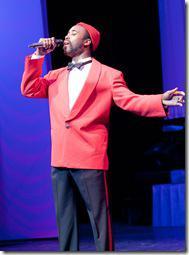 The Marvin Gaye Story 
Written and Directed by Jackie Taylor 
at BET Cultural Center, 4450 N. Clark (map)
thru July 29  |  tickets: $55-$65   |  more info
  
Check for half-price tickets 
  
  
   Read entire review
  
---
Biography-play grooves but feels incomplete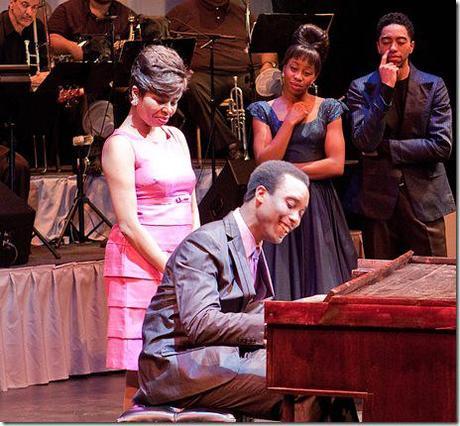 Black Ensemble Theater presents
The Marvin Gaye Story:
   Don't Talk About My Father Because God Is My Friend
Review by Lauren Whalen 
Often, the most influential artists lead the most tortured lives. Motown icon Marvin Gaye was no different: amid game-changing contributions to doo wop, R&B and soul music over four decades, Gaye battled depression, extreme stage fright, marital discord and drug addiction. In 1984, Gaye was shot and killed by his estranged father, a troubled ex-preacher. Black Ensemble Theater CEO Jackie Wilson attempts to tell the real story, while celebrating the musician's legacy, with The Marvin Gaye Story: Don't Talk About My Father Because God Is My Friend. Though the timeless score of Gaye's music beautifully illustrates his artistry, Taylor's script lacks context and tends to leave the entertaining production incomplete.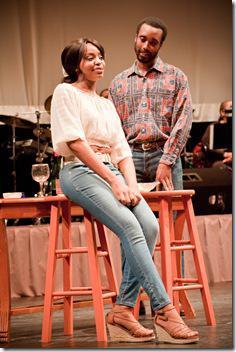 The Marvin Gaye Story opens with the man himself (Rashawn Thompson) recounting his own death, then flashing back to the early days of his career. Beginning in a doo wop group, 21-year-old Marvin flourished with the help of manager Harvey Fuqua (Lyle Miller) and producer Berry Gordy (Rueben D. Echoles). As Marvin performs (sometimes reluctantly), writes and inspires a nation, he endures a tumultuous personal life: two marriages, an ill-fated love affair, a propensity for cocaine use and the knowledge that he will never please his father (Donald Barnes). Increasingly self-destructive, Marvin is a hitmaker to the gruesome, premature end of his life.
The Marvin Gaye Story's most problematic element is its script. The few scenes with Marvin's father never fully illustrate their troubled relationship, and the final confrontation is left ambiguous. It's established in Act I that – though Marvin supported his parents financially and was close to his mother – he and his father didn't speak.  But what led to the shooting? Also, the play's beginning and end – in which Marvin narrates from beyond the grave – feel tacked on and superfluous. It's understandable that Taylor would want to end such a sad story on a hopeful note, but Marvin's optimistic opening and closing monologues don't quite ring true. Finally, the play's sole original song is out of place among the rest of the score, songs written and/or performed by Gaye.
Despite the script's inconsistencies, the cast boasts thrilling voices, nimble feet and transcendent emotion. Though not an especially large man, Barnes is frighteningly imposing as Marvin's bitter, abusive father. Yahdina U-Deen brings tormented agony to Marvin's mother Alberta, torn between her loyalty to God and husband and her fierce love for her children. Melanie McCoullough sparkles in the dual role of singer Tammi Terrell (the love of Marvin's life) and Marvin's younger second wife Janis. Echoles exudes a booming, paternal air in the role of mogul Gordy– and is a terrific, historically accurate choreographer to boot. And as Marvin, the shy, haunted young man turned stubborn, addled powerhouse, Thompson croons four decades' worth of hits with a convincing character arc, and consistently, constantly entertains an adoring crowd.
Apart from his greatest hits and tragic death, I didn't know much about Marvin Gaye's life and career, and I left The Marvin Gaye Story with unanswered questions. Prospective audience members who aren't familiar with Gaye's story might want to research online before leaving for the theater. Still, Taylor has assembled a proficient ensemble that knows the weight and heft of the tale they are recounting. If only Taylor had shared more of the essential details.
Rating: ★★★
The Marvin Gaye Story continues through July 29th at BE Theater Cultural Center, 4450 N. Clark (map), with performances Wednesdays/Thursdays at 7:30pm, Fridays 8pm, Saturdays 3pm and 8pm, and Sundays 3pm.  Tickets are $55-$65 (10% discount for seniors/students), and are available by phone (773-769-4451) or online at Ticketmaster.com (check for half-price tickets at Goldstar.com). More information at BlackEnsembleTheater.org.   IMPORTANT: This production is for ADULTS ONLY.  (Running time: 2 hours 30 minutes, includes one 10-minute intermission)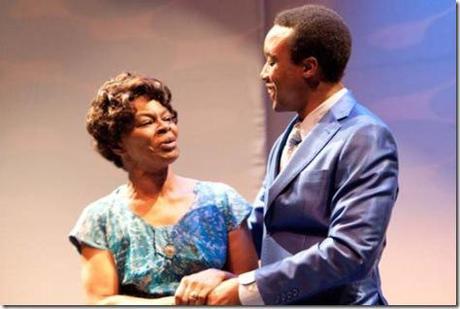 All photos by Danny Nicholas
---
artists
cast