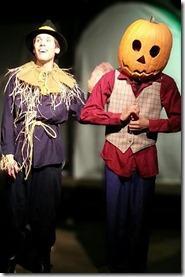 The Marvelous Land of Oz 
Written and Directed by Anthony Whitaker
Based on the book by L. Frank Baum
at The Den Theatre, 1333 N. Milwaukee (map)
thru June 2  |  tickets: $15-$20   |  more info
  
Check for half-price tickets 
  
  
   Read entire review
  
---
Charming characters take us on a second exciting trip
down the yellow brick road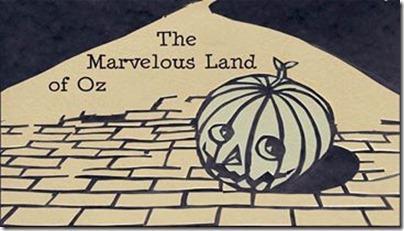 New American Folk Theatre presents
The Marvelous Land of Oz
Review by Joy Campbell
Most everyone is familiar with The Wonderful Wizard of Oz, thanks to MGM's musical movie version. Truth is, that book is just the first of forty (!) of L. Frank Baum's chronicles of that land over the rainbow. Writer and Director Anthony Whitaker has poured his lifelong love of Oz into this, his original musical based on the second book.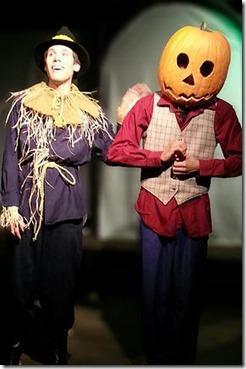 Young Tip (
Lianne Rodriguez
) is under the guardianship of Mombi (
Caitlin Jackson
), a cantankerous witch. Using some of Mombi's magic powder, he creates a friend: Jack Pumpkinhead (
Jamal Howard
), made from a carved pumpkin, sticks, and some clothes. They flee Mombi and meet up with the Tin Man (
Colin Fewell
), use the powder to create a walking, talking, smart-alec sawhorse (
Elizabeth Chidester
), and head to Oz.
Meanwhile, The Scarecrow (Matt Huston), current brainy ruler of Oz, is having trouble in the form of a coup by the girls of the land, led by General Jinjur (Rachel Christianson). Here is where you have to overlook some dated sexism: the girls want to take over so that they can use the treasury to buy more gowns, and take the jewels adorning the city for their own. Christianson offsets this by creating a silly, saucy Jinjur that is fun to watch without being taken seriously. With chaos the order of the day, it's more important than ever to find Ozma, missing daughter of the leader unseated by the departed Wizard, and the rightful ruler of Oz.
Whitaker chose Baum's Fairylogue Radio Plays as his inspiration for staging. These live shows featured, among other things, Baum himself as narrator. This device is well used in this production, with the character of Baum (Colin Fewel) introducing the show and giving us some interesting background on the books, including Baum's connection to Chicago, and the stories' originations here.
The result is a charming production that holds true to the spirit of the source story. While the set and props are disappointingly lackluster for such a fantastical subject, the characters are played with an energy and sense of fun that had the kids in the audience enthralled. The costumes are bright and, for the most part, true to the classic illustrations by John R. Neill (the Tin Man is particularly inventive). Impressively creative use of shadow puppets depicts narrative, and a clever use of simple lights creates some magic; more of this creative potential would have been welcome to underscore the sparkle of the onstage action. Standouts include Caitlin Jackson's Mombi, a fantastic Bette-Davis-as-Baby-Jane lookalike, complete with platinum banana curls and eye-rolling annoyance. Rachel Christianson's General Jinjur delivers a deliciously gleeful narcissism. Each has wonderful comic timing, and Jackson in particular has expressions that steal her scenes and make her a delight to watch.
Whitaker's original songs are well sung and fit nicely into the story; Jamal Howard's choreography is snappy and fun, and his talent for movement is evidenced in his dancerly portrayal of Jack Pumpkinhead. As Tip, Lianne Rodriguez has a beautiful bell-like voice straight out of fairy tales, and the entire cast has a great chemistry and upbeat attitude. What began as Whitaker's love of Oz at the age of ten has resulted in an endearing show that introduces a new generation of kids to the marvelous land of L. Frank Baum.
Rating: ★★★
The Marvelous Land of Oz continues through June 2nd at The Den Theatre, 1333 N. Milwaukee  (map), with performances Fridays and Saturdays at 7:30pm, Sundays at 3pm.  Tickets are $20; $15 for kids 12 and under, and are available online through BrownPaperTickets.com (check for half-price tickets at Goldstar.com). More information at NewAmericanFolkTheatre.org.  (Running time: 90 minutes, includes an intermission)
---
artists
cast
Lianne Rodriguez (Tip), Caitlin Jackson (Mombi), Jamal Howard (Jack Pumpkinhead), Elizabeth Chidester (Saw-Horse, Glinda), Colin Fewell (Frank, Army, Tin Man), Rachel Christianson (General Jinjur, Gump), Matt Huston (Scarecrow)
behind the scenes
Anthony Whitaker (director, musical director, puppet designer), Sara Carranza (stage manager), Jamal Howard (choreographer), Caitlin Jackson, Sara Tauer, Kris Kontour (costume designers), Cat Wilson (tech director)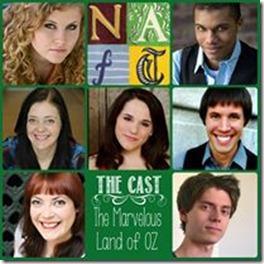 13-0521