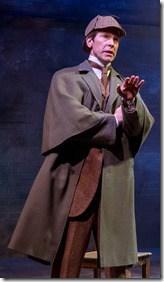 The Man Who Murdered
   Sherlock Holmes
By Julie Shannon, Michael Mahler
   and John Reeger
Mercury Theater, 3745 N. Southport (map)
thru March 20  |  tix: $25-$65  |  more info
  
Check for half-price tickets  
  
---
The game's afoot in this canny story of creation vs. creator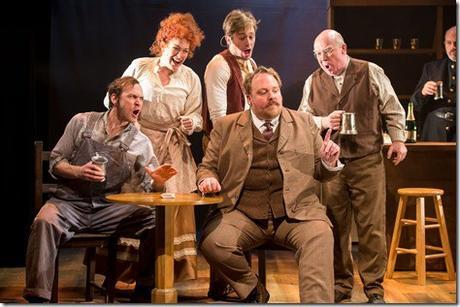 Mercury Theater Chicago presents
The Man Who Murdered Sherlock Holmes
Review by Clint May 
America's obsession with all things Holmesian—extended into multiple movies, theatrical productions and television series—seems to continue unabated. If we pretend the dreadful Broadway production that tainted the tide in November of last year never existed, most of these efforts have proven worth the continued indulgence of the master logician. Adulation for critical thinking is probably a more edifying obsession than, say, vampires, magicians or zombies. True to the trend, Mercury Theatre has reopened the case of a long-incubated work that chronicles not just the creation but the creator himself.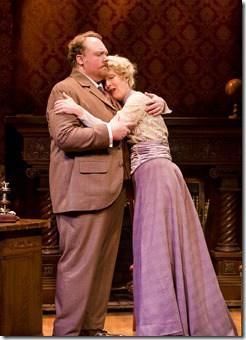 Written in part by the lamentably late Julie Shannon, who helped give us the perennial joys of Mercury's gem The Christmas Schooner, The Man Who Murdered Sherlock Holmes is a musical that actually grew in my esteem the more I learned how many of the events depicted were based in fact.
Doyle himself once expressed to his mother his own desire to leave the character behind after his storied success. "I think of slaying Holmes,…and wind him up for good and all. He takes my mind from better things." To which she said, "You won't! You can't! You mustn't!" It's a sentiment shared by many creators whose fictions become cult classics. Even Stephen King channeled his own fears of fan retribution for leaving horror-fiction into his classic "Misery". When Doyle's "The Final Problem" debuted, civilian to celebrity outcry persuaded Doyle to retcon Reichenbach and revive Holmes in "The Adventure of the Empty House". That a character that openly disdained emotion in favor of logic inspired such irrational hysteria could be source material for another play entirely.
The Man Who Murdered Sherlock Holmes opens with Doyle (Michael Aaron Lindner) just as he's describing the detective's infamous clash with Moriarty ("The End"). He believes this will allow him time to focus on other literary pursuits that deal with heroic knights in place of pipe-smoking private investigators. Public outcry soon overwhelms the befuddled writer ("Look What He's Done") and at the behest of his wife Louise (McKinley Carter) flees to the countryside to aid in a real life mystery ("A Trip to the Country" / "Right Here in Wyrley").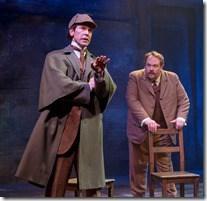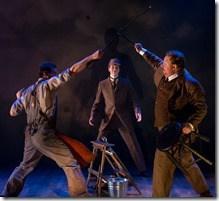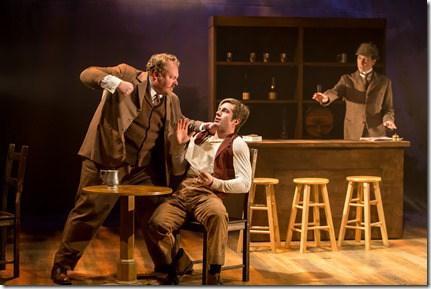 It seems that the pastoral bliss* of the town of Great Wyrley has been disrupted by a series of vicious horse murders. The killer, dubbed "The Wyrley Ripper," has been identified as a young British-Indian boy, the true life George Edalji (Johann George). His vicar father (Anish Jethmalani) and British mother (Mary Ernster) believe the crime to be motivated by the xenophobic townspeople and their rejection of her husband as being a true Christian and not, as they believe in their heart of hearts, a closet Hindu (shades of Obama, anyone?). They sing out their lamentation in the loveliest duo of the production, "Through a Prism."
Though Doyle based parts of Sherlock Holmes and Watson on himself and a brilliant professor named Joe Bell, the fictional version doesn't feel up to the task of deducing the true culprit. In a bit of magical realism, Holmes himself (Nick Sandys) steps from the moory mists clad in deerstalker cap and Inverness cape. He's heard from the plane of existence that he inhabits that Doyle has gone "off script" and offed him when there are yet more tales to be told and he's willed himself into our world to set the record straight. Soon enough the invisible-to-all-but-Doyle detective is drawn into the plight of the murdered horses and aids his chronicler in solving the mystery ("A Three Pipe Problem"). (Read of the true events here.) Many of the best gags in this lighthearted romp come from Doyle trying to have a conversation with the seeming air that he must cover up to those who overhear.
Inspired in part by Peter Costello's "The Real World of Sherlock Holmes," Mercury's production is a classically styled musical that—notwithstanding an indictment of provincial prejudice—is sweet to the core. Tinged with the real life loss of Louise, its ending is a valentine to the power of the creative force to overcome grief in what one imagines was Reeger's own response to the loss of Julie Shannon. His finishing of their collaboration with Michael Mahler is a bittersweet ode.
If there's a minor quibble to be had, it's that too often the brilliant Doyle is reduced to a mere reactionary. His choice to leave London is motivated by outside influences. Holmes reveals that the author has not truly been "writing" so much as he has had mystically imbued ears from birth that allowed him to "hear" the cases that occurred in the realm that Holmes inhabits Last Action Hero style. Only near the end does Doyle display true agency in his own life, which is a bit of a slight to the literary master. Still, I loved how it is Doyle who gets to teach Holmes of the bartitsu move that saved him at the Falls.
As a labor of love, this is a uniformly endearing cast with a perfectly modulated energy, not too frenetic and not too precious. They all certainly look the part and sing beautifully under Warner Crocker's effervescent direction and Scott Adam Davis' deliciously detailed Victorian music-box set matching Robert S. Kuhn's costuming. Carter and Lindner are simply adorable as a pair, but Sandys is the scene stealer. His lordly, peremptory bearing oozes the traditional Holmes that lives in our hearts and minds free of contemporary cynicism or satire.
A two-decade languishment may prove to have ensured that this musical debuts at just the right time to capture the conscious of audiences looking for a warm and familiar treat in the depths of winter with a companion experiencing an ongoing renaissance. Though it's nothing revolutionary, it's yet a gratifying time spent in the company of some fantastic characters.
*  "It is my belief, Watson, founded upon my experience, that the lowest and vilest alleys in London do not present a more dreadful record of sin than does the smiling and beautiful countryside." —Sherlock Holmes in "The Copper Beeches"
Rating: ★★★
The Man Who Murdered Sherlock Holmes continues through March 20th at Mercury Theater, 3745 N. Southport (map), with performances Wednesdays 8pm, Thursdays 3pm & 8pm, Fridays 8pm, Saturdays 3pm & 8pm, Sundays 3pm.  Tickets are $25-$65, and are available by phone (773-325-1700) or online through Vendini.com (check for half-price tickets at Goldstar.com). More information at MercuryTheaterChicago.com.  (Running time: 2 hours, includes an intermission)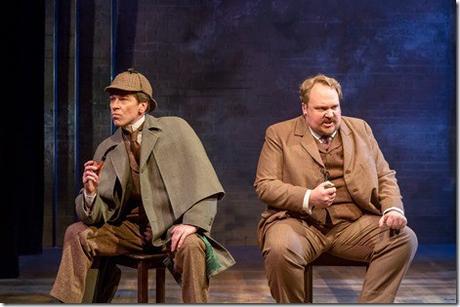 Photos by Brett Beiner
---
artists
cast
Nick Sandys (Sherlock Holmes), Michael Aaron Lindner (Sir Arthur Conan Doyle), McKinley Carter (Louise Doyle), Mary Ernster (Charlotte Edalji), Johann George (George Edalji), David Girolmo (Sergeant Campbell), Jason Grimm (Prison Warder), Ron Keaton (Norman Pierce), Matthew Keffer (Colin Stillman), Russell Mernaugh (Royden Sharp), Colette Todd (Ivy) Christina Hall (Molly Jamison), Anish Jethmalani (Rev. Shapurji Edalji), Bilal Dardai, Daniel Smeriglio (understudies)
musicians
Linda Madonia (conductor, keyboards 1), Elena Spiegel (violin), Kelsee Vandervall (cello), Sarah Younker (horn in F), Miles Tesar (piccolo, flute, clarinet, bass clarinet)
behind the scenes
Warner Crocker (director), Michael Mahler (musical director), Scott Adam Davis (scenic design), Yael Lubetzky (lighting design), Robert S. Kuhn (costume design), Mike Ross, Joe Court (co-sound design), Katie Cordts (wig & hair design), Kate Spelman (movement consultant), DJ Reed (props design), Matt Deitchman (orchestrator, keyboard programmer), Kristi J. Martens (production stage manager), Fernando Alvarez Jr. (production assistant), Brett Beiner (photos)
16-0143