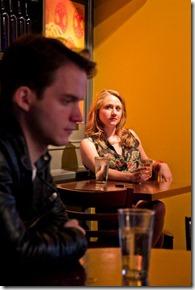 The Little Dog Laughed 
Written by Douglas Carter Beane  
Directed by Evan F. Caccioppoli
The Den Theatre, 1333 N. Milwaukee (map)
thru July 13  |  tickets: $15-$20   |  more info
  
Check for half-price tickets 
  
  
   Read entire review 
  
---
Sharp and funny script makes production shine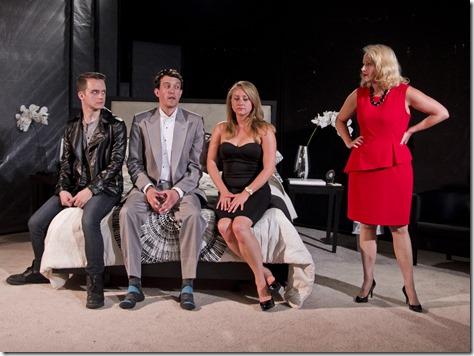 Kid Brooklyn Productions presents
The Little Dog Laughed
Review by Anuja Vaidya
The Little Dog Laughed is a sharp, funny and, at times, sad story of rising film star at odds with who he is and who his audiences and agent want him to be. In the celebrity-crazed world that we live in, this is a particularly timely show, given that we often don't think twice before pulling back the curtain on the lives of the celebrities that we are obsessed with. In this production, the curtain is pulled back for us, exposing a world full of raw, real emotions that ultimately makes us realize that 'they' are just like us.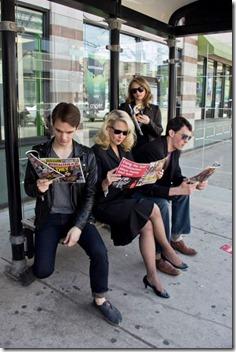 Mitchell Green (
Carl Lindberg
) has all the pre-requisites for becoming a famous actor. He is good-looking, he is charming, but most importantly he has a tough-as-nails agent, Diane (
Stephanie Monday
), who is determined to see his career soar. There is a wrinkle in Diane's plans for Mitchell, however, in the form of Alex, a "rent boy" (
Michael Manocchio
), who he falls in love with. The fact that Alex has a girlfriend (
Julia Daubert
) further complicates matters. It is finally up to Diane to untangle these knots and sort out the situation – which she does, in her own particular way.
The cast does a great job overall. They manage to weave together some wonderfully funny dialogues with heartfelt moments and truly bring the script to life. Carl Lindberg is, in particular, fantastic. He plays Mitchell Green with such a sense of vulnerability and sincerity that you find yourself hoping that he chooses an honest and happy life for himself. His performance feels absolutely natural; even his opening scene in which his character is drunk. (A natural "drunk" scene is a rare thing, but Lindberg nails it.)
The true star of the show, however, is Douglas Carter Beane's script. It, in a word, sparkles. Well-paced, sharp and very funny, the script manages to tackle some tough issues about honesty and identity, all without coming across as heavy handed. There are many great scenes in the play. One of my favorites is the scene in which Diane and Mitchell are trying to convince a vaunted playwright, referred to throughout as "he meaning him", to sell them the rights to his script. There are also some some clever 'meta' moments amidst the scenes, with the characters commenting on the "beginning" and "ending" of the play within the play as well as the actual production.
That being said, there was one aspect of the show that feels off, namely Stephanie Monday's performance as Diane. While she has some of the best lines in the script and delivers them well, her performance is a few notches higher than it needs to be. Her character comes across as overwrought, but in a way that is far too theatrical. It feels as though she is a caricature rather than a character.
The Little Dog Laughed, is a cleverly-written and adeptly performed production. It makes a point, but in a manner so light-hearted that you hardly notice until you look back on the play later. You want the characters to make the right decisions, and you can see clearly what those are. The choices made at the play's conclusion are what makes this show incredibly honest and moving and certainly a must-see.
Rating: ★★★½
The Little Dog Laughed continues thru July 13th at The Den Theatre, 1333 N. Milwaukee (map), with performances Thursdays-Saturdays at 8pm, Sundays 3pm.  Tickets are $15-$20, and are available by phone (773-569-3454) or online through BrownPaperTickets.com (check for half-price tickets at Goldstar.com). More information at KidBrooklynProductions.org.  (Running time: 2 hours 10 minutes, includes an intermission. **Due to mature themes this production is recommended for age 17 and above**)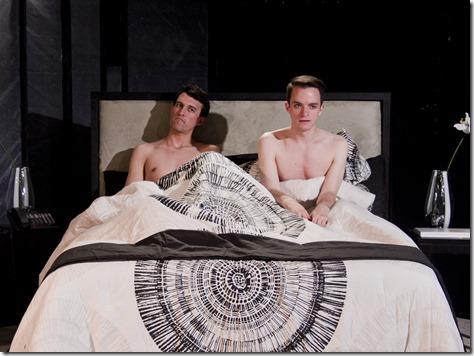 ---
artists
cast
Julia Daubert (Eve), Carl Lindberg (Mitchell Green), Stephanie Monday (Diane), Michael Manocchio (Alex)
behind the scenes
Evan F. Caccioppoli (director), Dina Marie Klahn (production stage manager), Fred Uebele (set design, light design), Nicole Boylan (costumes), Robert Campbell (sound design), William Moran (photography, graphic design), Rachel Thomas (marketing), Rachel Ehrenberg (asst. director), Paige Wood Reilly (props design, technical assistant)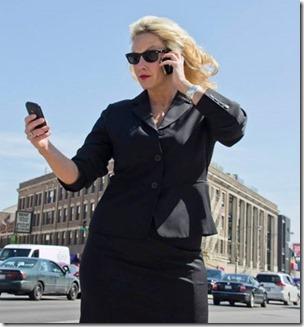 13-0641