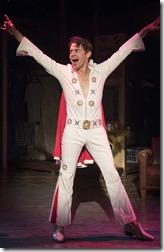 Initially lightweight, 'Georgia' ultimately raises a sequined fist to the sky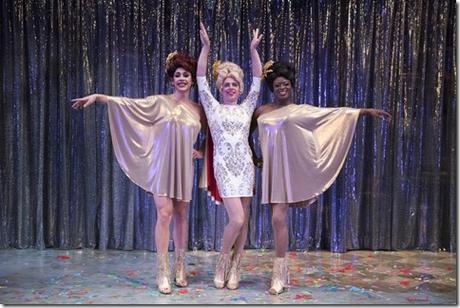 Review by Catey Sullivan
For the first two thirds of Matthew Lopez' The Legend of Georgia McBride , Northlight audiences are treated to a whacky, audience-pleasing comedy with all the depth of a coat of mascara.
The plot goes for guffaws by showing the whacky plight of a cis-gender straight guy trying to navigate in heels and a dress. Good-hearted good ol' boy Casey (Nate Santana) is an Elvis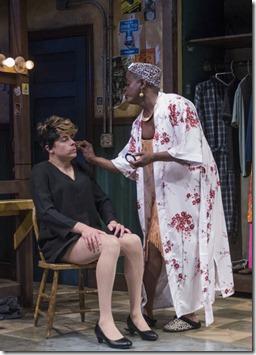 impersonator, but when the local bar brings in a drag act and cancels his sparsely-attended impersonations of the King, the erst-while Elvis finds himself trying to lip synch to the likes of Edith Piaf and Shania Twain.
With a pregnant wife and a history of bounced rent checks, drag is a career of last resort for Casey. Under the patient tutelage of sassy-but-kind veteran drag mama Miss Tracy Mills (Sean Blake), Casey's attempts to tuck and strut make for plenty of whacky antics. For a good while, it seems the comedy of Casey's fish-out-of-water awkwardness is the sum total of Georgia McBride , and that the show is little more than a pleasant diversion.
But with the final third, Lopez steers The Legend of Georgia McBride straight into something else entirely. Casey's antics as the drag queen Georgia McBride - and the treatment of drag as something silly whose main purpose is to make straights giggle - take a back seat as Miss Tracy and her co-star Rexy (Jeff Kurysz) show Casey that drag means more than smearing on some lipstick and prancing around in a dress.
"You have no idea what this means to me!" Casey exclaims when he feels Georgia is in danger of being upstaged. To which Rexy responds - with the stone-cold precision of a perfectly executed mic drop - "You have no idea what this means."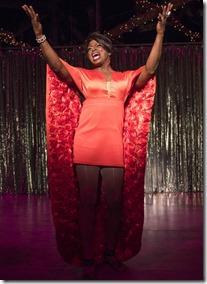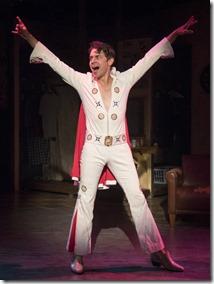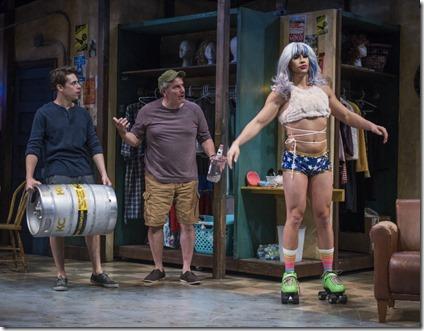 Indeed, Casey does not. To him, drag is a way to pay the rent and make people chuckle. Miss Tracy and Rexy know better. Drag, they tell him, "is a raised fist in a sequined glove." At Stonewall, it was the start of a revolution. It is a profound subversion of the gender binary that has long locked the world into ridiculously narrow way of viewing humanity. In the wigs and the sequins and paint and the foundation garments, it is an insurrection both cultural and historical. It's entertainment, but it is not the toy Casey's been playing with for fun and profit. It is also not the source of homophobic shame that has kept Casey from telling his girlfriend Jo (Leslie Ann Sheppard) that Elvis has left the building and the chanteuse Georgia McBride has taken his place.
Directed by Lauren Shouse, The Legend of Georgia McBride is initially lightweight, but ultimately raises that sequined fist to the sky in a manner that elevates the entire production.
A significant caveat: The drag on display in the show is pretty horrendous. Professional drag queen spend hours putting on their faces - the art of illusion is one of fastidious, laborious detail. At Northlight, Casey and Tracy and Rexy are in-and-out of drag in minutes. None of them would pass muster in any self-respecting drag show higher than the level of community theater. The wigs and the padding are terrible, as is their paint.
A lesser problem lies with Miss Tracy's almost magical ability to make money rain down on Cleo's, the Panama City dive bar where Georgia McBride unfolds. Lopez' plot rests on the premise that the Panama City area is home to legions of drag lovers, enough to turn the bar from desperate to flush in very short order. It's a dubious premise to be sure, but not a deal-breaker.
That said, Shouse's ensemble is charming enough to make you forgive a host of sins. As Cleo's owner Eddie, Keith Kupfererhas a glint of the devil in his southern drawl, and gives the cheesiest lines ("clutch those pearls and watch those twirls!") an earnestness that is hilarious. Moreover, the sight of Kupferer manning a bubble machine is perhaps a once-in-a-lifetime visual which probably shouldn't be missed.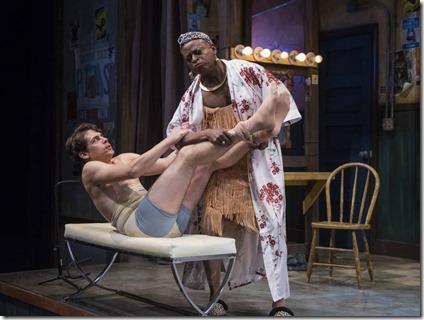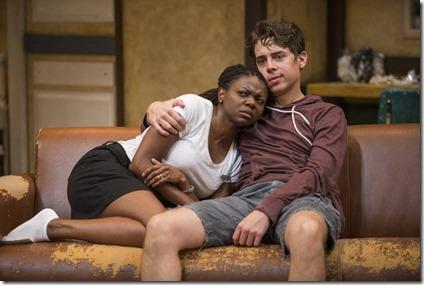 As Miss Tracy Mills, Blake's long career as a dancer serves him well. When he launches into a medley of Streisand/Merman/Garland tunes, he's got the moves to carry it off. Moreoever, Blake's lip synching skills are not trifling. But Tracy is more than a performer. Blake's delivery of a late-night heart-to-heart with the conflicted Casey captures the Tracy's out-of-drag queen persona. Blake makes the scene pop with a blend of weary wisdom, full-hearted compassion and acid-bath sarcasm.
Santana has you rooting for Casey from the start, even if he is the sort of boy who bounces rent checks by ordering pizzas he can't afford. He's a child, but an endearing one. As Casey's wife Jo, Sheppard is the adult in the relationship and brings all the exasperation that being so entails. The love between the couple is evident, but it's clear from the start that Casey is going to have to grow up in order for this marriage to survive.
As Rexy, Kurysz is all imperious attitude. Rexy's a diva ("Grab a sweater. You're going to need it in my shadow."), but one with a heart of gold. Like Casey's, her journey is predictable. But like Santana, Kurysz has the charm and verve to make it entertaining.
Double-cast as Casey and Jo's landlord Jason, Kurysz has a passage about a New Orleans dalliance that the world at large would do well to heed. Jason, it seems, once fell in love with a transgender woman. He freaked out, and fled. "The heart wants what the heart wants," Jason says, "I was just focused on the wrong organ."
The Legend of Georgia McBride continues through October 22nd at the North Shore Center for the Performing Arts, 9501 Skokie Blvd. (map), with performances Tuesdays 7:30pm, Wednesdays 1pm & 7:30pm, Thursdays 7:30pm, Fridays 8pm, Saturdays 2:30pm & 8pm, Sundays 2:30pm & 7pm. Tickets are $30-$81 (students w/ ID: $15), and are available by phone (847-673-6300) or online through their website (check for availability of ). More information at Northlight.org. (Running time: 1 hour 40 minutes, no intermission)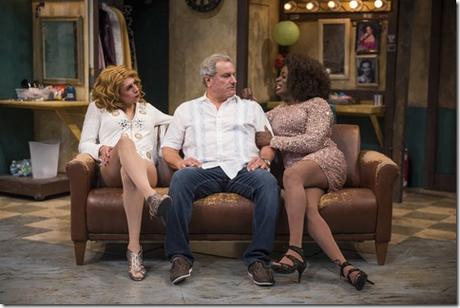 Photos by Michael Brosilow
Keith Kupferer (Eddie), Nate Santana (Casey), Leslie Ann Sheppard (Jo), (Miss Tracy Mills), Jeff Kurysz (Rexy, Jason), Raymond K. Cleveland (understudy, Tracy), Michael Manocchio (understudy Rexy, Jason), Billy Minshall (understudy, Eddie), Colin Morgan (understudy, Casey), Charlita Williams (understudy, Jo).
behind the scenes
Lauren Shouse (director), Richard and Jacqueline Penrod (set design), Rachel Laritz (costume design), (lighting design), Kevin O'Donnell (sound design, original music), Chris Carter (choreographer), Lynn Baber (casting director), Rita Vreeland (stage manager), Kristen Osborn, Matthew Stein (dramaturgs), Abigail Boucher, Max Covill (assistant directors), Penny Lane Studios (wigs), Alex Benjamin (makeup consultant), BJ Jones (artistic director), Timothy J. Evans (executive director), Bronte DeShong (properties master), Katy Garcia (production assistant) Stephanie Taylor (interim costume supervisor), Kristin Ginther (second wardrobe), Selma Muminovic (spotlight operator), Michael Brosilow (photos)
Tags: 17-0953, Abigail Boucher, Alex Benjamin, Billy Minshall, BJ Jones, Brontë DeShong, Catey Sullivan, Charlita Williams, Chicago Theater, Chris Carter, Colin Morgan, Jeff Kurysz, JR Lederle, Katy Garcia, Keith Kupferer, Kevin O'Donnell, Kristen Osborn, Kristin Ginther, Lauren Shouse, Leslie Ann Sheppard, Lynn Baber, Matthew Lopez, Matthew Stein, Max Covill, Michael Brosilow, Michael Manocchio, Nate Santana, North Shore Center for the Performing Arts, Northlight Theatre, Penny Lane Studios, post, Rachel laritz, Raymond K. Cleveland, Richard and Jacqueline Penrod, Rita Vreeland, Sean Blake, Selma Muminovic, Stephanie Taylor, Timothy J. Evans
Category: 2017 Reviews, Catey Sullivan, Comedy, North Shore Center for the Arts, Northlight Theatre, Video, YouTube