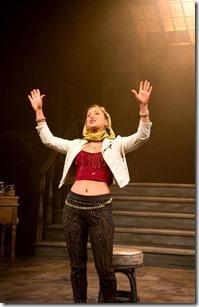 The Last Days 
   of Judas Iscariot 
Written by Stephen Adly Guirgis  
Directed by Julia Albain
at Stage 773, 1225 W. Belmont (map)
thru Sept 8  |  tickets: $25   |  more info
  
Check for half-price tickets 
  
  
   Read entire review
  
---
An intense, unforgettable gut-punch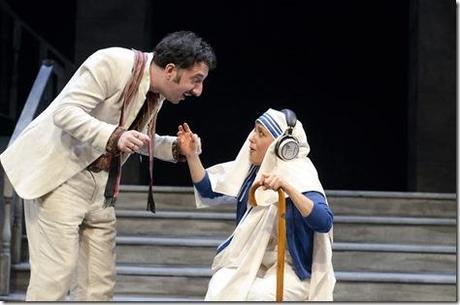 Judas Redux presents
The Last Days of Judas Iscariot
Review by Lauren Whalen 
Who was Judas Iscariot? According to the Bible, he was a favored disciple of Jesus Christ who betrayed his leader and friend for 30 silver pieces, tried and failed to recant his accusation, and then committed suicide. His name is as synonymous with "traitor" as that of Benedict Arnold, but what was Judas like as a child? Where did he go after he died? Why did Jesus, who forgave other apostles their transgressions, not extend the same compassion to Judas? And what if Judas got a second chance in the afterlife? The Last Days of Judas Iscariot, written by Stephen Adly Guirgis and reproduced by a group of theater school alumni, tackles these disturbing questions in a haunting three-hour opus of lost hope and redemption just out of reach.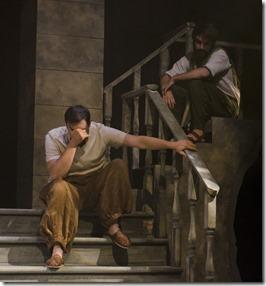 A Confederate general turned weathered judge (
Dylan Saunders
) sits in purgatory, the land of eternal wait, when he's handed a writ from St. Peter himself. Plucky and impeccably attired Fabiana Aziza Cunningham (
Alex Odell
) would like to defend Judas Iscariot. She feels her client's story needs to be heard by a jury of his peers – not that Judas (
Reed Campbell
), sitting catatonic in hell, can give her any input. The result is a trial featuring testimonies from actual witnesses Simon the Zealot (
Brian Rosenthal
) and Pontius Pilate (
Joseph Walker
) to "experts" Mother Theresa (
Lauren Lopez
) and Sigmund Freud (
Nico Ager
). Judas' mother (
Jessica Maynard
) remembers fondly a boy playing with a spinning top, fellow apostle Thomas (
Joey Richter
) found Judas to be "kind of a dick", but also ultimately loyal. As the verdict draws close, Satan himself (
Richter
) gleefully meddles in the proceedings, and Jesus (
Aaron Seeburger
) hasn't given up either.
Last Days was originally produced off-Broadway in 2005, directed by Philip Seymour Hoffman and featuring Sam Rockwell in the title role. This production also has an interesting history: first performed at the University of Michigan in 2008, it featured Darren Criss, now of "Glee" fame, as well as many actors who would helm the now-notorious StarKid shows like A Very Potter Musical. The production you see has the same director (Julia Albain) at the helm, and actors now based in Chicago, New York and L.A. These U of M alums (several of whom haven't performed in a straight play since graduation) raised over $60,000 for the production via Kickstarter, and are clearly passionate about revisiting what they consider to be a life-changing work.
There's never a shortage of passion in the Chicago theater scene, but what distinguishes this Last Days is its skill. Albain deftly weaves a tangled web of faith and friendship, diving into a complex script that requires the majority of its actors to play more than one multifaceted role. Every detail is meticulous and thoughtful, from Corey Lubowich's bleak set of broken window panes and dripping water, to June Saito's simple costumes with bright color and elaborate detail, from Sarah Petty's moody, murky lighting to Clark Baxtresser and Pierce Siebers' Academy Award-quality original score. Even the pre-show music gets it right, incorporating Bruno Mars' hit "Locked Out of Heaven" for a touch of dark humor. Though Guirgis' script suffers from an overly long second act and a few superfluous characters (we don't really need to know the backstories of each jury member, and we certainly don't need an seemingly eternal monolog from one), the production values more than compensate.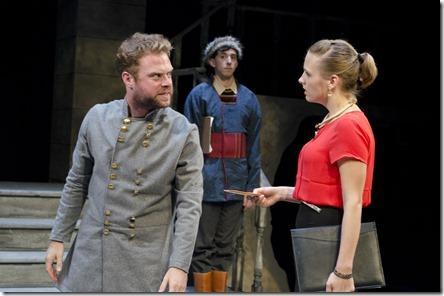 Each actor brings nuance to the shortest syllable and smallest gesture. While I was initially skeptical of Richter's slight stature (would the Devil really be that short?), the actor's powerful presence quickly quelled my cynicism. Odell's crisp delivery and careful mannerisms paint a portrait of an intelligent lawyer with more than one skeleton in her closet. Maynard's stunning opening monolog reflects a mother's doomed love for a fallen son with heartwrenching accuracy, and Saunders brings a cinematic charisma and quality to both the gruff judge and guarded Caiaphas the Elder. In this robust ensemble, however, Seeburger and Campbell are the standouts. Jesus and Judas are not seen as much as discussed, but their few scenes ring so true that audience members will forget their personal beliefs and lean forward in their seats to catch every compelling bit of this complicated relationship.
More than any play I've seen this year, The Last Days of Judas Iscariot made me feel. I've reviewed theater for two years now, and have become adept at observing my reactions (from elated to bored out of my skull) at any given moment during a production. So often during Judas, I was at a loss: I was absorbed, but couldn't separate joy from pain, confusion from sadness. It was only walking home from Stage 773, past the bright lights of the 7/11, that the words came to mind. I feel conflicted. I feel haunted. I feel.
Rating: ★★★½
The Last Days of Judas Iscariot continues through September 8th at Stage 773, 1225 W. Belmont (map), with performances Tuesdays-Fridays at 7:30pm, Saturdays and Sundays at 2pm and 7:30pm.  Tickets are $25, and are available by phone (773-327-5252) or online through JudasChicago.com (check for half-price tickets at Goldstar.com). More information at JudasRedux.com.  (Running time: 3 hours, includes an intermission)
---
artists
cast
Nico Ager (Sigmund Freud, Saint Matthew, Soldier 1), Shashona Brooks (Lorett, Mary Magdalene), Reed Campbell (Judas Iscariot), Britney Coleman (Gloria/Soldier 2), Ali Gordon (Matthias of Galilee, Sister Glenna, Soldier 3), Lauren Lopez (Saint Monica, Mother Theresa), Jessica Maynard (Henrietta Iscariot), Alex Odell (Fabiana Aziza Cunningham), Joey Richter (Satan, Saint Thomas), Brian Rosenthal (Bailiff, Simon the Zealot), Dylan Saunders (Judge, Caiaphas the Elder), Aaron Seeburger (Jesus of Nazareth), Daniel Strauss (Yusef El-Fayoumy), Joseph Walker (Saint Peter, Pontius Pilate, Uncle Pino), Liam White (Butch Honeywell)
behind the scenes
Julia Albain (director, co-executive producer), Corey Lubowich (scenic design, co-executive producer), Lauren Lopez, Joey Richter, Brian Rosenthal (co-producers), Sarah Petty (lighting design, production manager), June Saito (costume design), Rachel Albert (production stage manager), Grace Stratton (asst. director, asst. stage manager), Clark Baxtresser and Pierce Siebers (original music), Gordon Granger (tech director, scenic carpenter)
13-0833