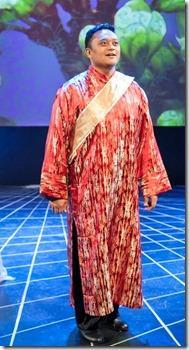 The Land of Smiles 
Music by Franz Lehár
Libretto by Ludwig Herzer and Fritz Löhner-Beda
Directed by Elizabeth Margolius 
Conducted by Kim Diehnelt 
at Stage 773, 1225 W. Belmont (map)
thru July 14  |  tickets: $30-$40   |  more info
  
Check for half-price tickets 
  
  
   Read entire review 
  
---
Don't miss this irresistible gem on Belmont Avenue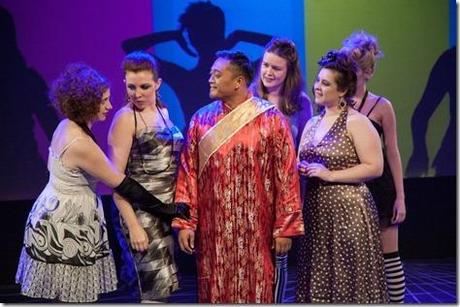 Chicago Folks Operetta presents
The Land of Smiles
Review by Lawrence Bommer
Unashamedly nostalgic as they pursue and preserve the best of the past, Chicago Folks Operetta calls themselves "The Voice of the Old World." That old world couldn't ask for a finer exponent. For seven seasons now, the C.F.O. have proclaimed their preference with new translations of old wonders, faithful to the spirit as much as the notes. Their latest showcase–a lesser known later work by Franz Lehár, composer of The Merry Widow — is a rare gem from the Silver Age of Operetta, a consummate evening of melodic delights and musical supremacy.
Sung in English, The Land of Smiles is a 1929 Chippendale-style "chinoiserie" in the ersatz Eastern style of Turandot, its contemporary Puccini parallel (as well as borrowing story elements from Madame Butterfly). Inevitably, it also recalls The Mikado of 1884 (Japan or China—it hardly mattered when Western composers looked for Oriental inspiration) and Sigmund Romberg's The Student Prince, with its depiction of the mismatch between classes that dooms even true love. (It anticipates The King and I, where love really does take root in 19th century Siam between a British governess and a progressive-minded monarch willing to learn from his mistakes.)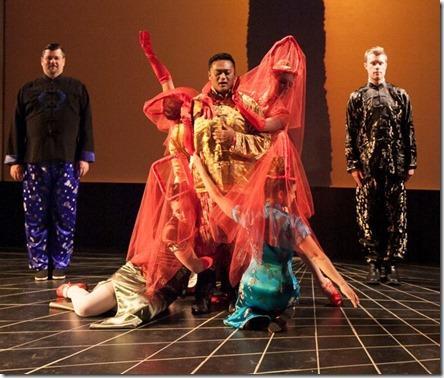 Here a culture gap that not even passion can span yawns between Lisa, a Viennese heiress, and Chinese Prince Sou Chong, soon to inherit a province where he will return as governor and wear the ritual "yellow jacket" (the original name of the operetta before it failed in 1923). Lehar's charmer thus begins in Vienna and ends in the Middle Kingdom, his enchanting score charting the itinerary of a failed love story as it morphs from waltzes to sparkling "Eastern" novelty numbers, effervescently exotic and captivatingly performed in Elizabeth Margolius' resourceful staging.
Lisa (Chelsea Morris, a thrilling soprano) is an adventuress looking for excitement as much as adoration. She's immediately drawn to the suitably inscrutable Sou Chong (Geoffrey Agpalo, with a soaring tenor but a somewhat stiff acting style).
This Mandarin-style monarch is the proverbial opposite that attracts. He's drawn too–to Lisa's independent ways—a huge change from the courtesans and eunuchs of his past palaces. All it takes is a delightful duet during a tea ceremony to make East meet West and both meet Lehar. Sealing the deal, Sou Chong sings "Dein ist mein ganzes Herz," one of Lehar's most soul-shattering love arias (and which received five encores at its inception).
If lovers could only keep singing… But the admirably honest second and third acts depict the death of their dream: Our hastily married Lisa discovers that she's considered a concubine at her hubbie's court—and that the real wives are four Manchurian princesses chosen by Sou Chong's imperious Uncle Chang (stentorian Kevin M. Grubb). Lisa, a strong piece of strudel, is not one to retreat to a harem and await preferment. So the mismatched lovers must part. Sou Chong, far from enforcing his patriarchal privileges, surrenders her with the same grace that Pasha Selim does his stolen beloved in "The Abduction from the Seraglio." His motto—"Always be smiling" gives the title a bittersweet aftertaste.
A sprightly subplot connects Lisa's longtime friend Gustl (Zachary Elmassian) with Sou Chong's soubrette of a sister Princess Mi (Christine Bunuan) for a more comic depiction of a doomed foreign attachment. Their two duets, performed with vaudeville fervor and contagious warmth, are easily the happiest songs to grace Belmont Avenue in many years.
Irresistible as the score is (even in concert form), Margolius' sprightly staging surrounds it with a flawless 20-strong orchestra, conducted by Kim Diehnelt, who can do no wrong. Framing the action is a gorgeous and supple video backdrop (designed by Liviu Pasare) whose film, slides and silhouettes reflects moods and lyrics with aplomb. Add to this make-believe "Celestial Kingdom" costumes (Kate Kamphausen) and choreography by Todd Rhoades as lush as Lehar's fanciful ballets (four dancers delight) and chorus anthems. This is as good as it gets or we deserve.
Rating: ★★★★
The Land of Smiles continues through July 14th at Stage 773, 1225 W. Belmont (map), with performances Thursdays-Saturdays at 7:30pm, Sundays 2pm.  Tickets are $30-$40, and are available by phone (773-327-5252) or online through Vendini.com (check for half-price tickets at Goldstar.com). More information at ChicagoFolksOperetta.org.  (Running time: 2 hours 10 minutes, includes an intermission)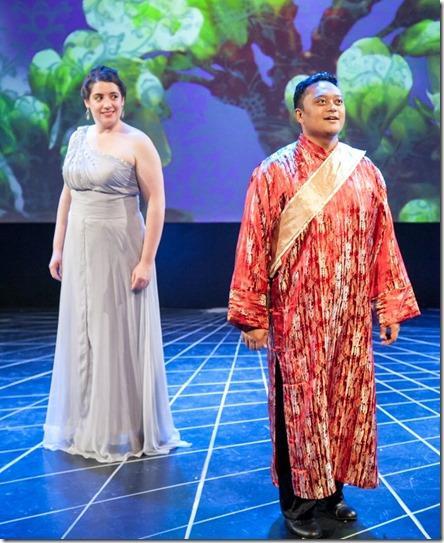 ---
artists
cast
Geoffrey Agpalo (Prince Sou Chong), Chelsea Morris (Lisa), Zachary Elmassian (Gustl), Christine Bunuan (Princess Mi), Kevin M. Grubb (Uncle Chang), Jesse Grider, Michelle Braché Agpalo, Hayley Camire, Ed Budzilowicz, Katy Harth, Josh Pritchett, Nick Pulikowski, Rose Guccione, Allison Cook, Patrick Willaert, Angela Zawada, Laura Martino, Heather Youngquist, Peter Ruger, Kelly Abell, Andrea Collier (dance captain), James Stevko, William Carlos Angulo, Russ Yoe 
behind the scenes
Elizabeth Margolius (director), Kim Diehnelt (conductor), Hersh Glagov, Gerald Frantze (English translation), Kate Kamphausen (costume designer), Julian Pike (lighting designer), Ian Zywica (set designer), Liviu Pasare (video designer),  Todd Rhoades (choreographer).
13-0653