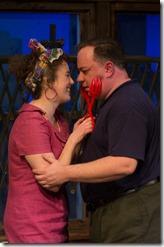 Superb cast tackles tricky tones to great success in new classic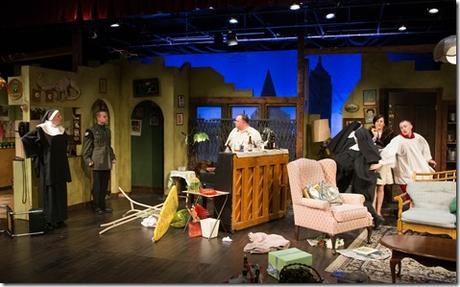 When it was revealed that Rep. Bob Brady had pinched the water glass used by Pope Francis so that he and various people could drink from it and be 'blessed,' some people looked on quizzically. It's the kind of superstitious fetishization of power that seems nearly unbecoming of an elected official. For some, it's patently absurd.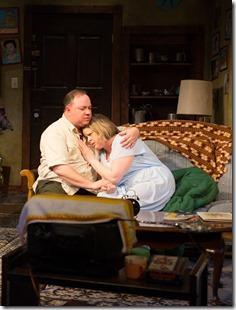 Playwright
John Guare
understands that compulsion and its corresponding absurdity. He wove it into his 20th century classic now playing with a stellar cast at
Raven Theatre
.
The House of Blue Leaves
revolves around the first papal visit (Pope Paul VI) to America in 1965. New York is in a fever pitch, ready for the holy man to shoot blessings out of his fingertips and make everything stellar with the sheer miraculous power of celebrity.
For a 'nobody' like Artie (Jon Steinhagen), the power to counteract his stationary inertia is held in check by both fear and wonder. His ditzy mistress Bunny (Sarah Hayes) believes the pope's visit will transform their lives, and marry them with a wink as his car parades down the street. This would theoretically also have to serve as a divorce to Artie's mentally unstable wife, the unfortunately nicknamed "Bananas" (Kelli Strickland).
As Artie frequently reminds us, he's "too old to be a young talent." The talent in question is composing forgettable little diddies-"Where's the Devil in Evelyn's eyes?"-and singing them to disinterested patrons in piano bars. He met Bunny two months ago and began an affair while his wife was medicated into numbness. As she struggles with her grip on reality, he dreams of running away to LA to start anew with his old buddy-cum-big-time-director Billy Einhorn (Noah Simon) as his ticket to stardom.
This being a dark comedy with overtones of the absurd, things get crazy very quickly. A trio of nuns gets trapped on the rooftop and seek refuge in the apartment. The auspicious return of Artie and Banana's grown son Ronnie (Derek Herman) is disruptive in a far less expected way.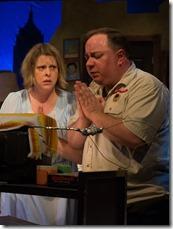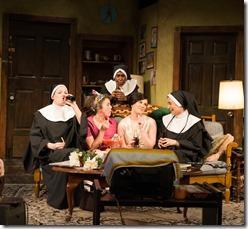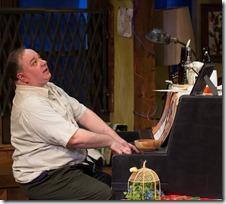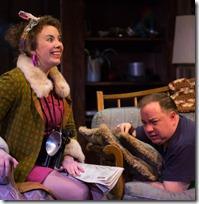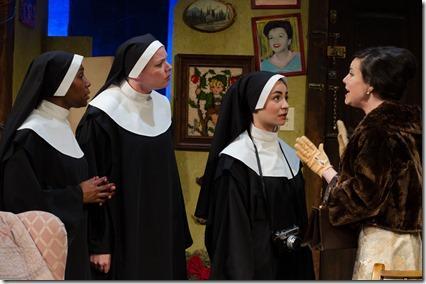 Not much should be given away about the plot. Part of the fascination of watching is how frequently Guare thwarts common story shapes. There's the difficulty of shifting tones between dark and comedy that have ensured that few companies have had the audacity to mount it (the last major Chicago production was in 2006, one of the first productions I witnessed here).
Thankfully, this type of show falls comfortably into Raven's-and particularly director JoAnn Montemurro's- deftness and keen insight into these types of pathetic characters. She finds the right note of over the top comedy-of which there is much to be had-mingled with manic desperation. This is critical because other directors have skewed the show towards the 'dark' side of 'dark comedy' with mixed results, most notably this 2011 production.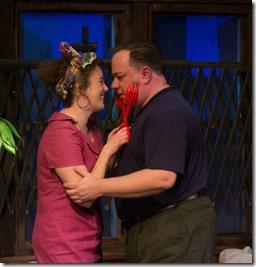 Leaves is anchored in three delightful performances. Steinhagen is perfect as a pathetic man trapped in circumstances, wrestling with the need to stop building 'shrines to the future' and pull that trigger. Strickland is the bittersweet center of the maelstrom. There's many notes of quiet tragedy embedded in the performance even in her biggest moments. She doesn't mind being medicated into not feeling, she just wants to be able to remember feeling at all. As her polar opposite, Hayes is an over-the-top caricature of power worship. "You're a 'nobody' and you suffer like a 'nobody,'" she directs at not just Bananas but everyone in the world who doesn't strive for the power of notoriety. She also has most of Guare's metaphorical critique of the distortive power of "somebodies".
Add to that the claustrophobic set work by Ray Toler with Merje Veski, and The House of Blue Leaves becomes an anarchic journey to a heightened otherworld where desperate fans take photos with famous people on TV and a pathetic man tries with the farcical ardor of Tantalus to eat from the same plate as a powerful man. In the decades following debut, Guare's grotesques still haunt and critique from that chilly blue spotlight.
The House of Blue Leaves continues through June 18th at Raven Theatre, 6157 N. Clark (map), with performances Thursdays-Saturdays at 7:30pm, Sundays 3pm. Tickets are $42 (seniors: $37, students/teachers/military: $18), and are available by phone (773-338-2177) or online through OvationTix.com (check for half-price tickets at Goldstar.com ). More info at RavenTheatre.com. (Running time: 2 hours 15 minutes, includes an intermission)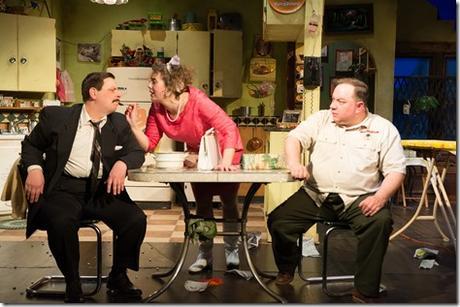 Jon Steinhagen (Artie), Sarah Hayes (Bunny), Kelli Strickland (Bananas), (Corrinna Stroller), Derek Herman (Ronnie), (Billy Einhorn), Sophia Menendian (Little Nun), Shariba Rivers (Second One), Kristen Williams (Head Nun), Conor Clark (Military Policeman), Bob Gerics (The White Man), Lauren Gilbert, Tehilla Newman, Elaine Small (understudies)
behind the scenes
JoAnn Montemurro (director), (scenic design), Joelle Beranek (costume design), Diane D. Fairchild (lighting design), (sound design), David Woolley (fight choreography), Mary O'Dowd (properties design), Merje Veski (scenic artist), Kendra Thulin (dialect coach), Anna Sung-En Medill (assistant director), Jessica Doyle (master electrician), Kiley Morgan (stage manager), Bob Gerics (asst. stage manager), Conor Clark (technical director), Aaron Shapiro (production manager), Tom McGrath (photos)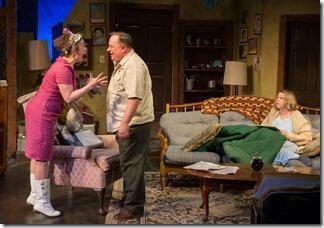 Tags: 16-0456, Aaron Shapiro, Anna Sung-En Medill, Bob Gerics, Chicago Theater, Clint May, Conor Clark, David Woolley, Derek Herman, Diane D. Fairchild, Elaine Small, Jen Short, Jessica Doyle, JoAnn Montemurro, Joe Court, Joelle Beranek, John Guare, Jon Steinhagen, Kelli Strickland, Kendra Thulin, Kiley Morgan, Kristen Williams, Lauren Gilbert, Mary O'Dowd, Merje Veski, Noah Simon, post, Raven Theatre, Ray Toler, Sarah Hayes, Shariba Rivers, Sophia Menendian, Tehilla Newman, Tom McGrath