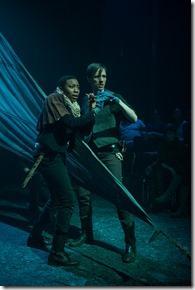 The Hammer Trinity
Written by Nathan Allen and Chris Mathews
Directed by Nathan Allen
at Chopin Theatre, 1543 W. Division (map)
thru May 3  |  tickets: $30; $65   |  more info
  
Check for half-price tickets 
  
  
   Read review
  
---
Bold and imaginative epic fantasy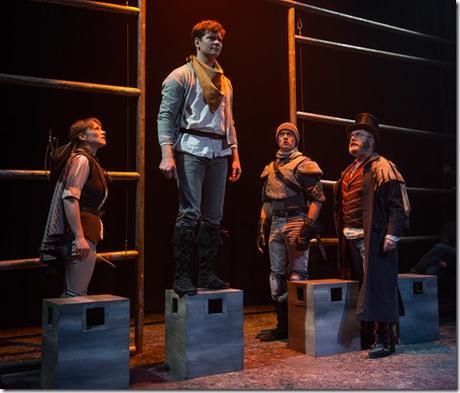 The House Theatre presents
The Hammer Trinity
Review by Lauren Whalen 
Everyone has a mythology. Whether it's the Bible, "Star Wars", or the Knights of the Round Table, each individual has a favorite story that inspires, that guides, that – even  when the ending is familiar – is thrilling every single time. According to co-writer and director Nathan Allen's program note, The Hammer Trinity began as a take on King Arthur: a sprawling and magical epic about the making, breaking and remaking of a hero. Along the way, the three separate plays – 2012's The Iron Stag King (our review), 2013's The Crownless King (review) and this season's premiere of The Excelsior King – have been infused with the House Theatre's unique brand of intelligence, whimsy and childlike sense of wonder in an all-too-grown-up world.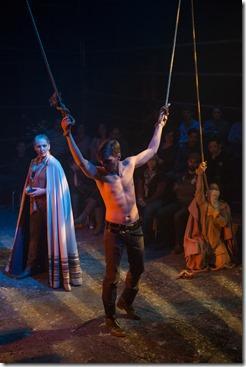 Viewed separately or together (preferably as a Saturday or Sunday marathon),
The Hammer Trinity
makes believers of cynics, combining stirring staging, gorgeous design and stellar acting to do what the House does best: make great theater.
Every story needs a hero, preferably one who comes of age and takes the audience on a personal journey. In this case it's Casper Kent (Kevin Stangler), a wide-eyed farm boy who, during one fateful day, learns of his true parentage and witnesses the murder of the man (Abu Ansari) he knew as his father. Turns out Casper is the product of a forbidden love between two of five leaders who banded together and then violently fell apart, and is the only one who can lift the mythical Hammer and become the one true leader. At least, this is true according to Hap the Golden (William Dick), an Obi Wan-like mentor figure whose intentions may not be so true. And so Casper sets out on a journey with Hap, Wilke the Viking (JJ Phillips) and fierce strategist Rienne (Kara Davidson), to lift the Hammer and embrace his true destiny. But of course, that's only the beginning…
It's impossible to encompass the staggering beauty of the nine-hour Trinity in a single review, ditto the experience the audience had on opening day. During a pivotal scene of The Iron Stag King, the show had to hold due to a frozen computer. Later, Phillips dislocated his shoulder after a particularly intense battle scene and was sent to the hospital after Iron Stag, leading co-writer Chris Mathews to don Wilke's Viking gear for Parts Two and Three, often holding script pages and surreptitiously guided from the audience by director Allen. The tension and excitement of an already tense and exciting story ratcheted up tenfold, the audience breathless with anticipation (and concern for the actors and crew). In short, The Hammer Trinity's opening day was the Apollo 13 of live theater.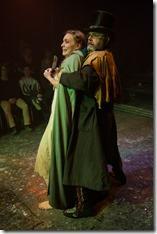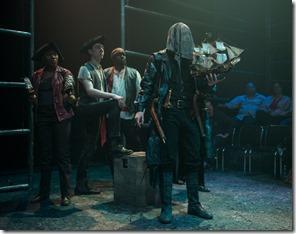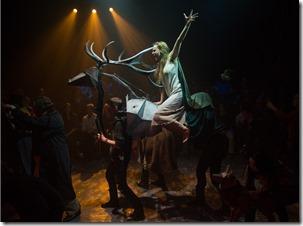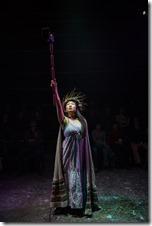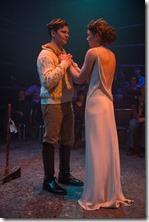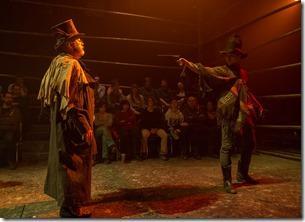 And like the astronauts and crew of a tenuous space mission, the House Theater experienced its finest hour. The audience cheered and applauded when the computer rebooted and the show went on. While Phillips' beautiful intensity was missed, Mathews rose to the occasion with the heart of a Viking, sometimes reading aloud stage combat directions with wicked humor, occasionally executing impressive impromptu swordplay, and always encompassing Wilke's strong and loyal heart. In the course of an afternoon and evening, when they could have fallen apart, the House rose from the ashes and made The Hammer Trinity stronger than ever, managing to not only pull off a slam-bang marathon performance but elicit tears and raucous laughter (sometimes simultaneously) from an already-enthusiastic crowd.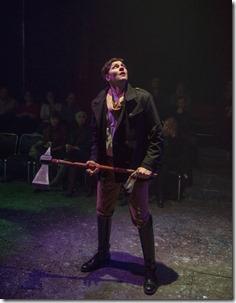 Even with opening day hiccups, everything about
The Hammer Trinity
is an embodiment of why the House is Chicago's best-kept secret that needs to be shared with one and all. Mathews and Allen have crafted a story with all of the right ingredients, including a heartwarming father-daughter subplot (enacted by real-life father and daughter
John Henry Roberts
and
Ada Grey
), a courageous young woman who was raised by foxes (the luminous
Kay Kron
) and a menacing yet paternal dragon (voiced by
Tracy Letts
). As always, everything from original music to fight choreography encompasses the House's meticulous attention to detail that results in a fantastical world rarely found outside a 1980's children's movie (only this one's happening right in front of your eyes).
The Hammer Trinity
has cycled through many cast members since 2011's opening of
The Iron Stag King
– the one downside of casting talented actors, is that talented actors work a lot – but the new faces (including Stangler and
Isabel Liss
, the latter as imposing Lady Olympia) blend seamlessly with the familiar. Davidson in particular is a welcome addition. Her Rienne is delicate but strong, always smart and watchful, every obstacle ending in hard-earned victory.
Before each House Theatre opening night, Allen (also the company's co-founder and artistic director) jumps onstage. "Welcome to the House Theatre!" he cheers with exuberance and all-out glee. With a greeting like that, it's impossible to not get swept away in the intimately crafted adventures the House Theatre has gifted to Chicago (and eventually Miami) since its 2001 inception. The Hammer Trinity is the pinnacle of what Chicago's brightest company is capable of – whether quiet, exciting or tear-jerking, every second is a treasure.
Rating: ★★★★
The Hammer Trinity continues through May 3rd at Chopin Theatre, 1543 W. Division (map), with performances of Excelsior King only on Wednesdays-Fridays at 8pm; 3-show marathon Saturdays and Sundays starting at 2pm.  Tickets are $30 for The Excelsior King and $65 for the marathon performance of all three. Buy tickets by phone (773-396-2875) or online through PrintTixUSA.com (check for half-price tickets at Goldstar.com). More information at TheHouseTheatre.com. 
Saturday/Sunday marathon schedule (with BYO-picnic dinner breaks):
Part One: The Iron Stag King from 2 – 4:30 p.m.
Part Two: The Crownless King from 5 – 7:15 p.m.
Part Three: The Excelsior King from 8:30 – 11 p.m.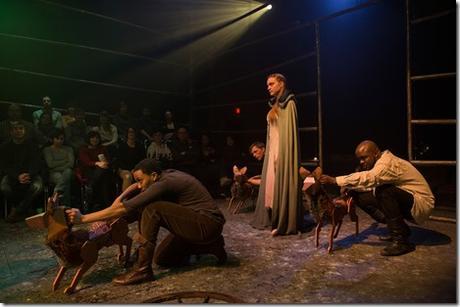 Photos by Michael Brosilow 
---
artists
cast
William Dick (Hap the Golden), Isabel Liss (Lady Olympia), JJ Phillips (Wilke Forsbrand), Tracy Letts (Irek Obsidian voice), Kevin Stangler (Casper Kent), Kara Davidson (Rienne Boileau), John Henry Roberts (Hollow Thom Gadsden), Kay Kron (July of the Seven Foxes), Joey Steakley (Henley Hawthorne), Joe Bianco (Davy Boone), Christopher Hainsworth (Kaelan Wayne), Ben Hertel (Pepper Tintype), Abu Ansari (Ebon Kent, Remy Boileau), Christopher M. Walsh (Abraham Pride), Ada Grey (Ginny Girl), Krystal Worrell (Virginia), Patrick Falcon (Patrick, Gordon Pride), Deanna Myers (Kathryn Grey), A. Monnie Aleahmad, Matt Edmonds, Gaby Labotka, Aaron Latterrell (understudies)
behind the scenes
Nathan Allen (director), Collette Pollard (scenic design), Melissa Torchia (costume design), Lee Keenan (lighting design), Joshua Horvath (sound design), Kevin O'Donnell (music composition), Matt Hawkins (fight direction), Jesse Mooney-Bullock (puppet design), Derek Matson (dramaturgy), Lee Fiskness (associate lighting design), Daniel Carlyon (associate sound design), Eleanor Kahn (properties master), Brian DesGranges (stage management), Michael Brosilow (photos)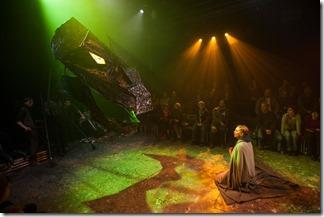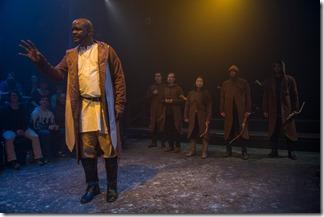 15-0312