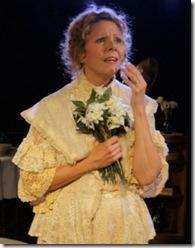 The Glass Menagerie 
Written by Tennessee Williams  
Directed by Josh Altman  
at Redtwist Theatre, 1044 Bryn W. Mawr (map)
thru Sept 2   |   tickets: $25-$30   |  more info
  
Check for half-price tickets 
  
  
   Read entire review
  
---
An intimate 'Menagerie' with an engaging Amanda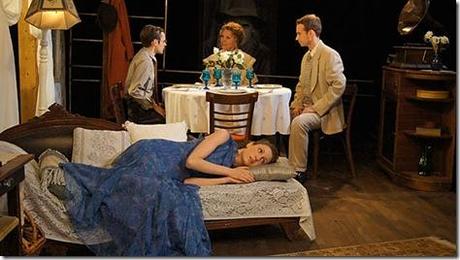 Redtwist Theatre presents
The Glass Menagerie
Review by John Olson
Like Writers' Theatre's production of Williams' A Streetcar Named Desire two years ago, Redtwist's take on The Glass Menagerie literalizes a claustrophobic setting. In this show, the Wingfield's cramped 1930's St. Louis Apartment – accessible only by a fire escape leading into the alley – is placed in the tiny Redtwist storefront theater, making Tom Wingfield's sense of confinement sharing the two-room apartment with his strident mother and mildly disabled sister quite palpable. It's one of two main reasons to catch Redtwist's revival of the Williams classic: the other being the exceptionally fine performance by Jacqueline Grandt in the role of matriarch Amanda.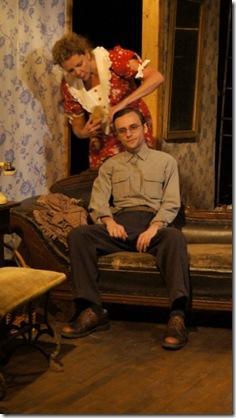 A former southern belle who has fallen dramatically from her former social and economic station, Amanda is frequently compared with
Streetcar
's Blanche DuBois, and the two do share a habit of living in their bygone better days. But as played by Grandt, Amanda is hardly delusional. She seems fully aware of the dire financial situation her depression-era family has been in since the departure of her husband some 16 years earlier. Her Amanda is at times overbearing, but we always understand that she is coming from a very legitimate fear of destitution with the family dependent on Tom's meager salary as a warehouse clerk and some earnings of her own selling magazine subscriptions. Daughter Laura is unable to gain employment or suitors and the two would have difficulty supporting themselves if Tom were to leave. Grandt shows Amanda's attempts to control the actions of her two children as part of a survival strategy more than evidence of a controlling nature. She fondly remembers her past days of entertaining numerous "gentlemen callers," but Grandt makes Amanda seem very aware that she lives in the present. Further, she seems to blame her own bad choice of a husband rather than the deserting husband himself. She's no victim, but is a survivor. Her efforts to recreate for her daughter something like the charmed childhood she enjoyed are simply examples of Amanda drawing on the skills she learned back then – not so much a belief that they can entirely be recovered. This interpretation by Grandt and director
Josh Altman
make an Amanda with whom we can empathize, rather than a controlling monster as she's sometimes portrayed.
It's not as easy for us to care about this production's Tom. As played by Ryan Heindl, Tom seems hyper-nervous and high strung – and while this is entirely justified by the script, we need to get a greater sense of Tom's ties to his family than Heindl shows us, and simply like and care about him more. Here, he seems to be more irritating than Amanda – as selfish as she accuses him of being rather than the lonely dreamer who is just busting to get out and experience the world. Sarah Mayhan does fine as Laura, capturing her fragility and intense anxiety at any engagement with the world outside the little apartment. Chris Daley nails the outgoing nature and charm of Jim, the gentleman caller, but he doesn't entirely show what's going on inside Jim's mind as he's briefly drawn to Laura. Williams script is ambiguous on this point, and the actor playing Jim needs to make some decisions on what sort of subtext to suggest.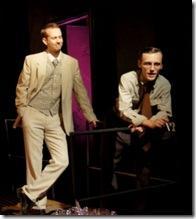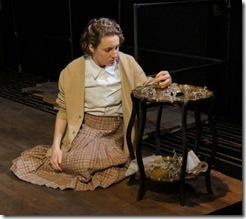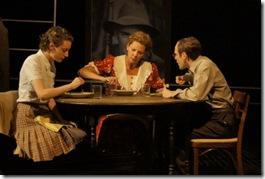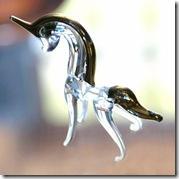 The set by Henry Behel wraps the Redtwist space in faded wallpaper and uses some simple pieces of furniture to establish time and place, as do Kelsey Ettman's period costumes. An oversized photo of the absent father hangs along the upstage wall, suggesting his role in the family's current circumstances and his place in their memories. Heather Gilbert achieves some neat lighting effects for this memory play, which Williams says is to be dimly lit – including the long candlelight scene between Jim and Laura, and the red glow of the dance hall across the alley. Christopher Kriz has composed a lovely original score that helps establish a melancholy mood.
Altman (assistant director for the acclaimed production of Streetcar at Writers') has given audiences a faithful interpretation of this Williams classic. The intimacy of the Redtwist space and the fresh take on Amanda by Ms. Grandt, give reasons for those familiar with the piece to return to it once again.
Rating: ★★★
The Glass Menagerie continues through September 2nd at Redtwist Theatre, 1044 W. Bryn Mawr (map), with performances Thursdays-Saturdays at 7:30pm, Sundays 3pm.  Tickets are $25-$30, and are available by phone (773-728-7579) or online through their website (check for half-price tickets at Goldstar.com). More info at Redtwist.org.  (Running time: 2 hours 15 minutes, includes an intermission)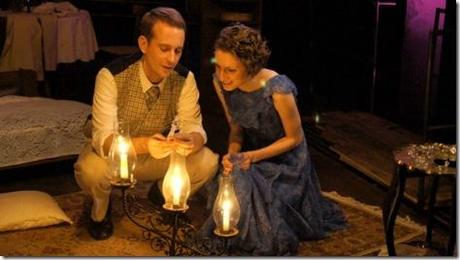 Photos by Jan Ellen Graves
---
artists
cast
Jacqueline Grandt (Amanda Wingfield), Ryan Heindl (Tom Wingfield), Sarah Mayhan (Laura Wingfield), Chris Daley (Jim, The Gentleman Caller)
behind the scenes
Josh Altman (director); Henry Behel (set design, construction); Heather Gilbert  (lighting); Kelsey Ettman (costumes); Christopher Kriz (original music, sound design); Nick Heggestad (props); Justin Castellano (production manager); Allison Queen (stage manager); Frank Sjodin (tech director); Olivia Leah Baker (asst. stage manager); Charlotte Dearing, Brett Gould, Heather Brooke Scholten (production assistants); Garvin Jellison (master electrician); Kevin McDonald (dramaturg); Mary Reynard Lis (vocal coach); Kathy Logelin (dialect coach); Jan Ellen Graves (producer, photos, graphic design, marketing, programs); Charles Bonilla (box office manager); E. Malcolm Martinez (box office assistant); Michael Colucci (producer)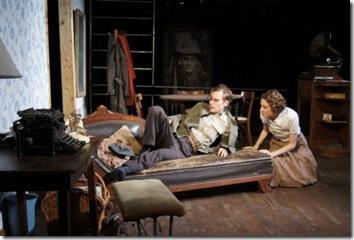 12-0741