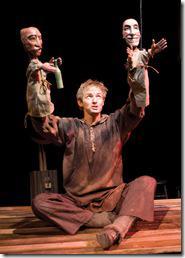 The Feast: an intimate Tempest
Adapted by Jessica Thebus  
Directed by Jessica Thebus and Frank Maugeri
Chicago Shakespeare Theater, Navy Pier (map)
thru March 11  |  tickets: $35-$45   |  more info
  
Check for half-price tickets 
  
  
   Read entire review
  
---
'Feast' leaves audience hungry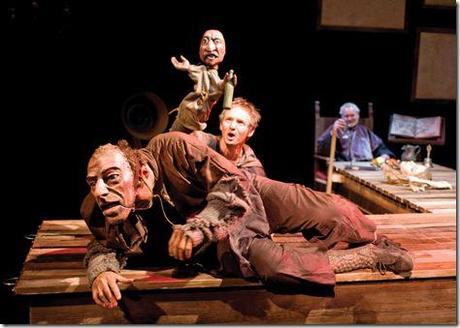 Chicago Shakespeare i/a/w Redmoon Theater presents
The Feast: an intimate Tempest
Review by Lauren Whalen 
I am far from a Shakespeare purist. I've seen Romeo and Juliet set everywhere from the Wild West to an Arkansas diner and loved it every time. The most beautiful aspect of Shakespeare's language is the room to play, to riff, to think outside the heavy scenery and period costume box. In that respect, The Feast: an intimate Tempest looked promising: a retelling of the events in The Tempest from the perspective of Prospero, with only Prospero's right-hand men Caliban and Ariel, plus a plethora of puppets and eye-catching special effects. The result of The Feast, however, is slightly less than satisfying. Stellar production design – a signature of Redmoon, which collaborated with Chicago Shakespeare Theater on The Feast – is all well and good, but not when the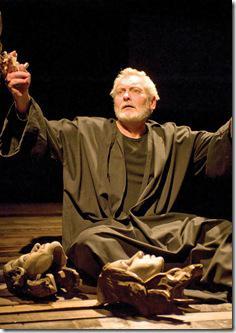 real story falls by the wayside.
The play begins with Prospero (John Judd) seated at a three-pronged wooden table, wielding an ax and a very thick book. His goal: a flawless retelling of the events in The Tempest, a story of shipwreck, love and filial revenge. Prospero orchestrates the events of the story, demanding nothing less than perfection from the twitchy Ariel (Samuel Taylor) and from Caliban (Adrian Danzig), who just wants his two days off. Still, Ariel and Caliban set about accomplishing this gargantuan task with the help of tremendous physicality, wildly innovative special effects and masks and puppets representing everyone from Prospero's double-crossing brother Antonio to his virginal daughter Miranda. Will Prospero be satisfied with the story at last, and be able to let go of his desires for legitimacy and revenge? Or will he be doomed to a purgatory permanently set on repeat?
At its heart, The Tempest is a complex story, and indeed The Feast isn't a straight production but a whimsical adaptation, combining Chicago Shakespeare's highly skilled cadre of professionals and excellent Upstairs Theater venue with Redmoon's imaginative artistic elements. The effect should be unsettling in the best possible way. Instead, it's a bit stilted. The Feast is not recommended for anyone unfamiliar with The Tempest, but as it's never represented as a production of the original play, that's not the real problem. What is a problem: the pacing, for one. At an intermission-free 75 minutes, the show should fly by. Instead, it lags, despite the constant movement of Taylor and Danzig and the almost manic introduction of new masks and puppets. As two helpless men doomed to a fate of repeating history for a dictatorial leader, Ariel and Caliban should be compelling characters, even more nuanced by their skill at disappearing into the puppets and masks. Instead, the effect is utterly manic and unsettling.
All is not lost at sea, however. Co-creators Jessica Thebus and Frank Maugeri (who also co-directed, with Maugeri responsible for the show's design) have a wild sense of imagination that at times is very fun to watch. Puppet designers Andrea Everman and Jesse Mooney-Bullock, and unseen puppeteers Sarah Addison Ely and Dustin Valenta, deserve the utmost accolades for conjuring a world from bits of fabric and wood. Drunken butlers, sweet ladies and dastardly brothers come to haunting and vivid life thanks to their extraordinary skill set. Andrew H. Meyers and Mike Tutaj's lighting and projection design, respectively, is both fun and foreboding. And as the domineering, tortured Prospero, the always-impressive John Judd (a standout in the stellar ensemble of Steppenwolf's Clybourne Park) amazes, his imposing stature, growling and ax wielding, not beginning to mask the character's childlike vulnerability and inner hurt. Even when I should have been watching Ariel, Caliban or the puppets, my eyes were on Judd's Prospero, hungrily taking in the action, a demented conductor. And I was never disappointed.
With a better sense of balance between spectacle and story, The Feast: an intimate Tempest could be a successful riff on the classic story from the point of view of its most compelling character. Instead, the production's emphasis on eye candy causes the script to fall flat. Would Prospero actually have been satisfied with a retelling that put so little value in what really happened to him and his family? The world may never know.
Rating: ★★½
The Feast: an intimate Tempest continues through March 11th at Chicago Shakepeare's Upstairs Theater on Navy Pier, 800 E. Grand (map), with performances Wednesdays at 1pm and 7:30pm, Thursdays-Fridays at 7:30pm, Saturdays at 3pm and 7:30pm, and Sundays at 3pm.  Tickets are $35-$45, and are available by phone (312-595-5600) or online here (check for half-price tickets at Goldstar.com). More information at ChicagoShakes.com.  (Running time: 1 hour 15 minutes with no intermission)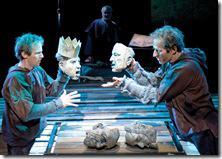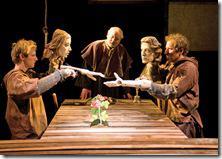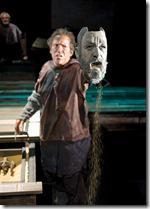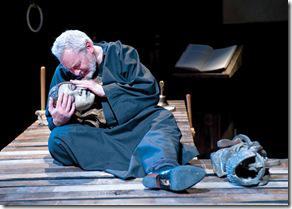 All photos by Liz Lauren
---
artists
cast