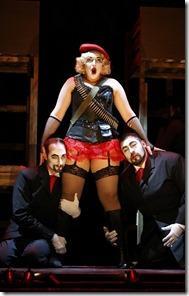 The Emperor of Atlantis
Written by Viktor Ullmann
The Clever One
Written by Carl Orff
Directed by Andreas Mitisek 
Merle Reskin Theatre, 60 E. Balbo (map)
thru June 8  |  tickets: $35-$125   |  more info
  
Check for half-price tickets 
  
  
   Read review
  
---
Two one-acts team to tackle the threat of unchecked power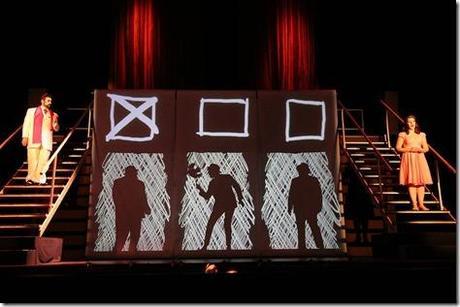 Chicago Opera Theater presents
The Emperor of Atlantis / The Clever One
Review by Clint May 
When Charlie Chaplin saw Hitler's "Triumph of Will", he saw a man crying out for satirization while others sat aghast. It is not coincidental that Chicago Opera Theater is screening Chaplin's masterwork response "The Great Dictator" as part of their theme of "Truth to Power." Their double bill of two English-translation German one-act operas—both written in 1943 under vastly different circumstances—contain subversive elements of humor that dress down those in power.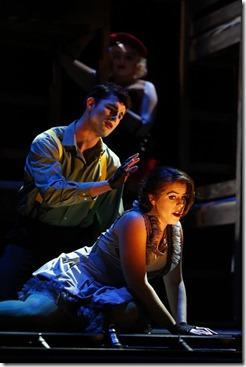 Viktor Ullmann's The Emperor of Atlantis is, oddly enough, the second work of art I've reviewed that came from the Terezín concentration camp. It's understandably the more biting of the two. Death (bass-baritone David Govertsen) confides to the younger Harlequin (tenor Bernard Holcomb) that he is getting tired of a world that has lost the craft of death in favor of industrial scale murdering. When Emperor Overall's madness results in a command to turn all men against each other (and thus end life on Earth) in a grand Holy War, he presumes to call Death his co-partner. Galled by the presumption, Death goes on strike to prove his supremacy. Despite an attempt to spin this for the positive, the new hell on Earth created by the dead in limbo inevitably demonstrates the shallowness of the Emperor's power.
What makes Atlantis so interesting is the notes of hope Ullmann includes. A man and woman from opposing sides (tenor William Dwyer and soprano Emily Birsan) fall in love when death won't take them. The emperor gets a form of melancholy redemption when he agrees to become Death's first new inductee. Though it combines multiple contemporary styles from jazz to cabaret, it still transcends its early 20th century influences to become a timeless work thanks to its haunting sense of balance.
Less successful is The Clever One, a take-off on the old folktale of the wise peasant's daughter. Strangely paced, It's a clear derivative of Carl Orff's oft performed "Carmina Burana" written a few years earlier. When the wise daughter (Birsan) becomes a queen, she subvert's her tyrannical husband's (Andrew Wilkowske) irrational judgments from behind the scenes (or tree, in this case).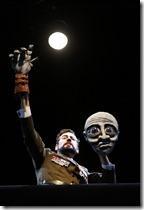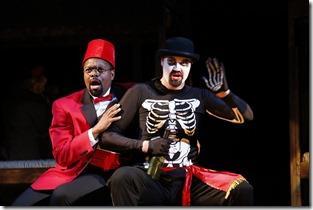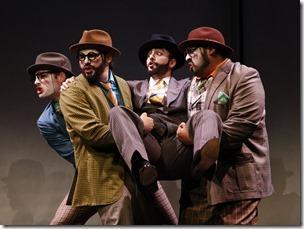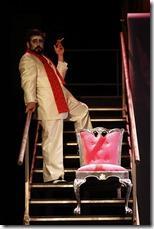 While it's a bit more obviously funny than Atlantis, The Clever One suffers from long stretches of not much happening and a less mordant critique of power (well-disguised perhaps to save Orff the fate Ullmann suffered to some controversy). Its music is also less timeless, feeling more like an academic exercise in comparison to Ullmann.
Scaled economically to the Merle Reskin stage, the Chicago Opera Theater's usual reliance on austere decor (also by Andreas Mitisek) is well served by creative staging and Sean T. Cawelti's inventive projection and puppet designs (particularly for The Clever One). With half the cast either current or former young artists, their talent is a testimony to the program. Other rising stars include Birsan's sublime, crystal clear voice and Holcomb's formidable tenor. Conductor Francesco Milioto keeps the energy loose to complement the non-traditional approach with which these two composers approached their work.
That Egypt's election resulted in the cancellation of their version of The Daily Show under pressure from their new president only serves to remind us of the ongoing power of satire to awaken a populace to the threats of overweening rulers. COT's latest mash up may not be entirely successful, but it is always timely.
Rating: ★★½
The Emperor of Atlantis / The Clever One continues through June 8th at Merle Reskin Theatre of DePaul University, 60 E. Balbo (map).  Tickets are $35-$125, and are available by phone (312-704-8414) or online through their website (check for half-price tickets at Goldstar.com). More information at ChicagoOperaTheater.org. (Running time: 2 hours 30 minutes, includes an intermission)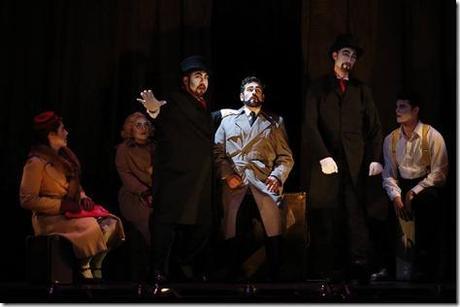 Photos by Corey DiNardo
---
artists
cast
Paul Corona (Loudspeaker 1, Third Vagabond), Neil Edwards (Loudspeaker 2, The Jailer), Bernard Holcomb (Harlequin, The Donkeyman), David Govertsen (Death, The Peasant), Cassidy Smith (The Drummer), Andrew Wilkowske (Emperor Uberall, The King), William Dwyer (Soldier, First Vagabond), Emily Birsan (Bubikopf, The Clever One), Matthan Ring Black (Second Vagabond), Christopher Remmel (The Muleman)
behind the scenes
Andreas Mitisek (director, production designer), Francesco Milioto (conductor), Andrew Meyers (lighting design), Sean T. Cawelti (video & puppet design),  Ross Beacraft (orchestra manager), Condrut Birsan (rehearsal pianist, coach), Alyssa Arrigo (apprentice coach), Anya Plotkin (production stage manager), Donald Claxon (assistant stage manager), Rick Combs (technical director), Mati Johnson, William McGhee (assistant technical directors), David Lee Bradke (assistant lighting design, lighting supervisor), Margaret Goddard-Knop (properties supervisor), Brenda Winstead (wardrobe supervisor), Penny Lane Studios (wigs and makeup supervisor), Matthew G. Hill (assistant puppet maker), Corey DiNardo (photos)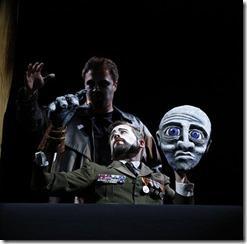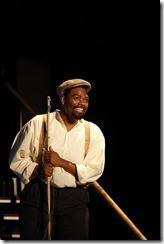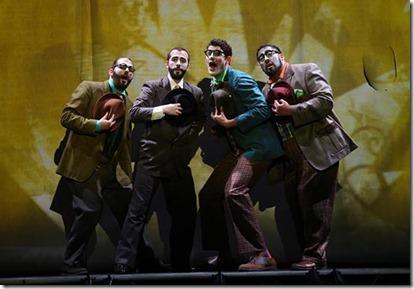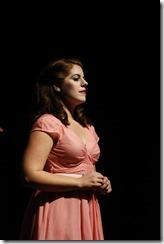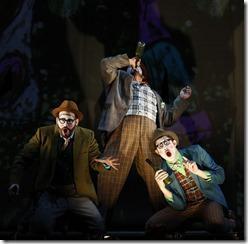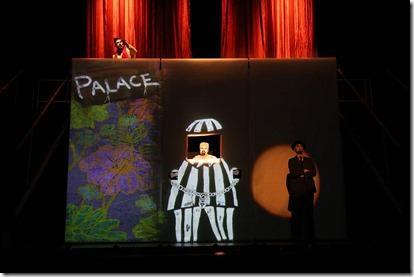 14-0562