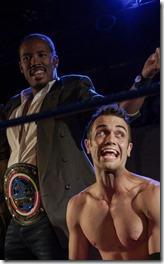 Red Theater earns its championship belt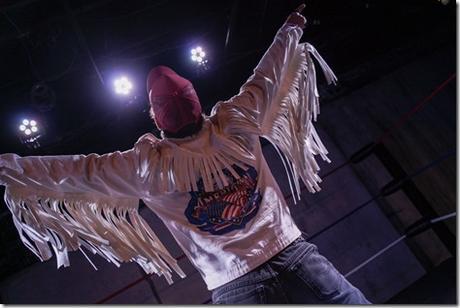 Review by Lauren Whalen
Wrestling is all about pageantry. It's about fighting, yes, but it's more performance art than combat: every match is staged and every character cultivated. Patriotism is played to the hilt, and stereotypes often reign supreme. The Elaborate Entrance of Chad Deity has been a nationwide smash hit since its 2009 world premiere at Victory Gardens. Playwright Kristoffer Diaz takes a hard behind-the-scenes look at the complex world of wrestling: the ruthless producers, the arrogant "champions," and the workhorses who genuinely love the sport and the art. Red Theater Chicago's production is intimate and unflinching, exploring every nuance of the snappy, challenging script and showcasing some of Chicago's finest actors in the process.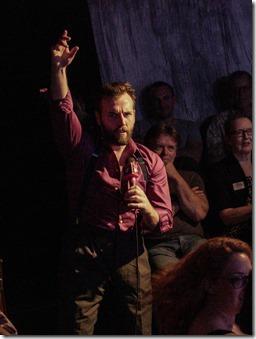 Set in and out of the ring,
Chad Deity
's narrator is Mace (
Alejandro Tey
), a wide-eyed young man who's been in love with wrestling since childhood Saturday mornings in front of the TV with his brothers. Cash-grubbing producer EKO (
Mickey O'Sullivan
) views Mace as unremarkable and unmemorable, and relegates the wrestler to losing every match, while also doing most of the work. The star of The Wrestling League is Chad Deity (
Semaj Miller
, who understudied and performed the role at Victory Gardens), whose charismatic swagger masks the fact that he's not a very good wrestler. But when Mace discovers smooth-talking VP (
Priyank Thakkar
), there might be a new "champion" on the horizon.
For its , Red Theater takes over the Strawdog Theatre's new space in Ravenswood. The intimate venue is mostly occupied by a wrestling ring-cum-three-quarter-thrust stage, resulting in an immersive experience where audience members are encouraged to cheer and boo. While the preshow business feels a bit forced, once the play itself gets going, it's hard not to get in the spirit. Diaz's writing is impeccable, his character development distinctive and his plotting letter-perfect. has the drama and mythology of a real-life wrestling match (comparable to burlesque or soap opera) without the relentless predictability. No one's all good or all bad (except perhaps EKO, the classic clueless white guy just out to make a buck). Director Jeremy Alumaclearly knows the work inside and out, keeping the pacing tight and the drama high while also showing the audience a good time. is a play about wrestling and wrestlers, necessitating rough and tough fight choreography, and Kyle Encinas' work is some of the best I've ever seen.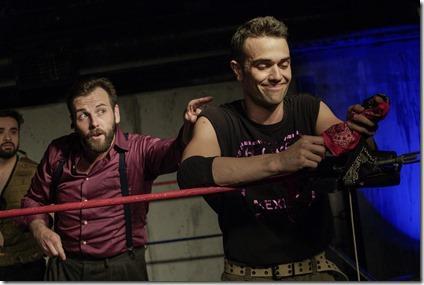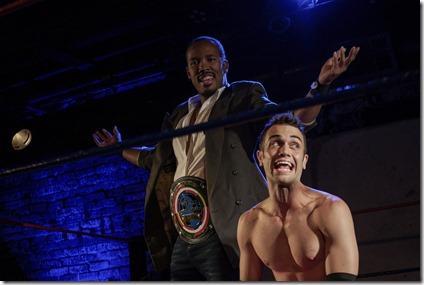 The world of professional wrestling is larger than life, colorful and sparkling to a fault, and full of muscular athletes with axes to grind. Chad Deity 's cast is simply incredible, bringing everything they've got and leaving it all in the ring. Tey's Mace, onstage almost the entire show, is a winsome, magnetic narrator full of innocence and passion, as well as increasingly conflicted feelings about his chosen path. As the title character, Miller is all bluster and swagger, a modern-day Narcissus who has the luxury of victory without effort. Perhaps the standout in this stellar ensemble (not an easy feat) is O'Sullivan, who has the gravelly cadence, peacock strut and the conviction that comes with being an entitled male who's a millionaire to boot.
It's difficult to convey what a knockout production this is for newbies and hardcore wrestling fans alike. It's also difficult to write about a phenomenon that's part athletic feat and part melodrama with depth, intelligence and an understanding of gray areas - that's at the same time also a love letter. The Elaborate Entrance of Chad Deity is a triumph for Red Theater Chicago, its best since 2015's . To use wrestling terms, this earns its championship belt.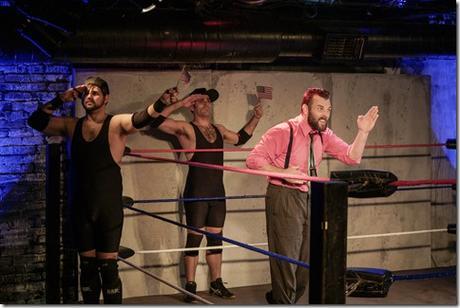 The Elabroate Entrance of Chad Deity continues through September 16th at Strawdog Theatre, 1802 W. Berenice (map), with performances Thursdays-Saturdays 8pm, Sundays 4pm. Tickets are free to $40; reservations can be made through their website (check for availability of ). More information at RedTheater.org. (Running time: 2 hours 15 minutes, includes an intermission)
Photos by M. Freer Photography
Understudies: Alberto Mendoza (Mace), Michael Stock (EKO), Michael Morrow (Chad Deity), Harsh Gagoomal (VP), Dave Honigman (Bad Guy), Nathan Speckman (Referee)
behind the scenes
Jeremy Aluma (director), Rory Jobst, Aaron Sawyer, Josh Johnson (producers), Liam Fitzgerald (technical director), Nathan Speckman (assistant director), Joseph Galizia (dramaturg), Jamie Crothers (production stage manager), Sammie Rivera (rehearsal stage manager), Michael Lewis (scenic and props designer), Hailey Rakowiecki (costume design), Sarah D. Espinoza (sound design), Brian Lawrie (projections design), Kyle Encinas (fight director), Charles Blunt (lighting design), David Goodman-Edberg (lighting programmer), Will Snyder (fight captain), Gage Wallace (casting director), Rachel Paige (casting coordinator), Jake Fruend (graphic designer), Cheryl Farney (accessibility director), Marisa Lerman (managing director), Becky Keeshin (marketing), M. Freer Photography (photos)
Tags: 17-0814, Aaron Sawyer, Alberto Mendoza, Alejandro Tey, Becky Keeshin, Brian Lawrie, Charles Blunt, Cheryl Farney, Chicago Theater, Dave Honigman, David Goodman-Edberg, Gage Wallace, Hailey Rakowiecki, Harsh Gagoomal, Jake Fruend, Jamie Crothers, Jeremy Aluma, Joseph Galizia, Josh Johnson, Kristoffer Diaz, Kyle Encinas, Lauren Whalen, Liam Fitzgerald, M. Freer Photography, Marisa Lerman, Michael Lewis, Michael Morrow, Michael Stock, Mickey O'Sullivan, Nathan Speckman, post, Priyank Thakkar, Rachel Paige, Red Theater, Rory Jobst, Sammie Rivera, Sarah D. Espinoza, Semaj Miller, Strawdog Theatre, Will Snyder
Category: 2017 Reviews, Lauren Whalen, Red Theater, Strawdog Theatre