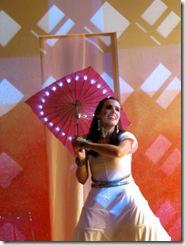 The Cousin from Nowhere 
Libretto by Herman Haller and E. Rideamus  
Music by Eduard Künneke  
Directed by Elizabeth Margolius  
Chopin Theatre, 1543 W. Division (map)
thru June 30  |  tickets: $30-$40   |  more info
  
Check for half-price tickets  
  
   Read entire review
  
---
Operetta and comedy converge in visually stunning piece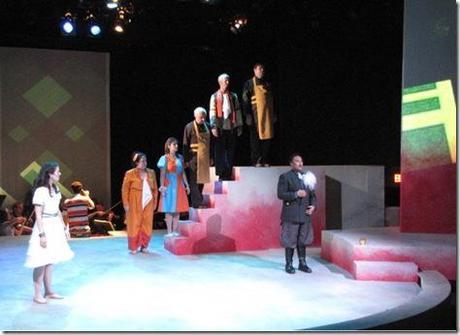 Chicago Folks Operetta presents
The Cousin from Nowhere
Review by J.H. Palmer
The first thing one notices upon entering the Chopin Theatre for Chicago Folks Operetta's production of The Cousin from Nowhere is Ian Zwyica's set design: two modern era clear plastic chairs face each other under a pair of matching white 60's era lamps as geometric images are projected onto panels on either side of the stage. Kate Kamphausen's costuming is equally striking, and in keeping with the mod 60's feel of the set.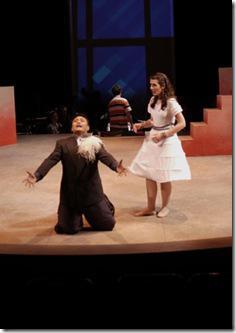 The libretto is at once melodic and hilarious; Josse (
Robert Morrissey
) asks of his servant Karl (
Ed Budzilowicz
) in song: "Karl, another schnitzel." In response to the threat of losing guardianship of his niece, Julia (
Elizabeth Schleicher
), he insists: "I'm not (paranoid) I just know the world is out to get me." Julia pines for her cousin Roderich, who she promised to be faithful to seven years ago, when she was 11 years old. They made a pact to both look at the moon every night as a kind of secret form of communication, and Julia sets the operatic bar high early on with her rendition of the song "Moon Shining Bright." Julia and her friend Hanna (
Julia Tarlo
) come across a handsome, green-clad stranger in the forest (
Geoffrey Agpalo
), granting him three wishes. Once he makes his choices, we are treated to a particularly well choreographed scene, Julia and Hanna dance around the stranger, unfurling the ropes of his epaulets and encircling him with them.
The stranger stays at the house of Julia's uncle Josse and aunt Wimpel (Rose Guccione), and – upon discovering him – Josse asks: "who is that stuffing his face?" The stranger allows Julia to believe that he is her long-lost Roderich, singing: "all that you hoped for and longed for is suddenly here." As the stranger woos Julia, the lighting (Julian Pike) turns a stunning orange-pink as The Stranger sings: "Darling, why bother with all of this thinking, kiss me and everything will be fine." Agpalo's facial expressions are funny and entertaining, and his comic timing is precise, prompting a number of laugh-out-loud moments. The slapstick atmosphere extends to the orchestra pit: at one point The Stranger, stranded alone in the rain declares: "and I don't even have an umbrella." This prompts irritation in the orchestra; the conductor stops everything and hands him an umbrella. "Thank you," The Stranger says humbly, and the orchestra picks up where they left off. The end of Act II end in projections and audio sounds of rain falling, which the orchestra responds to by holding newspapers above their heads and slipping away backstage.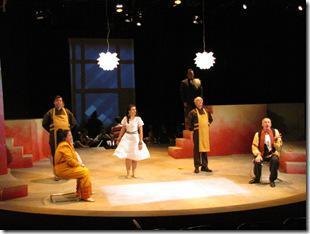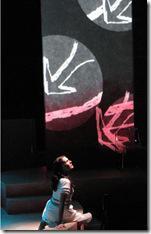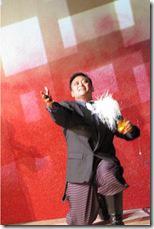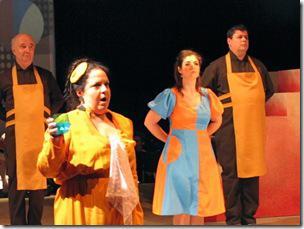 There are two sets of seemingly star-crossed lovers in this tale, and being a screwball comedy, all is well that ends well by the end of the piece. The humor in the story translates well in this production. The Cousin From Nowhere is a highly stylized, immensely entertaining production; one that manages to deliver old world Viennese farce with artistry, stunning visuals, impressive choreography (Jorge Niedas), and beautiful music conducted by Matt Cataldi.
Rating: ★★★½
The Cousin from Nowhere continues through June 30th at Chopin Theatre, 1543 W. Division (map).  Tickets are $30-$40, and are available online here (check for half-price tickets at Goldstar.com). More information at ChicagoFolksOperetta.org.  (Running time: 2 hours 15 minutes, includes two intermissions)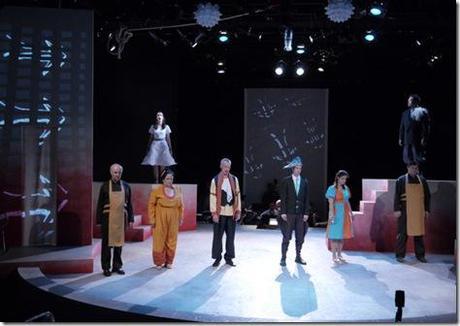 ---