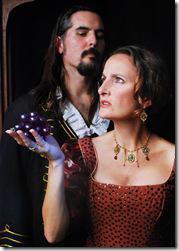 The Count of Monte Cristo
Adapted by Christopher M. Walsh
Based on book by Alexandre Dumas 
Directed by Paul S. Holmquist
at Lifeline Theatre, 6912 N. Glenwood (map)
thru Oct 30  |  tickets: $32-$35  |  more info
Check for half-price tickets
   Read entire review
---
'Count' a complex and concise masterpiece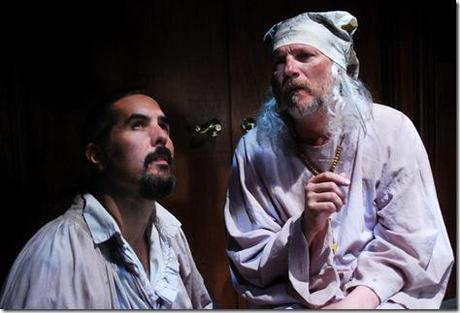 Lifeline Theatre presents
The Count of Monte Cristo
Review by Katy Walsh 
On a rainy Sunday afternoon, I cuddled up with a blanket and became completely engrossed in a classic tale of vengeance.  Lifeline Theatre presents a world premiere adaptation of The Count of Monte Cristo. On the day of his wedding, Edmond is dragged from the church and falsely imprisoned.  During his incarceration, he accesses the knowledge and resources to ruin his enemies.  He returns home a changed man.  He is now the mysterious Count of Monte Cristo.  The Count infiltrates the society that wronged him.  He is now a major player.  The game is on.  Having been robbed of his life, the Count has nothing to lose.  Everybody is going down…including him. Lifeline's The Count of Monte Cristo is a complex and concise masterpiece.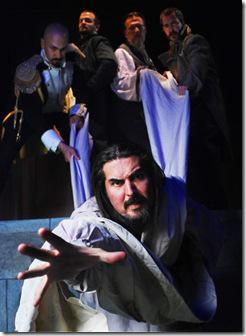 The novel, by
Alexandre Dumas
, is a sub-plot rich epic with ancillary characters and long, fancy French titles. Instead of streamlining the play to just the Count's retaliation, adaptor
Christopher M. Walsh
(no relation) ambitiously includes the Rogue's rogue companions.  Walsh successfully contains the multiple storylines within a solid framework.  He boils each scenario down to its essence.  Every word is utilitarian in the tight dialog. Director
Paul S. Holmquist
paces the action like a well synchronized dance.  Aided by
Christopher Kriz
' original music and sound design, the intrigue mounts and the scenes transition effortlessly.  The second act is particularly riveting as secrets lead to bloodshed.  Holmquist starts the second act with a series of silent scenes recapping who's who on the Count's most wanted list.  Kriz' dark and thrilling soundtrack sets the tone for providence.  And
R&D Choreography
brings it with gasp-worthy fight scenes.  
In a role he was born to play, Chris Hainsworth (Edmond) is the Count of Monte Cristo.  Hainsworth's performance captivates!  As the Count, he plays it sophisticated, with a hint of mischief.  For a man-hell-bent-on-destruction, he still finds the dead-pan humor in a statement.  As Edmond, Hainworth's anger and nobility conflict in his take-no-prisoners plan.  It's this contrasting duality that makes for an outstanding and unforgettable performance.  The entire talented ensemble supports bringing this story to life. A few additional stand-outs are the affected, sleazy Danglers (John Ferrick), looming, smarmy Caderousse (Don Bender) and loony, fatherly Abbe Faria (also Don Bender).  
Just in time for Fall, Lifeline Theatre's offering is a classic page turner. Lifeline will wrap you up in a cozy blanket and spoon-feed you conspiracy with a side of spite. DELECTABLE! No one is going to be able to put The Count of Monte Cristo down!
Rating: ★★★★
Lifeline Theatre's The Count of Monte Cristo continues through October 30th at Lifeline Theatre, 6912 N. Glenwood (map), with performances Thursdays and Fridays at 7:30pm, Saturdays at 4pm and 8pm, and Sundays at 4pm. Tickets are $32-$35, and can be purchased by phone (773-761-4477) or online at OvationTix.com. More information at LifelineTheatre.com. (Running time: 2 hours 30-minutes, which includes an intermission).
---
artists
cast
Chris Hainsworth* (Edmond), Robert Kauzlaric* (Villefort), Jenifer Tyler* (Mercedes), Don Bender (Caderousse/Abbe Faria), Dana Black (Hermine), Chris Daley (Albert), John Ferrick (Danglars), Susaan Jamshidi (Haydee), Jesse Manson (Benedetto), Cathlyn Melvin (Eugenie), James Anthony Zoccoli (Fernand/Luigi Vampa), Scott T. Barsotti, Rachel Renee, Mandy Walsh (understudies)
behind the scenes